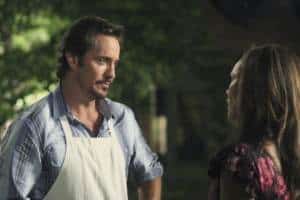 Need a refresh of last week's season premiere? Take a look at my recap. In this week's episode, we have a lot of suspicion (the theme of the season, it seems) and as usual, plenty of hijinks.
'Making The Connection'begins where we left off, with Bree on the receiving end of a disturbing letter not unlike the one Mary Alice received in her mailbox 8 years ago. In a voice-over, Mary Alice explains how she came about to be the original recipient and how she later killed herself to seal the secret from her friends and family. Karen McCluskey comes by and Bree asks if she's seen anyone by her mailbox, explaining that she received a rather odd note. 'It's just a note, Bree…let it go,'says Karen. Ah, to have a secret on Wisteria Lane.
Gabrielle, worried that her romantic connection was Carlos has hit an all time low (38 days with no sex) goes to the trouble of making a romantic, over-the-top evening which doesn't end up so well, much to Carlos'disappointment. Meanwhile, Susan is still feeling the weight of guilt set up in last week's premiere, and has become overly paranoid about every interaction outside those of her friends. When she gets caught for allegedly shoplifting from the grocery store, a cop that knows her comes to her rescue, prompting Susan to realize that if she can make herself get caught, it will make herself feel better about the situation.
Mike comes over to fix Ben's plumbing, and we find out that Ben is a real estate developer who is looking for new projects and someone in the neighborhood trust. If I had to guess, I'd say there's no way Ben is simply a real estate developer, and surprise! Ben eventually digs up Mike's ex-con life and goes to confront him about it. What's Ben up to? It's too early in the game to tell, but something tells me it's a little more complicated than selling houses.
Renee accosts Mike, looking for an interest that her and Ben have in common, hoping that she can use this loophole to get him to go out with her. Mike tells him about Ben's work for the elderly, and Renee wastes no time into putting her plan into action, trying to make nice with Karen while she knows Ben is watching. 'Make it 100,'Karen sasses, when Renee offers a $50 bribe if she makes her look desirable. Oh, I had missed the presence of Karen McCluskey. Renee's plan seemingly works — Ben visits her, saying he misjudged her and asking her out to dinner.
The Scavo children, now being shuttled between both parents, come home after a visit to Tom's new hotel digs. Naturally, this change of pace excites them, as does the less strict regime that Tom employs. Lynette tells him he needs to learn how to say 'no'more often and Tom refuses, saying he's his own person now that they've separated.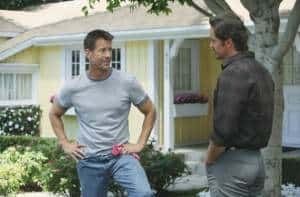 The girls talk about their problems over their weekly poker game, with Gabrielle opening up about Carlos'issues. She asks for sex tips and they offer their best advice (Bree's stain/maid role-playing was arguably the best.) Susan, meanwhile, admits that she's been trying to get caught by the law to make herself feel better, and the girls tell her she needs to stop attracting attention.
Bree goes to visit Paul in jail, thinking that he had something to do with the letter. Paul asks why Bree is so worked up about it, because Bree isn't hiding anything, right? Right. Paul wisely advises Bree not to keep the letter to herself, saying if Mary Alice had shared her note with the girls, there's a chance things might have turned out differently.
While Susan continues to try different tactics of trying to get reprimanded, Lynette tries to reach Tom a lesson in responsibility by giving him free reign over whether or not Parker can go to a party that Lynette believes is going to be too wild. Unable to agree on anything, the two really don't get much accomplished other than give Parker the okay to go out after all.
Gabrielle hires a stripper to come help with Carlos'issues, but he refuses the offer and then loses it when he realizes Gabrielle told his problems to the world. 'We're never going back to normal,'Carlos snaps, finally admitting that the guilt is with him all the time, even when they're in the bedroom — something Gabrielle is just going to have to live with.
Ben takes Renee to their "romantic" dinner — aka, the senior center, where they spend the night serving old people. Ben admits that he took Renee there to make fun of her, and calls her out for not being truthful about her personality. In turn, Renee opens up to him, telling him that after her mom died she were bounced around to places like this and hated it. Ben says he knows what it's like to claw your way out of something too, and just like that, the two have found something in common — without even taking their clothes off.
Susan finally gets herself caught and locked up after parking in a fire zone, insulting a police officer and kicking over his motorcycle. Carlos comes to pick her up from jail and Susan tells him about what she's been doing, admitting that while the rush of getting caught is fun in the moment, it doesn't really help her feel any better in the long run. Carlos tells her that he's glad someone finally wants to open up about their secret rather than hide from it, and the two bond over the fact that despite what everyone else thinks, things really are not all well and good in Fairview.
A worried Lynette calls Parker to find out where he is, confirming that the party is indeed a little more wild than movies and hot dogs. She goes to find her son and instead finds Tom, who tells her that Parker called him to pick him up because he had gotten too drunk. They fight about how this happened in the first place, and when they sit down later to talk, Tom says that he feels like saying yes is the only thing he's got to make the kids like him. Lynette admits she feels like she's losing the kids to Tom because they feel more excited to see him.
Gabrielle tells Bree she needs to break up with Chuck, despite the fact Bree wants to keep him around because he makes her feel safe. Realizing her friend is right, Bree attempts to drop the break-up bomb, but instead gets a call from Paul Young about Mary Alice's note. Paul says that when he confessed about Martha Huber, he confessed the murder and the note the police…and to one Detective Chuck Vance. Just then, Chuck comes back from the shower and tells Bree that he knows she's about to break up with him. Bree feigns surprise and assures him she very much wants to stay together.
I thought this episode had a really good mix of the usual Desperate Housewives humor (Gabrielle's side storyline of the lack of her sex life with Carlos) while still setting up mystery (the Ben/Mike interactions and the Bree/Paul Young/Chuck revelations) and touching on some of the moments that were large parts of last week's premiere (Tom and Lynette's parenting and Susan's unending guilt.) Here's to hoping the rest of the season continues in such a strong fashion!
What did you think of the episode?