The claws came out tonight on Wisteria Lane, but so did the heavy hitting drama. In short, I got my butt kicked.
Not Without My Daughter!
I guess the Powers That Be heard my cry last week when it came to Gaby's story line, which was given top notch treatment this week not only in the writing, but in the performances as well. Eva Longoria hit a home run, made a touchdown, and slam dunked her portrayal of the devastated mother. There was no comedic schtick this week and it was a great change to see Gaby given some real drama for once to deal with. This only proves that Eva Longoria-Parker has the chops to be versatile in her acting range, and is not just some comedic fodder for the show.
As for the story line, it's really painful, especially since we as the audience have grown attached to Juanita, so we share the conflict within Gaby as she will never renege the love for her "daughter", but can't help wonder about her own "flesh and blood." The hot head in Carlos reared it's ugly head again tonight, but I can't fault him on his anger this time… to an extent. He's dealing in his own way, which is fine, but giving that ultimatum to Gaby was not the way to go. I agree with Gaby that the whole signing of the contract was a bit hasty. Some counseling should've been had first to curb the high emotions flying around. While I do know that this whole mess will not end well, it was kind of silly of Carlos to think that signing a piece of paper would make their problems go away. The truth comes out eventually, when you least expect it.
"Care To Join Me By The Garage For A Little Doobage?"
Hilarious!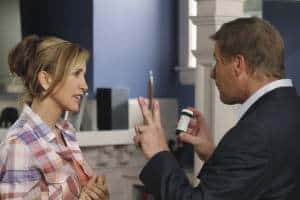 While I don't take depression lightly, Lynette made a good point. It took a placebo to show Tom that his "troubles" weren't really what he thought they were. He just needed to stop and focus on the good and not on the problems, a tactic which I believe Lynette picked up on a long time ago. While I am not saying that Tom's problem should've been brushed aside, it was like he played into the symptoms instead of just having the symptoms. There is a huge difference. If Tom really had a problem? Trust me, he wouldn't know it every five minutes.
With that being said, seeing Tom "high" was hilarious! It would've been me if I had of taken my first hit of marijuana (I have never touched the stuff. EVER!) if someone had of lied to me about giving it to me. But is it me, or should Tom, being such a party animal and all in his day, know the difference between marijuana and oregano? Just saying.
Bree vs. Renee – Round One: It is SOOO On!
The battle between good and bad is on, but Bree won the first round. Is this what inspired Vanessa Williams' Renee to dig back into her closet for something a little Wilhemina Slater inspired to tackle Bree head on? I sure as hell think so. Plus, Bree in front her lawn with the sprinklers, bouncy hair and the cleavage? DEAD. Also, isn't it kind of ironic that Bree, Renee, and Keith are the new Susan, Edie, and Mike of the block? So many season one throwbacks!
Also, Bree's closet was a bit scary. I was waiting for Renee to run away screaming, but luckily she managed. Who do you guys want to win the Battle of Keith the Handyman? Bree or Renee?
Keeping Your Eye on the Prize
Susan's battle with her neighbor/coworker Stacy opened up her eyes to the real reason she's making a fool of herself to millions of faceless men on a daily basis. She has to get her family out of the rut they are in and return to her true home on Wisteria Lane, albeit it can't be the one she wants. Paul's still there and growing creepy by the second (more on that in a bit). Is it just me or is Mike sitting pretty at the moment? While I know he wasn't necessarily the suburban type, it still would be cool to try to at least see that Susan is not happy with their predicament. I know MJ is non too thrilled.
Plus, thank God this story line gave us something to care about, but it still is painful not seeing Susan on the lane again. Oh, God. I hope I'm not turning into those whiny fans about Desperate Housewives' Season Two complaint of the women not being together too much. That, to me, was the low point of that entire season.
Paul Young is Creepy As Hell. Period.
Okay, so Paul had his creeptastic moment of the week as he glared at the housewives as they greeted Beth. My skin didn't just crawl, but it ran a marathon around my body. On the other hand, I was more interested in Beth's "snooping" for info on Paul after the women filled her in on the true reason they detest him. So, now my question is this. I can't recall if they ever found evidence on Paul killing Mrs. Huber from Season One, but if they didn't… could it be that Beth is the spy Felicia warned us of in the season premiere? Or is Beth Felicia's daughter of sorts? Then, she could be just a simple, clueless woman, who fell in a bad deal. Or she could be a free agent…
What do you guys think? Visit our Forum to take part in the poll "What is Beth's Deal?" I'm curious to know what you think.
Until next week!