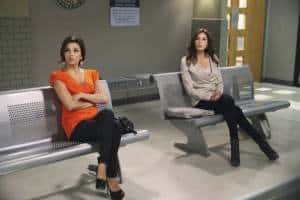 Devoted viewers of Desperate Housewives know they can always count on an episode before a mid-season break or a season finale to dispense drama, emotional conflict and suspense — and tonight was no exception. Due to the events of the previous week, no one is talking to Bree, who, after failed attempts to speak to Susan and Gabrielle, goes to see Lynette. She apologizes for making a mess of things, while Lynette tells her that she can't 'bake her way out of this.'Bree tries to tell her she was only trying to protect them, and Lynette disagrees — she thinks Bree was trying to control them. When Bree tells her that they can't do anything to the girls as long as they have their friendship, Lynette tells her there is no friendship anymore — or a group. Bree's on her own.
Sparked by the scene in Susan's painting, Chuck has called all the girls (minus Bree) down to the station so he can question them. He asks Susan why she painted what she did, showing her a picture of Gabrielle's step father. Susan tries to play dumb, but Chuck doesn't buy it. When he questions Lynette, he tries to guilt her into admitting the crime by saying that whatever she did is the reason her husband walked out on her, and he does the same to Gabrielle by inflicting guilt on her with Carlos'alcohol problem. While the girls are being interrogated, a tipsy and lonely Bree is drinking at the bar by herself when she sees a group of three women (who suspiciously resemble Gabrielle, Lynette and Susan) having some girl time. She sits down and tries to inject herself into the conversation, but the girls aren't interested in spending time with a stranger. They leave Bree alone and depressed at the table, and we can't help but wonder if Mrs. Van De Kamp is headed somewhere a little more serious a wine bottle.
Ben comes by the next morning to check on Bree, asking how long she's been 'off the wagon.'Bree tells him the relapse is just temporary an begs him not to tell anyone. When Ben tells her she should reach out to her friends, Bree says she can't — they all hate her. Renee sees the exchange of Bree and Ben hugging outside her house, and mistakenly interprets it as Bree trying to steal Ben away from her.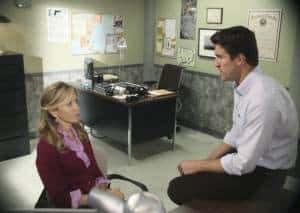 With Chuck's threats looming, the ladies all turn to their husbands. Susan panics to Mike, and tries to convince him to run away with her. Gabrielle goes to visit Carlos on rehab (or at least, tries to — he's apparently not allowed any visitors.) She manages to get in anyway by sneaking in with another family, although she's forced to go into therapy with them. Lynette tries to see Tom (who is supposed to leave for Paris with Jane) and although Jane's daughter is at first hesitant to give her the info after finding out Lynette had been hiding under Tom's bed, she eventually relents.
Deciding that the only way she's going to get out of town is if she gets the money from her paintings, Susan goes to visit Felix and tries to persuade him to give her the money from her paintings immediately. Renee visits Ben to talk to him about Bree, and Ben tells him that he's just helping Bree through a hard time — which Renee believes until Chuck shows up and implies that Bree is his girlfriend. Chuck also says he's shutting Ben's project down until he loses his investment. I believe we have a new villain on Wisteria Lane, don't you?
Lynette finds Tom at the airport, and finally admits to him that she's an accessory to murder. Jane finds Tom and Lynette in the bathroom when Tom tells her he can't go to Paris with her. Lynette tries to diffuse the situation, telling her it's not Tom's fault. Unfortunately, when Jane asks for details, Tom can't exactly be forthcoming about Lynette's situation and Jane leaves alone.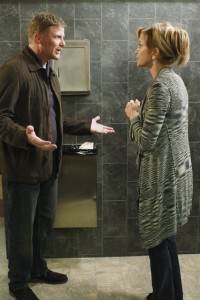 Felix shows up at Susan's house — he came up the money, but he wants her to move to New York under his wing so she can truly use her talent. Meanwhile, Bree goes to talk to Gabrielle, who tells her that Chuck interrogated all of them. Bree visits Chuck, telling him to keep her friends out of it and Chuck says he could never figure out a way to hurt Bree the way she hurt him until he started hurting her friends. He refuses to back off.
Susan obsesses over the move to New York, telling Mike that she no longer has family or friends while Mike tells her that all she's doing is running — and if this is what she wants to do, she's on her own. Chuck goes to visit Gabrielle, who tells her that he's starting an official case file now that he's found out Gabrielle's relationship to her step father — if she doesn't come down to the station for questioning, he'll arrest her himself. Gabrielle calls Carlos, but finds he already checked out. As Chuck calls Bree to tell her she might want to bring a lawyer to the station, he's suddenly killed in a hit and run…but by who? We saw Bree leaving in her car, and we know Carlos checked himself out without telling anyone where he was going. Previews seem to indicate that this is yet another mystery that will unravel before the season is over, and I can't wait to see how it's going to play out.
At the end of the hour, our housewives are all alone in both their thoughts and their lives — but there is one more alone than the rest. Bree checks herself into a hotel and takes out a gun, contemplating suicide and in a moment that actually had me shocked for the first time in awhile, Mary Alice suddenly shows up in the room with her. A delusional Bree asks if she's happy now that she's dead, but Mary Alice doesn't exactly give her a concrete answer. At the end of the hour, we're left with Bree staring at her gun — and while we know we probably won't have the death of a housewife YET (if at all before the series ends), it's still a suspenseful place to leave our character.
I'm so happy to see Desperate Housewives stepping up their game and bringing out all the stops in their final season. There may not have been any epic tornados, big fires or horrible car crashes in this mid-season finale, but it was definitely an episode full of suspense and shocks. What was your favorite moment?