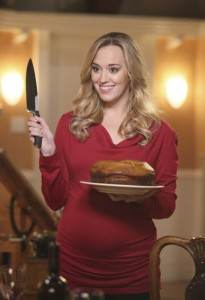 Being in love – that was the "theme" in this week's Desperate Housewives, and what better to illustrate the promise of love than with the reconciliation of Lynette and Frank, Renee's hair dresser? This time, the date seems to be going better than it did a few episodes ago and Lynette ends up inviting Frank back to the house for dessert. Unfortunately, there seems to be a misunderstanding as Frank believes "dessert" means sex – which Lynette isn't ready for yet. The two part amicably, but Lynette is obviously upset. She calls Susan and Gabrielle the day after to talk to them about what happened. Lynette admits that it's been awhile since she's been intimate and Gabrielle tries to convince her that she should pursue it. Susan jokes that Bree could give her some tips, given the brothel she seems to be running. Seems that Bree's new behavior has definitely put her on the outs with the girls, as she's not even socializing with them anymore.
Gabrielle finds out while making Valentine's Day cupcake with Juanita that she misses Carlos (who is apparently on a long business trip in Europe) and then Juanita admits that she likes a guy named Ryan. Later, she gets upset when Ryan doesn't give her a valentine at school, leading Gabrielle to deal with her daughter's first semi-broken heart the only way she knows how – quick-fixing the situation with a fake card.
A glance over at Susan's household shows her excited over Julie's apparent impromptu visit. Susan is excited thinking of all things she's going to get to do with her "little girl" but soon finds out the real reason for Julie's visit: she's pregnant. Since the guy she was with didn't follow through, she's decided to give the baby up for adoption because she doesn't want to go to school and be a single mother. Susan, visibly upset at this decision, attempts to change her mind but eventually relents and says she'll meet the adoptive couple that are coming to dinner.
Susan does her best to show support, but when Julie leaves the room, she uses the opportunity to talk up Julie's "mental illness" and other imaginary bad traits. The ruse works and the couple gets scared off, leaving Julie angry with Susan for not respecting her decisions. Susan tells her she has no idea what she's giving up, claiming that as a single mother she had raised Julie and it had been a wonderful experience. But Julie doesn't remember it as fondly as Susan does. She tells her all she remembers is taking care of her and that because she's already raised one child, she doesn't want to raise another one. Mike attempts to talk to her, telling her that Susan isn't doing what she's doing out of spite – she's doing it out of love. Softening a little, Julie goes to talk to Susan and admits that the decision was the toughest thing she's ever had to deal with, but she's okay with it. She also tells her that she knows her baby is a girl, which seems to affect Susan more than she's willing to admit.
Meanwhile, Juanita, believing that Ryan truly loves her, tries to flirt with him on the playground. She forces him to kiss her, which the school views as sexual harassment. Gabrielle tries to diffuse the situation but the principal says they'll expel Juanita if Gabrielle doesn't talk to her about her behavior. When Gabrielle does have her talk, she realizes Juanita has been raised the "Gabrielle" way – believing that once a guy loves her, it's first kissing, then marriage, then presents. Gabrielle is forced to admit to her daughter that she made up the valentine, which upsets Juanita who claims Gabrielle always lies to her. She admits that she knows Carlos isn't in Europe because she can tell that Gabrielle is acting sad, and says she's not a kid anymore. Gabrielle admits she still sees her as one, but that Juanita's right – she doesn't need to protect her so much anymore and she deserves to know the truth about what's going on.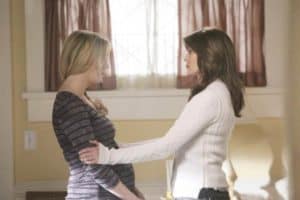 Bree, meanwhile, is having her usual night out at the bar, and hits on a man who she doesn't remember she took home a few nights ago. Apparently, that doesn't stop her from taking him home for a second time.
Lynette attempts a second date with Frank, offering "dessert" for real before their dinner date. Renee visits the next day to ask about the date, which Lynette doesn't want to talk about at first. She admits she cried in the middle of having sex because she realized her marriage was over. Lynette says that Frank was sweet about the situation, but she doesn't think she'll see him again. I love these small moments we're getting between the housewives, as it makes me remember why I love the show in the first place. In this conversation, Renee also lets it slip that she took Bree to a bar, apparently not knowing (or not caring) about her alcohol problem. Lynette takes this information to the girls, who are upset but admit that as mad as they are, they miss her and it's their responsibility to help her.
The three stage an intervention as Bree brings her boy-toy home, and she reams them out. She then admits in her half-drunken stupor that she attempted suicide, and says its because of them and the fact they made her feel like she was nothing. The girls say they'll do whatever it takes to get things back to the way they were, but Bree doesn't want things to change. It appears we're headed towards a huge falling out that I suspect will set the stage for the endgame of the series – and I have a feeling things are only going to get worse from here on out.
In a surprising move, Frank shows up at Lynette's house with pizza. Lynette says she can't figure out why Frank keeps coming back, and Frank says he understands that the person who ended a long marriage deserves time to heal – besides, he likes her. In a less surprising move, Bree finds herself back at the bar where a stranger starts to hit on her. She tries to ignore him but he goads her, telling her that "everyone in this bar knows who you are." Upset and a little freaked out by his actions, Bree leaves but the man meets her outside and takes her keys, attacking her. And just when it looks like Bree might be getting exactly what she deserves for all her troubles, she's saved by none other than her old flame Orson, whom the girls have called for help. Bree breaks down to him, admitting she's made a mess of her life and I think it will be interesting to see where we go from here given Orson's new-found involvement.
I'm not sure where we're headed in the next few months, but as the series starts to wrap itself up I'm hoping some of these story lines start to come together. Nonetheless, it's fun to see old cast members popping up and adding interesting elements to the story. What did you think of this week's episode?