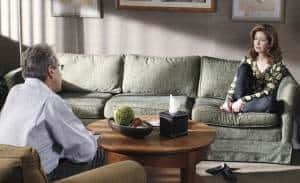 Three things I want to get out the way before we begin this recap: 1) It's late. I suck. Moving on. 2) ABC airing this episode during closing ceremony of the Olympics was an epic mistake (10 million viewers tuned in, lowest in DH history)! 3) I pray that people won't be lost when the show returns later this month.
Let's Begin…
Lynette and Penny
While Tom and Lynette argue over the name for the new baby girl (names in contention are Polly and Patricia), the forget the birthday of the current "baby" in the house: Penny. And boy is she not amused. When an attempt at fixing their faux pas ends in disaster (Lynette gets Penny a birthday cake that reads "Happy Birthday, POLLY!" Yikes!), Penny does the sensible thing that any suburban kid would do: she runs away.
But not too far as she stole Lynette and Tom's credit card and purchased a semi swank hotel room, which leads to one the heartwarming moments of the night. Lynette thinks Penny is pissed at her, but when Penny reveals that it's the baby she's upset with, Lynette puts the puzzle pieces together. Penny will no longer be the baby if the family and to have that realization be magnified on your birthday is so not cool. Lynette saves face by saying that with the new girl and Porter on the way out the house, the Scavo females will finally rule the house. Penny likes this, because she is Lynette's offspring and Lord knows that the girl might end up being like her mother in the control freak department. Lynette finally suggests that they have their own little slumber party, but stops Penny short when she mentions Lynette having another set of twin girls.
Gaby, Bob, and Lee
After discovering Celia has chicken pox, Carlos banishes Gaby from the house since she never had them before and could get seriously sick if infected. She finds super solace with Bob and Lee, who enjoy Gaby's company and she theirs, especially since they are serving cosmos at all hours of the night and her being able to sleep in during the day. The trio's fun is short lived when Carlos
calls informing Gaby that Celia is cured and she can come home. But Gaby is not ready to return to domestic life and feigns sickness to stay at Lee and Bob's house a little longer. During a party that the guys throw in honor of Gaby, she gets a call from Juanita who has scored her first goal in soccer. To hear her daughter better, Gaby tries to find a quiet place to talk and comes across a nursery fully decked to the nines with baby furniture and toys. Bob comes in later and informs Gaby that he and Lee are wanting to adopt a baby to raise as their own. He also reveals that he and Lee had come close to getting a baby girl, but the mother flaked and changed her mind at the last minute leaving the two heartbroken. Gaby advises to Bob that raising kids means goodbye to their lifestyle of cosmos at five and nightcaps, which Bob says he can't wait to get rid of, because as much as Gaby envies their lifestyle, he and Lee envies hers. That's enough for Gaby, who packs her bags and gives Lee a big hug on the way out. She has a daughter who needs to tell her mom about scoring her first goal. Aww.
Bree and New Simeball Employee, Sam Allen
Bree is fed up with an employee named Tad (Eric Ian Colton), who Andrew hired while Bree tended to Orson. She wants to let the incompetent guy go, but Andrew is adamant that he stays, because he feels that Bree is not letting him prosper as her second in command, which means him cleaning up his own mistakes. While Bree tries to clean up one of Tad's faux pas, she is approached by Sam Allen (Samuel Page), aka Trouble in a Brooks Brothers Outfit. He is charming, yet arrogant and is business savvy. After giving Bree advice on fixing Tad's mistake, Bree hires him on the spot despite telling the young lad that she was booked to the hilt with employees.
Sam's first motion of business: fire Tad. Andrew is pissed, which leads Sam to accurately detect that Andrew slept with Tad. Bree is shocked, but can't say too much when Andrew calls her on her hypocrisy in front of Sam. But Bree has had it. She gives Sam the go head to fire Tad. The next day, Bree tries to clean the stain of her personal life to Sam, who adores Bree. He takes it in stride and says that Andrew is just one of those kids who feel that things are entitled to him and that Bree has to ween him from that train of thought. He then offers to get Bree's affairs in order while she gets some rest. After she leaves, he picks up Andrew's mug that says "World's Greatest Son" and drinks from it. Uh-oh…
Susan, Roy and Mrs. McClusky
During a luncheon with Karen McClusky and Roy (Orson Bean), Susan stirs the pot of when will the elderly couple tie the knot, which irks the hell out of Roy. He eventually asks Mrs. McClusky marry him, who happily accepts in her own way. Susan later stops by and tries to drop off some wedding bouquet ideas to Mrs. McClusky when Roy tells her that she has done enough. He explains to Susan that now that he is marrying Mrs. Cluskey that his eye might start to wander since he will be deprived of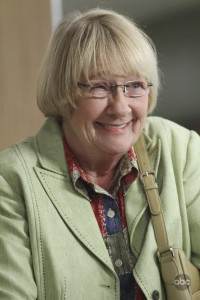 knowing that he isn't tied down. He then plants a kiss on Susan to prove his point. Susan is furious and wants to tell Mrs. McClusky, but Mike warns her to stay out of it. Mike must forgot that he married Susan Mayer.
Susan marches over to Mrs. McClusky's house to talk to her, but finds her neighbor in tears. Has Roy left her? Did she catch him glancing at the blue-haired lady from his stretching class? None of the above.
She just found out that she might have lung cancer.
NOOOOOOOOOOOOOOOOO!!!!!!!!!!!!!!
As Susan leaves the house she runs into Roy, who she advises that it might not be a good idea to marry Mrs. McClusky if he is going to be set in his ways. But Roy says that he has to marry her now and soon, because he can't afford to lose her. Everything else be damned, if he loses Karen, he loses big. Susan beams in admiration at the cranky old man who has found a heart.
Angie and Her Missing Son
After finding a note from Danny saying he was camping with Eddie, Angie is pissed that he didn't tell her or Nic, who says that a little normalcy is what he needs. But later while shopping, Angie spots Eddie at the grocery store and the little psycho spills the beans. Angie freaks out because Danny is headed right into "Patrick's" backyard and she can't reach him. And that's all from the Bolen camp this week.
Katherine and Robin…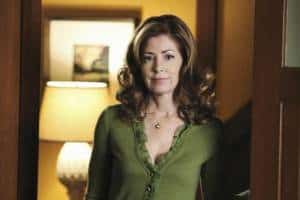 Katherine has a sexual dream featuring her, Robin and some syrup. She freaks out and runs to her shrink to give her confirmation that she is not a lesbian and that her dreams are really about her horrible record with men. But the shrink says that Katherine shouldn't even be worried about a relationship yet with anyone since she has not yet recuperated to handle one. He concludes by saying that Robin is a distraction that must be moved from the picture, in other words, the busty blonde has to go. While Katherine prepares herself to break the news to Robin, she loses her confidence when she finds out that Robin finally landed a job and wants to celebrate with champagne. In the ensuing champagne opening, Robin accidently spills some of the liquor all over her and on the blouse she borrowed from Katherine. When Robin proceeds to remove the blouse, Katherine freaks and tells Robin that she has to leave. Robin, immediately thinking she did something wrong, heads upstairs to pack, but Katherine stops her, claiming that Robin isn't the problem at all. Katherine admits that it is her confused feelings that is the culprit and is shocked (as am I) to discover that Robin feels the exact same way about her. While Robin packs, Katherine debates in her head, but her feelings win over and she heads upstairs to Robin's room and closes the door behind them.
The next morning the two women lay beside each other in bed. Robin is sleeping in bliss, while Katherine has the look of "what the hell have I just done?" plastered over her face.
Wow.
The Wisteria Lane Ledger
– So Katherine is now bisexual? A lesbian? A sweeps trick? It doesn't matter, because if recent news is true then this storyline will hit a dead end come May. Shame.
– Lynette and Penny was one of the best moments of the episode in my opinion. I don't care what anyone says, but Lynette gets mother of the year from me.
– The Gaby storyline showed us how much she has grown and how much Bob and Lee are some pretty cool characters who need more screen time. I just need Gaby to stop flip flopping from loving mother to self-centered nut though…
– Sam Allen. Hate him already. I have said it before and I will say it again: Bree knows how to draw the nuts…
– Mrs. McCluskey. NOOOOOOOOOOOOOOOOOOOO!!!!!!!!!!!!!!!!!!
– The Bolen Mystery. Wrap it up already! Give Drea some meat to chew! I hate that she is going the route of Alfre Woodard/Betty Applewhite and is it me or does it seem that HBO alums don't get any love on Wisteria Lane?
March 14 is the return date, peeps! See you then. Hopefully…