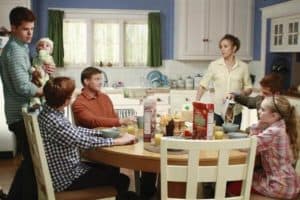 After watching last night's Desperate Housewives, we think it's time for the show to revisit executing the element of surprise.
Last night marked the reappearance of Zack Young (Cody Kapsch), Mary Alice and Paul Young's "son", in nearly four years. The problem is that his return was the cliffhanger 'shocker' at the end of the episode, but the surprise was ruined when Cody Kapsch's name appeared in the guest starring credits. So we knew he was going to eventually appear. It just became a matter of when and how. As the show reached the final leg of the night, it was easy to notice Zach as the "flower guy" despite the disguise he wore. However, the whole planting of the gun in Bree's house somewhat salvaged the surpise of Zach's return and added a new layer to the 'Who Shot Paul Young?' mystery.
Does this mean that Zach tried to take his own father out? While it's pretty plausible, the truth is still murky. There are numerous ways this scenario could play out. 1) Zach could've been the one who pulled the trigger and is trying to frame Beth. The only con to this scenario is how could Zach possibly know where Beth would be seated to discover the gun? 2) Zach shot Paul and tried to frame Bree. This could stem from Zach's attachment to Bree when he was younger, but why would he want to frame her for shooting his dad, who he despises? 3) Beth placed the gun in the couch in an attempt to get back at the ladies and win brownie points with Paul. The only problem is that in Paul's eyes, it's too little too late. 4) Paul could've possible set Zach up to frame Bree. The problem with this particular scenario is that it's kind of a stretch.
Either way, the inclusion of Zach Young harkens the show back to it's first season, especially with Julie being in attendance. Let's just hope John Rowland doesn't appear and make things even worse for Gaby.
Was anyone else disappointed with how the 'War' of the Scavos storyline turned out? The most solid marriage on the street gets rocked with a huge scandal to only fizzle out like a firecracker dud. True, the 'infidelity' took place during a break up period, but it was a hella brief breakup period and it was with Renee, Lynette's best friend of the time. We aren't saying that Tom should've been put through the ringer for his mistake, but the storyline was wrapped up way too soon with no consequences really being exhibited. Plus, some women would probably say that Renee got off the hook a little too easy in the whole ordeal. Does this mean that her "love" for Tom has subsided into the ether? Or will it resurface by season's end again?
Susan's battle with Sophie (Lesley Ann Warren) was a bit much in the beginning, given that Susan didn't want the kidney in the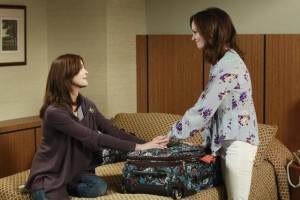 first place. Maybe it was something we missed that changed Susan's mind, or it was the fact that Sophie didn't volunteer which brought the change of heart, either way it threw us for a loop. Then the reveal of Sophie's battle with cancer landed on our feet and we couldn't help but feel sorry for the poor woman, even though you could see the plot twist a mile away almost. The interaction between Teri Hatcher and Lesley Ann Warren is always a treat, because you can really believe these two as mother and daughter, especially since the two character share similar mannerisms. Let's hope that we see Sophie again, cancer free.
The whole Grace doll storyline with Gaby is going to get even uglier as the weeks pass. We can't help but picture a future with Gaby rocking back and forth in a padded room corner, clutching that very doll that landed her there. And we would blame Carlos Solis. He's like a tyrant again, making decisions for the both of them with an unnecessary iron fist. Carlos claims that he is doing it for his daughters, but what about Gaby? The woman is hurting and needs to deal in a healthy manner, not clam everything up inside, which could lead to further problems down the line. As for that doll, it might cause more problems in the Solis household than Chucky ever did in all of the "Child's Play" movies.
What do you guys have to say about last night's episode?