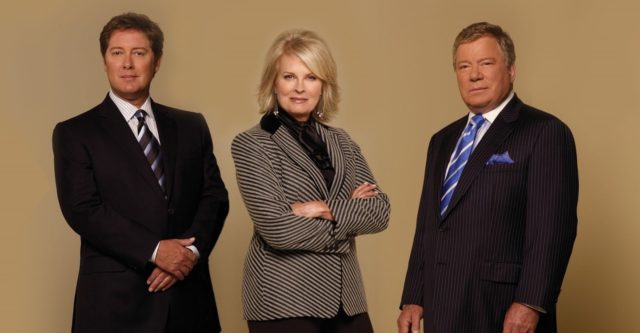 Boston Legal was definitely a smarmy, very sarcastic show that had a very nice blend of drama mixed in, which made it perfect for personalities like James Spader, William Shatner, and Candace Bergen. Their style of sarcasm was very welcome in this show that had a lot to do with civil litigation and keeping the top level people in check as much as possible. These were at one time three of the biggest egos in Hollywood and in fact still rank right up there, but for this show they were perfect since they could have free reign and be allowed to just act. For Spader it was kind of like a dream come true since he had two perfect individuals to play against and therefore could make the best of a show that people expected a lot from. The show ran from 2004 to 2008 so it didn't have an exceptionally long run. But quite often shows having to do with the law don't tend to last that long. Those that do are more of an anomaly than anything, such as Law and Order: SVU. Shows like this tend to come out, gain a following, and then start to drift off as people start to look elsewhere for their entertainment.
It would seem that such shows suffer from a very real ailment of not having enough interesting material to go over so as to keep people entertained and ready to keep watching. Many other shows have had this same issue since they too have gone by the wayside. Some shows haven't even lasted a single season since their premise has simply been seen as too weak to warrant keeping around. Boston Legal at least was kept for a few seasons and had reasonable success thanks to its cast and their wild and zany antics onscreen. But unfortunately like all shows there was always the chance that they would finally have to face the music and find other venues when their show was cancelled.
Of course if you liked Boston Legal there are several other shows that you might be interested in.
5. The Blacklist
Raymond 'Red' Reddington is a former criminal and Naval Intelligence officer that has spent a lifetime associating with the worst criminal elements in the world, many of which have never been identified by the US or any other government. His only two conditions are that he be given immunity from persecution and that he work with FBI agent Elizabeth Keen, who is a rookie when he first begins to work with her. That changes quickly however as Red takes the FBI down a very winding rabbit hole as he gives them each and every name on his long and extensive list of criminal contacts that he's gathered throughout the last 20 years. As the names keep on rolling by the relationship between Red and Liz continues to deepen until finally, after her life has been torn apart and everything she knows and loves has been stripped from her, the truth of who Red is to her is finally revealed.
4. Modern Family
Modern Family is the kind of show that many people can relate to because of the wide variety of family members that are show within the program. From those that are just fun to watch to those that are continually smarmy and love to impose their will on others the show is filled with non-stop hilarity. Plus, many viewers can't help but find similarities with their own families that can be seen on the show.
3. Will & Grace
When it first came out this show was kind of a rallying cry for the LGBTQ community since it was so open about its subject matter and didn't pull any punches concerning what it was willing to show. Many people fully enjoyed this show and what it brought to TV in terms of a look at a different culture and lifestyle, while others just enjoyed the hilarity. The fact that it's back however might mean that the network just ran out of ideas.
2. The Newsroom
If you ever wanted to know what goes on behind the scenes in a newsroom this would be the kind of show you'd want to watch since it's about little else but the inner workings that occur on a continual basis behind the anchorman's desk. It's a thing with many working parts that might confuse some people, but at least the show puts it all as simply as possible in order to attract viewers and to keep them around.
1. Damages
Not only does this show have everything to do with the law and legal proceedings but it also has a lot to do with the relationship between the lead character and her newest assistant. Throughout the show Glenn Close's character, Patty, tends to start distancing herself from the entire mess as she seeks to leave the law firm behind for something else.
There's a lot to watch out there that is similar to Boston Legal.
Tell us what's wrong with this post? How could we improve it? :)
Let us improve this post!