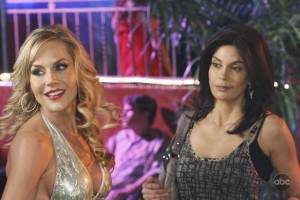 Due to the "craziness" that was The Grammys, this week's new Desperate Housewives will probably be overshadowed and forgotten, which is a shame, because we got a twist in the "Bolen" situation, which now involves Gaby and Carlos. And we know Gaby is a little firecracker waiting to pop when it comes to gossip… Plus, tonight was the beginning of Julie Benz's stint on the show, which was publicized after her exit from Dexter. God, she was hot tonight… Oh, and will someone please kill Orson? Please?
Bree and Orson
Orson is really, really, really grating my everlasting nerves. It's like Bree has reverted back to taking care of an adult version of Andrew from Season Two. Anyway…
Bree notices that Orson has been a grinning idiot lately and thinks something is up. She is right. When Bree comes home one day, she finds Orson giving away all his belongings to the guys of Wisteria Lane. She gets livid and chastises the guys for jumping to take Orson's stuff and shoos them off. Little does she know that Orson is planning on offing himself. Oh GOD, PLEASE LET HIM SUCCEED!!!!
Later, Bree returns home to find a suicide note on Orson's laptop, or as he so eloquently called it, "a suicide draft". Bree, shocked to see Orson so ready to throw his life away and give up, declares that she will make sure he doesn't succeed in the deed. But Orson tells her that she needs to accept the fact that it's going to happen, even if she is there or not to witness it.
Not one to give up, Bree invites over two other paraplegics, who try to tell Orson the pros of being in a wheel chair. But Orson is not having it. When one of the guys (Darryl "Chill" Mitchell) mentions Bree's unconditional love, Orson reveals just how conditional Bree's love actually is. Bree claims the opposite, so when Orson puts her on the spot by asking her does she love him, Bree can't form the words. Damn…
A few days later, Bree and Orson are invited to a couple's party, who are in their golden years. Orson gripes the entire way, but when they get there Bree is captivated with the couple's love and devotion to each other. But Orson is outside near the pool, rolling his way to fall in the deep end. Lord knows that if I was there I would've gave him a boost. Bree spots Orson from inside the house and runs to stop him. Orson claims that if Bree doesn't love him then he basically doesn't see the point in living. Bree says that she wants to love Orson again, but she can't do that if he is six feet under. The two share a kiss and I gag up all of my food.
Next!
Tom and Lynette
During one of their therapy sessions, Lynette gets aggravated and thinks Dr. Graham (special guest star Jane Leeves) gives Tom special treatment. After the session, they both are invited to a community production of Anthony and Cleopatra that stars Dr. Graham as Cleopatra. When I say that Dr. Graham was hideously horrible in her role as Cleopatra, I am being nice. But Lynette doesn't want to continue seeing the "good" doctor, because Dr. Graham told Tom that she had a gift for acting. In other words, she's delusional as hell and unfit to counsel anyone. During their next session, Lynette brings the atrocious performance up when Dr. Graham challenges her to be open about her feelings. So Lynette let's her have it, but Dr. Graham thinks Lynette is the one who is delusional because the local papers say otherwise. Who are you screwing, ma'am, because it must be better than your on stage performances… Tom chickens out and lies at first until Lynette tells him to man up. So Tom jumps in on the critiquing as well and as a result, Dr. Graham asks both of them to get the hell out of her office. The truth does hurt it seems…
Susan and Robin
After Susan buys out her share of the strip club, she meets Robin (special guest star Julie Benz, who is INSANELY HOT in this role), a bright and seemingly intelligent stripper, who has high motivations to do something with her life. Susan gives the wayward soul a few words of advice to find work in another place more suitable for her (Robin was reading Moby Dick in the middle of a strip club, soooo not the place to be seen with that tome). Later, Robin pops up at Susan's doorstep with news that she quit the strip club and wants Susan to help her make her next move. This why I said seemingly intelligent…
With no place to stay, Robin crashes with the Delfinos, much to MJ's delight, who has grown seriously fond of her. Like a sixteen year old would. Susan then comes up with an idea. Oakridge Academy (Elementary?) needs an assistant teacher in the art department and Robins should be a shoo in. She is, until one of the kid's father recognizes Robin from the strip club. Susan is reprimanded for not letting Principal Hobson know and Robin is terminated immediately.
Later after consulting with Mike, Susan has Robin stay with them for awhile. And MJ is ecstatic.
The Solises vs. The Bolens
This is what I have been waiting for. Sparks. Development. War.
It is sooo on…
Angie seems to have a problem with a neighbor (guest star Mindy Sterling), who doesn't recycle her trash. Angie and the neighbor get in a debate that Nic overhears. He warns Angie to tone down some of her aggressiveness because it could draw attention to them.
Later, Gaby stops by to retrieve Ana who is with Danny in his room alone. With music blaring. And Angie doesn't seem to care. Gaby fills Angie in on the secrets life of an American teenager, which Angie is all aware and suggests that Gaby prepares Ana, because the inevitable will happen.
Carlos on the other hand doesn't want any "Oops!" going on in his house and tells Gaby that if Danny inadvertently knocks up Ana, then there will be consequences and repercussions up in the House of Solis and Wisteria Lane. Gaby tries a different approach when talking about the dangers of sex with Ana. She pays her off to not have sex until she finishes high school. Ana takes the unsigned check, which Gaby won't sign till graduation, and promises to abide by the clause. But Ana is a little firecracker ready to pop.
While Gaby is upstairs tending to the girls, Ana convinces Danny to do the deed in the living room. Meanwhile, Angie sees that the grumpy non-recycling neighbor didn't sort her trash. She decides to do it for her. This is when Carlos pulls up from a long day's work, only to walk in on Danny and Ana. Carlos looses and pins Danny against the wall. Outside Angie sees this and runs into the Solises' house to stop Carlos from kicking Danny's ass. When Carlos doesn't answer to Angie, she throws a vase to get his attention. Gaby has arrived and is scare along with Ana at what's about to transpire. Danny begs his mother to leave, but she tells him to leave instead. Carlos tells Angie that Danny was on top of Ana, to which Angie says she doesn't care. She then lets Carlos know that if he ever lays a finger on Danny again, she WILL kill him.
UH OH!!!!!
It is SOOOO ON!!!!!!
But Angie doesn't stop there folks. Once outside, the grumpy neighbor provokes Angie, who proceeds to kick the lady's garbage cans into her yard, spilling all the trash. It takes Danny to drag his pissed mother home.
Later, Gaby forces Carlos to come apologize to the Bolens. When they get to the Bolen residence, they can hear Nic and Angie arguing about what happened and how Angie went too far. Nic then mentions police and them being done for if Angie doesn't cool it.
BINGO!!! Gaby and and Carlos look at each other and know that they got this in the bag.
WOW!
The Wisteria Lane Ledger
– About time we got some action popping off on Wisteria Lane! The Solises have never been involved with a mystery directly and this could prove interesting, especially with Ana involved. I wonder who will strike first? Gaby or Angie? My money is on Gaby the viper.
– Bree and Orson made up. If I didn't love Bree, I would be done with this storyline. As you can tell, I have a love/hate relationship with Orson, because he has to be the most bipolar character on Wisteria Lane now. I think Katherine needs to hand over her shrink's number to the crippled idiot, because he needs some major league help.
– Robin. She needs to become a regular. I mean ask MJ. He knows how to spot 'em.
– Tom and Lynette. They are so much better on each other's side than against each other. The way they revealed the horror they experienced at the play was hilarious. More funny Lynette and Tom, please?
Hiatus till mid February!!! See ya then!