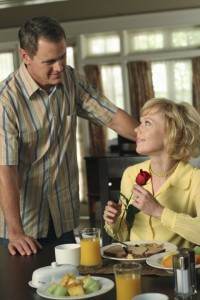 Too bad the last Desperate Housewives before February sweeps aired alongside the much-hyped Golden Globe Awards, because there were some decent turn of events that transpired in the hour.
It All Becomes Clear…
Zach Young's reappearance last week still had a ripple effect in the '˜Who Shot Paul Young?'mystery when Paul realized that the gun planted in Bree's house (and the one used to shoot him) was none other than the gun Mary Alice shot herself with in the pilot episode. Why I didn't correlate the two last week is beyond me, but I think it's safe to name Zach Young the gunman in this mystery. I stress the word '˜think.'
It's pretty interesting how the Paul Young mystery turned out this year so far. Instead of having Paul slowly plot revenge throughout the season, he's implemented his plan, got shot because of it, and now finds out that his son was the culprit. There are still strands left to play with before the season ends, namely those involving Zach's return and Beth being the daughter of Felicia Tillman. Paul still has some work to do, but will Zach be the unlikely variable to mess up everything Paul worked for?
Keith is a Baby Daddy. In Related News, Bree is Not Amused.
First, Orson returned to wreck havoc on Kree (Keith and Bree). Now, Keith's own past takes a swipe at breaking up the most popular couple on the show this year. The crazy thing about this? It might actually be Bree who messes things up this time around, not an outside source.
Keith's ex, Amber Jones (Rochelle Aytes), returned bringing a six-year-old kid in tow with her, claiming he was Keith's son. Remember Keith reluctantly gave up the prospect of having kids so he could be with Bree, which was very noble of him, especially at his age. So you would think Bree would be ecstatic for Keith in that he could have both her and his own son at the same time. Everyone wins right? Nope. Bree does the complete opposite and chooses not to tell Keith about his son, paying off Amber with a check and the huge lie of Keith not wanting to meet his offspring. Wow, Bree. Wow.
If anything, Bree's selfish act pretty much detonated a time bomb waiting to explode in her face, which I'm banking will be at the end of February sweeps. If we are lucky, that is.
Baby Alive?
Gaby's situation with the '˜Grace'doll has taken a turn for the worse. Luckily, Carlos has realized that he has made a huge mistake, but is it too little, too late? Also, can I say how much I am glad Mrs. McCluskey was the one to find this out? The scene with the dolls was hilarious and Kathryn Joosten and Eva Longoria delivered off each other in a perfect match of comedic badminton.
A Shotgun Wedding
It was nice to see the writers remember they had a gem in Lynette's mother Stella (Polly Bergman) by bringing her back after an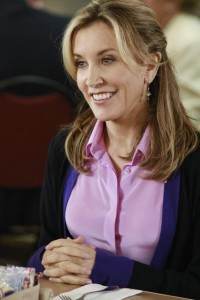 extremely long time away. In tow came the legend himself, Larry Hagman as Stella's new bigoted fiancé, Frank, who Lynette immediately disliked after he opened his mouth.
After the events of tonight, I was a bit shocked how Lynette let Frank get away from a verbal tongue lashing for being a bit much towards her mother, especially after Tom, Roy, and others have felt the Wrath of Lynette when they got a bit chauvinist in her midst. Here's hoping Frank makes another appearance (and return to TNT's Dallas reboot!) so we can see the two strong personalites go at it in a proper manner.
You've Got A Friend In Me, Even If You Don't Want One
Susan's story started off pretty blah, but the last scene between Susan and Dick (Gregory Itzin), the other hopeful donor, helped save the arc by enforcing how much of a scary sitution Susan is actually in. I wonder if Itzin will be back for another episode, because he deserves more than a one-time appearance on the show.
The Ice Queen Melts
Who would've thought Renee had a soft spot for kids? The reveal goes to show just how lonely Renee is and how far she's gone to cover up such a weakness. Since Renee has sparred with the other four main women on the block, she now gets a chance to grow her own character, which I am interested in learning more about. Hopefully, she will not end up being an Edie clone after all and actually have a heart worth discovering. Let's just pray she doesn't go crazy and runs off with Lee and Bob's daughter. Just saying…
What was your thought on this episode of Desperate Housewives?