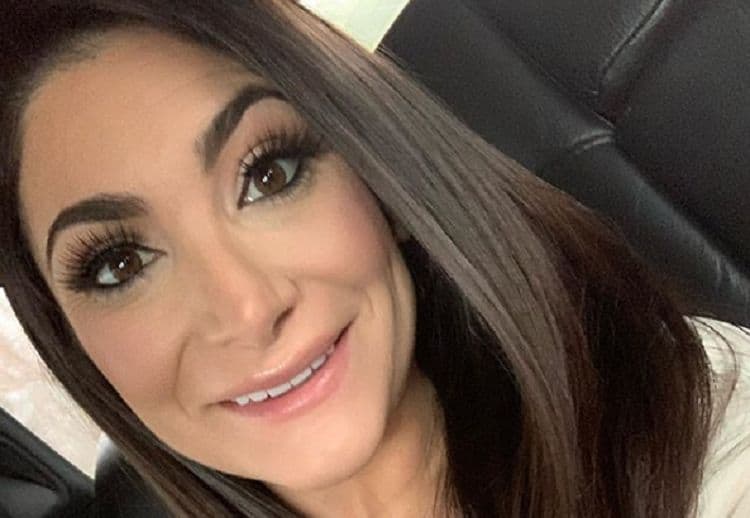 Deena Cortese is best known for her appearance on "Jersey Shore," the MTV reality show. She was a part of the cast from 2010 through 2015 as a regular. She has managed to stay in the news after her departure from the series and she is still active in entertainment. When we did a follow up to see what she's been up to lately, we learned some interesting facts. Here are 10 things about Deena Nicole Cortese that you might not be aware of.
1. Her Birthday
Cortese was born on January 12, 1987. A native of Jersey, she was born in New Egypt, New Jersey. Her full name at birth was Deena Nicole Cortese. Most reality television stars go by their real names, as did Deena, but she is also known as "The Walking Holiday." She has been in the reality television sector of the entertainment industry since 2010 when she made her debut in "Jersey Shore," followed by a return for "Jersey Shore: Family Vacation."
2. Deena has a new last name
Although most fans know her as Deena Nicole Cortese, she has a new last name. In 2017, she married her current husband Christopher Buckner. She has been married for just under three years and she has one child. If you want to know more about her and the search results bring up Deena Nicole Buckner, rest assured that you're on the right track.
3. She is of Italian descent
You can't always know what a person's family ancestry is unless they reveal it. Both her mother and father are of Italian American descent. She was raised by her parents John and Joann Cortese, and she grew up with her sister Joanie Maiorella, who has also appeared in several different episodes of "Jersey Shore" during the fifth season.
4. She was popular in high school
Deena attended the New Egypt High School and she was active in extra-curricular activities. She was involved in dance as well as cheerleading. After she successfully graduated from high school, she enrolled in classes at Brookdale, Community College, but she was only there briefly.
5. Deena was initially rejected for "Jersey Shore"
Deena was not accepted the first time that she auditioned for "Jersey Shore." We learned that she had tried out for season one of the series, but was rejected. It wasn't until after season two when Angelina Pivarnick left the cast that she was considered. MTV cast her after her good friend Nooki made the recommendation to bring her on board. She appeared for the first time in the third season of the show. She had a little help from her friends in getting her reality TV career started, and Deena and Snookie remain friends to this day. This goes to show that it is good to have friends who are well-connected.
6. She was involved in a big controversy
When Deena Nicole Cortese joined with "Snooki" and Jenni Farley to give a speech for Angelia Pivarnick's wedding, there was a tsunami of negative backlash. The trio interlaced tons of jabs and jokes about Pivarnick which some interpreted as being cruel, and not humorous at all. Angelina was reported to be so upset that she stormed off after listening to the things that the women had to say about her. This made her unpopular with a lot of people.
7. Cortese defended her speech
Instead of being contrite over the social faux pas which ensued after the speech, Deena responded to the backlash and comments that were even more scathing than her comments had been. She stated that the speech was not intended to be negative and that there was no malice behind the words that were spoken. Cortese seemed to defend their actions by saying they thought that Pivarnick would just laugh it off because she had made previous statements indicating that she didn't take herself seriously. Her defense of the somewhat scathing speech was no convincing to some and she also was forced to acknowledge that they were wrong in assuming that Angelina would be okay with the things that they had to say about her.
8. Deena is featured on Zimbio
We found a great resource for Deena Nicole Cortes fans on Zimbio. This site is loaded with tons of amazing photos of her from various events that she has attended. Anyone who is interested can simply go to the site and then click on the links that will take you to more photos and some great articles that feature news about her and what she has been up to recently. You can find a lot of information about her at.
9. Her parenting was wrongfully judged by viewers
Viewers notice even the smallest details about the lives of the people who make up the cast of "Jersey Shore." Deena has become the victim of harsh criticism from some of them because of the fact that her young son CJ is frequently seen not wearing any shoes. This forced Deena to share the fact that her little boy has a foot deformity. The treatment for the condition is to wear corrective braces when he goes to bed at night, but the good news is that this will correct the problem. This is the reason that she doesn't force him to wear shoes all the time.
10. Deena was involved in a car crash in Italy
Cortese was riding in a vehicle driven by her friend and co-star Nicole "Snooki" Polizzi when the two were in Italy with the rest of the cast of the show. It was really little more than a fender bender and neither or the two ladies were injured. The accident happened in May of 2011. No arrests were made and there was no evidence of alcohol or other substances involved in the crash.