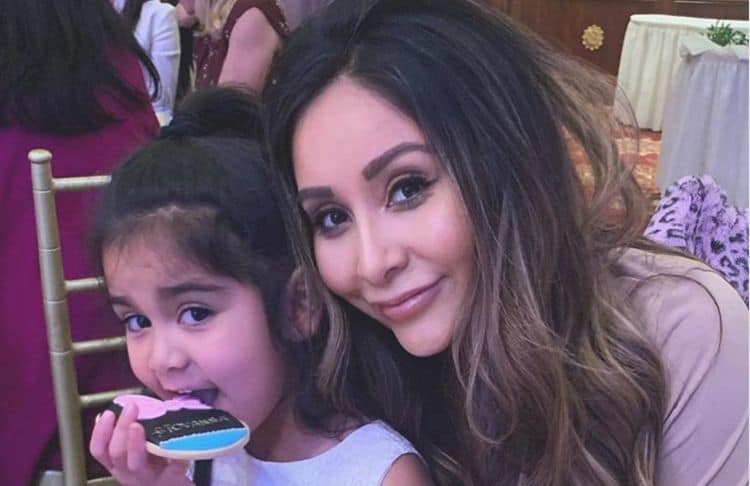 Nicole Polizzi (or Snooki, as you may know her best) first came to attention as one of the fame-hungry wannabes of Jersey Shore. 10 years after the show's debut, she's still hot stuff, having become one of the few reality TV stars to maintain their fame for more than the prescribed 5 minutes. Currently starring in the second half of the third season of Jersey Shore: Family Vacation, Snooki seems in no danger of leaving the limelight anytime soon. Find out more with the ten fast facts.
1. Net Worth
Of all the Jersey Shore cast members, Polizzi is the one who's arguably done the most since the original series ended. With her various reality TV appearances, presenting gigs, books, and endorsement deals, she's now amassed a respectable fortune… at least by the reckoning of Celebrity Net Worth, who estimate the star's current worth at a whopping $4 million- a figure no doubt helped by the $150 thousand she was pulling in per episode by the end of Jersey Shore.
2. Dancing with The Stars
A year after the end of Jersey Shore, Polizzi was offered the chance to appear on the 17th season of Dancing with the Stars alongside fellow celebs, Christina Milian, Corbin Bleu, Keyshawn Johnson, Bill Engvall, Jack Osbourne, Brant Daugherty, and Bill Nye. Her partner in the show was Australian professional dancer, Sasha Farber. Despite receiving praise from the judges and consistently ranking as one of the highest scorers, she was eliminated relatively early on in the process, coming in 8th place overall.
3. Is She Really Going Out with Him?
Although it was Jersey Shore that made Polizzi's name, it wasn't her first taste of fame. In the summer of 2009, she made her TV debut on an episode of MTV's Is She Really Going Out With Him? Going by the name "Nicole, the Jerzette", Polizzi was featured getting into a fight with her then-boyfriend, Justin. "These random girls that I don't even know … just came up into [the VIP area] and he didn't even introduce me to them," she lamented. "I guess we're insecure with our relationship." We guess so… the pair broke up shortly after filming ended.
4. Most Popular Halloween Costume
When The New York Times predicted Polizzi would be "the breakout member of the cast", they weren't wrong. During her time on Jersey Shore, Polizzi was very much a love/ hate figure, earning as many fans as detractors for her antics and controversial comments. By 2010, her celebrity (not to mention her very particular style) had reached such a level that she joined Lady Gaga in becoming the year's most popular Halloween costume. "Lady Gaga and Jersey Shore have been our top sellers," an employee at the novelty store Ricky's NY told People. "Of the Shore cast, Snooki has been the top. Everyone is coming in to find black wigs and Bump-Its."
5. A New Start
Polizzi was born in Santiago, Chile, in 1987, but was given up by her parents shortly after birth. "[My adopted parents] flew all the way to Chile to come to pick me up and they said that right when they saw me I was like, 'Mama. Dada,'" she's since shared. "So it was, like, meant to be. I could tell because, you know, things just work out that way. It's called fate."
6. Mom of Three
In March 2012, Polizzi announced her engagement to Jionni LaValle. The couple welcomed their first child, a son called Lorenzo Dominic LaValle, in August that year. Since then, Polizzi has become mother to two more kids: her second, a daughter named Giovanna Marie LaValle, was born on September 26, 2014, while her third, Angelo James LaValle, was born on December 13, 2018.
7. The Nickname
Say the name Nicole Elizabeth Polizzi (or even her married name, Nicole Elizabeth LaValle), and there's a good chance most people will respond with "who?' Say the name Snooki, and it's likely they'll at least have a vague idea of who you mean. Despite what most people think, Polizzi was given her name long before she made her debut on Jersey Shore. After becoming the first of her peers to kiss a boy, they named her "Snooki" after Vince Green's character on Save the Last Dance.
8. Bestselling Author
In 2011, Polizzi added another line to her resume when she published what would be the first of several bestsellers. At the time of its release, A Shore Thing [2011] was described as a "sweet, funny, and sexy novel (that) perfectly captures the heat, the energy, the fun, and the drama of Jersey Shore'. Having earned herself a readership, Polizzi went on to release several more titles, including Confessions of a Guidette [2011], Gorilla Beach [2012], Baby Bumps: From Party Girl to Proud Mama, and all the Messy Milestones Along the Way [2013], and Strong is the New Sexy: My Kickass Story on Getting My 'Formula for Fierce [2015].
9. Snooki the Brand
No one can say Polizzi hasn't capitalized on her celebrity. In 2010, she launched her own brand of merchandise, which featured pretty much anything and everything she could stamp her name on and attach a price tag too. Footwear, perfume, sunglasses, cosmetics, jewelry, headphones, phone/tablet accessories, handbags, apps, hair products, and tanning products… you name it, Snooki's sold it. Not that it's always been an easy task- in 2011, Polizzi launched a legal suit against the licensing company she'd signed with the previous year, SRG Ventures, alleging breach of contract. The company countersued for a whopping $7 million, claiming she'd undermined and delayed their attempts to negotiate with manufacturers.
10. Legal Troubles
Polizzi's beef with SRG Ventures wasn't the first (or only) time she's faced legal troubles. Her first brush with the law came in 2010 when she was arrested on charges of disturbing the peace, disorderly conduct, and generally being annoying to a criminal extent. After issuing a pleas bargain, she was slapped with a $500 fine, community service, and, most damningly of all, the label of "Linsey Lohan wannabe". A year later, she was up in court again after colliding with a parked police car in Florence, Italy.
Tell us what's wrong with this post? How could we improve it? :)
Let us improve this post!