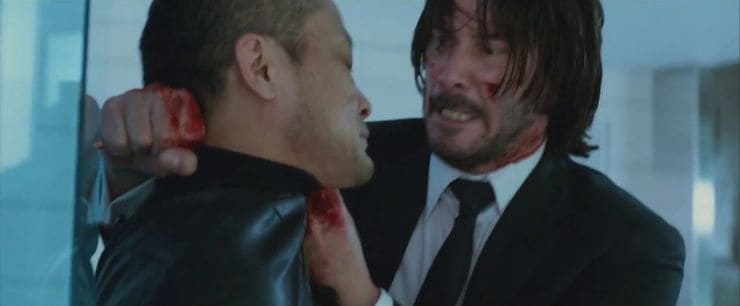 There is something pretty awesome as well as dangerous about people that can kill with pretty much anything since it's not just the imagination that goes into the kill, it's the sheer horror of thinking that people like this might exist that see everything as a potential weapon. When a person really stops to think about it though, this isn't a far-fetched idea since pretty much anything can be used in a dangerous way that could cause bodily harm, not to mention death. If it has an edge, if an item has any weight to it, and of course, if it has a point, there's a good chance that it might be used in a very dangerous fashion. But in some cases, the best news is that it might actually take someone that knows what they're doing and has the nerve to do it since otherwise, it's fair to think that a lot of people might have no clue how to kill someone with a pencil. Here are ten movie deaths caused by strange or mundane items.
10. Hard to Kill – Pool Cue
It's likely that a lot of people believe that Steven Seagal could kill a person using pretty much anything since he's gained a reputation for being a badass over the years. It does make a person wonder though if in real life he could actually be this tough or if someone who knows more than Aikido could tear him up in a fight. It's one of those things that people love to debate about.
9. Deadpool – Zamboni
What makes this even funnier, apart from the fact that the guy on the ice is going to be run over by one of the slowest-moving machines in the world, is that there are several outtakes that use this bit. One thing about Deadpool is that he can kill anyone using pretty much anything, within reason, but his unconventional kills tend to be the most amusing since his personality helps to make them this way.
8. The Equalizer – Corkscrews
This is probably one of the most obvious weapons on this list since looking at a corkscrew, the thing does look kind of wicked since it comes to a sharp point that's used to stab into a cork. But the ability to use these things like miniature punching daggers now feels like a really horrible temptation, especially since it looks so horribly easy.
7. Baywatch – Fireworks
There might be a few people calling bs on this one right now, but one thing that people have to remember is that fireworks are still made with explosive materials that can harm people. Keep in mind as well that not only is Mitch firing an explosive at a person, he's doing so at a lethal range and the force of the explosive coming out of the tube is bound to be enough to pummel the hell out of a person if not simply blow them to pieces upon impact.
6. Hot Shots Part Deux – Chicken Arrow
Obviously, this gets into the realm of ridiculousness since a chicken as an arrow is one of the last things that a lot of people would probably think about. But as a comedic moment in this already goofy movie, it's absolute gold since it's something that you can't help but laugh at, or be horrified by.
5. Inglorious Basterds – Fist In Mouth
Can a person fit their fist in their mouth? It's very possible actually, but shoving a fist past one's mouth and further inward is going to do some serious damage, no to mention that even biting down on the offending hand becomes kind of impossible after a while. This has to be one of the more disturbing ways to die.
4. Batman – Hand Buzzer
It's bad enough getting shocked, but it's even worse when something called tetanic contraction takes hold, making it impossible to let go. No doubt the Joker was wearing something that prevented him from getting shocked as well but think about grabbing onto a live wire and not being able to let go, that's kind of how this scene could be described.
3. You're Next – Blender
This is when the term 'brutal' just doesn't cut it since being impaled by a blender blade is bad enough consider that not only does the blade have to cut through hair and scalp, it has to crunch through bone as well. One can only hope that a person would already be dead by the time the switch was flipped on, otherwise, the individual that's been impaled is about to have a very painful few seconds before the lights go out.
2. X-Men: First Class – A Coin
So yes, unless you're firing a coin at a high velocity at someone, this would likely never happen. And even then, it wouldn't happen like this since the act is slow and methodical, meant to cause as much pain as possible during entry and exit. Magneto has done some seriously messed up things, but this is right up there.
1. John Wick 2 – Pencil
It's John Wick. That's really all you have to say, but the pencil story is one that a lot of people wanted to see reenacted since killing three men with a single pencil is something that kind of defies explanation and needs to be seen in person.
Even the most innocuous items can be weapons.