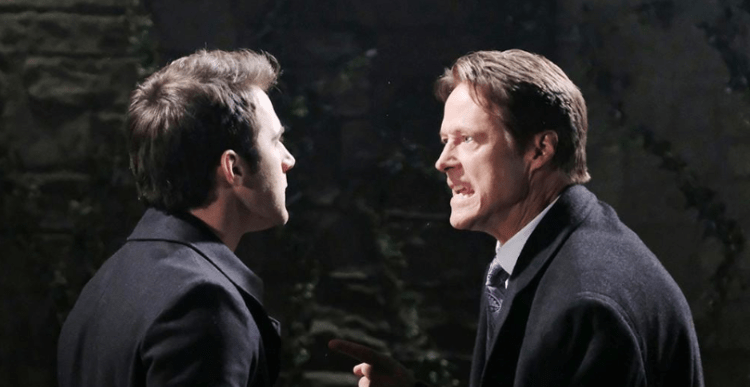 Days of Our Lives fans know that Diana is working on getting things to work in her favor, but she's working every way she can to make sure that Victor is an alliance to her. She's not going to get what she wants from this — in our opinion. He is not a man who works for anyone else. He works for himself, and that is about it. He's not a man who does anything that will benefit anyone else, but we do know that he is someone who can handle things as they come. They are going to have a lot more to work with than she imagines, and he will find a way to turn that into this own situation. He will always find the time and the ability to make whatever deals he brokers work more for him than anyone else. This should be interesting.
Jennifer is currently working on making sure that Jack knows that things are not working for her. She's trying to get him to see things from the point of view the Jack she once knew would have seen them. This new Jack is all about what Eve wants from him and what she feels is the best and most appropriate situation. She is not a good person, and she's rubbing that off on him in a way that doesn't work for Jennifer. She knows that Eve is only making Jack her pawn because she knows it will hurt Jennifer more than anything. She doesn't care for him or want anything else from him. She only wants to hurt Jennifer, and there is nothing that Jen can do about that at this point in her life. She just has to sit back and pretend it doesn't bother her if she wants it to stop.
What's Happening on Days of Our Lives
#DAYS won't be on your television screens today but you CAN stream the latest episode anytime right here: https://t.co/ZsCmioRrzb pic.twitter.com/LIi1ChAQWo

— Days of our Lives (@nbcdays) February 27, 2019
Did you know this was going to happen?
What's Next on Days of Our Lives
In the latest #DAYS, Ciara learns the truth about who set the fire that almost killed her. Now she wants to know why. Watch Days of our Lives, weekdays on NBC. https://t.co/ZsCmioRrzb pic.twitter.com/BmWMBd78YD

— Days of our Lives (@nbcdays) February 22, 2019
Victor is a man who likes to do and say things that are dramatic, and this is one of those days. He's got something to say, and he is not holding back even a little. He is going to open up and say what's on his mind, and it's going to crush someone. That someone might just be Marlena. It turns out that he has a big problem to face, and he's not going to face it alone. He's going to go out of his own way to take down as many people as he can, and he's starting with this group of people he knows will be there to take down the issue. Marlena, of course, will be shocked. But, she will handle it. She always does, and she's not going to mess this up in any way, shape, or form.
But, then there is something else. Ben is going to do something horrible. He's been innocent of all the horrible things that have happened so far, but now he's questioning himself. Everyone has gotten into his head, and now he's fearful that he will do something that might hurt Ciara. He was better, but now he is in a place where he doesn't even trust himself. It's an awkward and scary place for him to be, but he's figuring things out a bit as he goes. He's not sure he can handle what might come his way, but he will find out for himself what's happening in his life before much longer.
Stay tuned for more Days of Our Lives and be sure to check out TVOvermind daily for the latest Days of Our Lives spoilers, news, and updates.