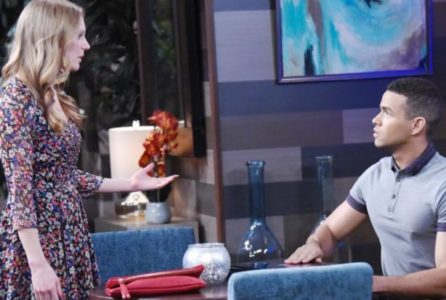 Days of Our Lives fans are shocked to hear that there might be a chance Abigail herself killed Deimos thinking that he was Ben. We all know Ben made some serious issues in her life, and she's not had a chance to get over them. He messed her up so badly that she had to fake her own death and flee, and her entire life has been ruined because of this. It's not a good look for her, but we hear that there is a good chance she might just be the killer.
It's going to be difficult for her when she realizes she might be a killer, and then she ends up being hit by a car so that she can save Chad's life as it comes speeding toward him in an effort to take his life. When she manages to get him out of the way, she's going to end up hit. She's going to end up in bad condition, too, and it's going to require serious surgery right away.
If she doesn't have the surgery, she will die. And Chad will refuse to leave her while she's in the hospital. What we've learned here is that she will find out how much he loves her as he watches over her, and it will also become very evident to Gabi how he feels about things. This is definitely the end of the road for Gabi and Chad, even if it takes them a little longer to realize just how over they really are.