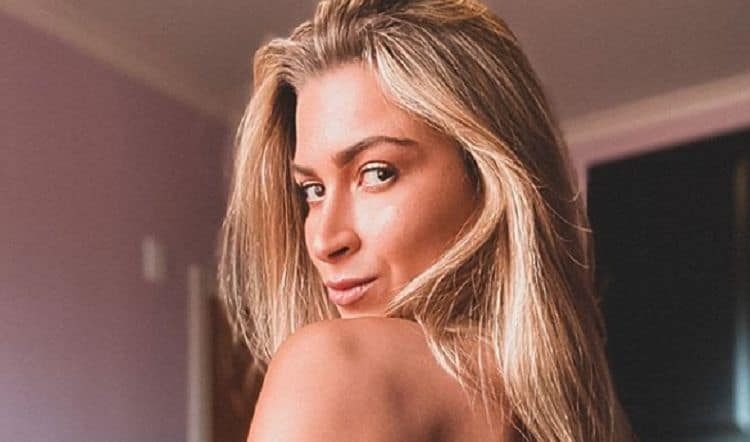 Twenty eight seasons later and Dancing With the Stars is still just as big as ever. The dancing competition show has been one of the most watched shows of its format, and there's no slowing it down any time soon. This season, we're seeing some incredible celebrity names ready to get down and dirty on the dance floor. Among a few others, actor James Van Der Beek, model Christie Brinkley, former NFL player Ray Lewis, and former NBA player Lamar Odom are gracing us all with their learned dancing skills. Some of our favorite dancing pros are returning this season including Cheryl Burke and Val Chmerkovskiy, but we're also getting a couple of new faces on the pro list. Husband and wife duo Pasha Paskov and Daniella Karagach are new to the DWTS stage this season; and if you don't know anything about them, we can start you off with 10 things you should probably know about Daniella Karagach.
1. True partners
Daniella and husband Pasha are not only partners in real life; they're also partners on the dancing stage. The two have been dancing together for 10 years now, since Daniella was only 17 years old. They are both champions in their field, and as can be seen on DWTS, the two are an extremely talented couple.
2. Early life
Even though Daniella was born in Brooklyn, New York, she grew up with strong ties to her roots. Both her parents immigrated to the US from the small European country of Moldova, and they divorced when Daniella was only a year old. This dancer was born in 1992 and spent all of her life living throughout various areas in New York.
3. Education
Daniella was diagnosed with ADHD when she was young, but that diagnosis never stopped her from moving forward in her life. She strived to be disciplined in school, and in return, she excelled in different disciplines. She attended and graduated from the Franklin D. Roosevelt High School in Brooklyn, and she attended college right after. She studied childhood education at the Staten Island College Campus of The City University of New York.
4. Dance education
She was born in the early 90s, and she also started dancing in the early 90s. Daniella started her formal dance training when she was only 3 years old. That's when she started learning ballet. When she turned 7 years old, Daniella started learning Latin dances. By the time she turned 11, she was ready to learn ballroom dancesport–and she did. She formed a partnership with Leonid Juashkovsky, and the two danced together in many competitions. They were three-time US Junior Latin champions at the height of their dance partnership.
5. World of Dance
Daniella and husband Pasha competed on season 2 of NBC's World of Dance. They were definitely much more seasoned than some of the other competitors, but it was a true test to their style and flexibility. That was the first time Daniella and her husband were juxtaposed against other dancers with different styles. Although they got eliminated, Daniella and Pasha got the much-deserved publicity they now have. Their appearance at that show is part of how they got the gig for DWTS to begin with.
6. On Tour
Speaking of more DWTS connections, Daniella recently got the gig of touring with one of DWTS' best pro dancers, Derek Hough. Hough is definitely a favorite, and he was so impressed with Daniella and Pasha during World of Dance that he invited them to tour with him. There were other factors to consider, especially since the duo still does a lot of competitions, but they definitely couldn't pass up this once-in-a-lifetime opportunity to dance with a great. They were seen performing during this year's Macy's 4th of July Spectacular.
7. Young Love
Daniella got into the world of dancing at such a young age, and she also found the love of her life at a young age. She met Pasha when she was only 15 years old, and never once did she imagine that she would fall in love with her partner. When they met, Pasha was already an established dancer at the top of his game. They partnered up thinking that no one was going to take them seriously because of how young Daniella was. They had a 7-year difference that was stark. But once on the dance floor, the two just blend together so well, and they went on to win many championships.
8. Social Media
The new DWTS pro dancer is quite active on social media. You'll get a glimpse of her personal life on there given that she constantly posts about her husband. You'll also find a lot of behind-the-scenes clips, and of course, dancing clips of herself and her husband. It's a good way to keep up with Daniella's moves, especially if you want to dance the way she does.
9. ADHD
We briefly mentioned that Daniella was diagnosed with ADHD when she was younger. She couldn't sit still through anything, and it was affecting her life tremendously. Her mother was a psychologist, and instead of putting Daniella through medications, she decided to enroll her daughter in dance classes instead. This decision changed Daniella's life and affected her positively. It allowed her to fine tune her focus and discipline in life. It also led to her professional career.
10. The Music
What Daniella loves the most about dancing is the music. It doesn't matter what kind of music it is that she's dancing to, Daniella gets all the feels inside as soon as the song gets going. The music is what drives her movements, and it's something that she truly enjoys about the world of dance. We can imagine that Daniella could probably dance to any kind of song, and we've really seen her do it in DWTS.
Tell us what's wrong with this post? How could we improve it? :)
Let us improve this post!