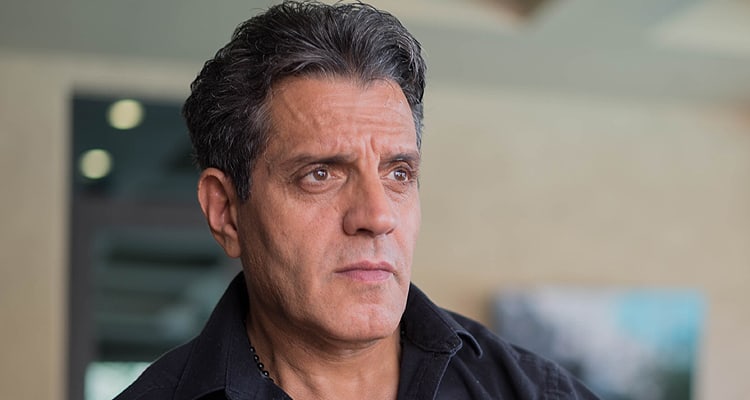 Nordine Zouareg is a former two-time Mr. Universe champion, an internationally acclaimed high-performance coach, fitness and wellness expert, author of the books Mind Over Body (Grand Central Publishing, 2007) and InnerFitness (Skyhorse Publishing, 2021). He began his career in 1986 as a professional bodybuilder. In 1999 he settled in Tucson, Arizona, where he helped the famous resort spa Miraval get to #1 in the world. There he worked with top celebrities such as Barbra Streisand, Charlie Sheen, Jim Carey, Sugar Ray Leonard, John Kerry, and many others.
1. Nordine was held at gunpoint.
Nordine recounts this horrifying story as a teenager being held at gunpoint by a mob of French racists. One summer afternoon in Tourcoing, France, Nordine and Salima, his girlfriend, cruised in his new car when another vehicle emerged out nowhere, halting and blocking them from any attempt to escape. It is then that five armed masked men came out, positioning themselves and aiming at them. All armed with hunting shotguns. "They held us at gunpoint for a good 20 minutes; it was a terrifying experience for the both of us!" he says.
2. He danced with Oprah.
During one of his group sessions, Nordine had an unexpected guest showing up to take the class. It had just begun with its five-minute meditation when Oprah cracked the door open while the rest of the group were deep into meditation. "I had to at least open one eye and witness what was happening! Not in a million years have I thought Oprah would show up in my class!" He said. The fun part came when each participant was instructed to choose a partner for the "Medicine Ball Groove," as Nordine calls it. At his amazement, Oprah chose him to be her partner. It is then that the two shook their booties together. At one point, accidentally sending Nordine flying to the ground. One of his top three best moments in life, he confesses.
3. Nordine protected Sophia Loren's life.
When he first got the call from one of his former clients who coordinated the event for the New Mexico Children's Hospital, he couldn't believe it. Because of his connection with the coordinator, his multi-language skills, and his impressive physique, Nordine was selected to be Sophia Loren's bodyguard for a week. Just two minor issues, however. The initial obstacle he had just started in his new position as Miraval's Fitness & Wellness director, and he wasn't confident he'd get the time off. The second, he didn't think he was qualified to be one of Hollywood's icon protectors. Though both issues were dealt with, Nordine was on his way to experiencing an amazing time with the legendary movie star.
4. The FBI raided his place by accident.
In 1995, when Nordine immigrated to the U. S, he didn't think FBI agents would visit him. After all, these were the good guys he'd watch on television. "I heard three super loud knocks followed by "FBI, open the door!" He said. As Nordine conformed and opened the door to his small apartment downtown Albuquerque, he was shocked to see two masked FBI agents holding guns in their hands, badges around their necks, and wearing bulletproof jackets. He was thrown against the wall and handcuffed, no question asked, as he recounts. To his disbelief, five minutes of terror ensued. "At first, I thought it had to do with my immigration status as I had a pending approval, then I realized these guys weren't from Immigration Services." He said. "These guys were looking for something!" He said. It turned out they were looking for drugs; someone had tipped them off with the wrong address and the wrong person. No apologies were expressed, just a "Have a good night, sir!" yell as they removed the handcuffs from him and walked out. The FBI still owes an apology to Nordine, don't you think?
5. Nordine's saved his girlfriend from sex trafficking.
It's one thing to hear or watch anything about sex trafficking, but another when a friend or a family member is a victim. Nordine's dramatic experience with this horrific human exploitation is astonishing. In 1992 Nordine lived with his girlfriend in Cagnes-sur-Mer, near Nice, France. Things weren't going well in their relationship, so his girlfriend took a seasonal job she'd discover on a brochure promoting a luxurious resort in the African city of Dakar, Senegal. Nordine reluctantly approved of her decision to leave. The position entailed duties as a resort receptionist; it came with a good salary, a free-rent apartment, and other bonuses. At first, things went relatively well, and they maintained daily calls. But after a few weeks on the job, things took a turn for the worst. Nordine would learn that the resort's manager had kept his girlfriend's passport since her arrival, and she wasn't being paid. He also learned that she was forced to work at another place, a bar owned and operated by two middle eastern brothers. It's then that Nordine flew to Dakar, sought the help of local authorities who would offer their assistance to recover his girlfriend's passport. Because of the nature of the situation and the brothers' shady notoriety, they were advised to leave the country immediately. The police called Air France and ushered them straight to the airport, putting them on a flight back to France, taking nothing but the clothes on their backs.
Tell us what's wrong with this post? How could we improve it? :)
Let us improve this post!