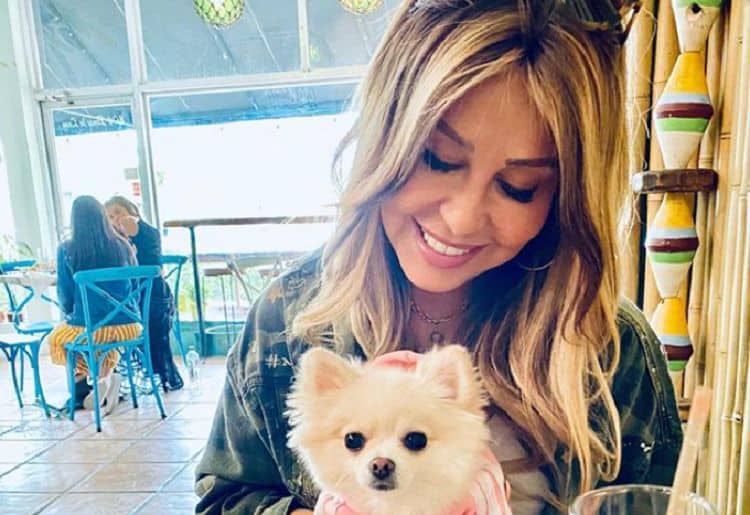 Myrka Dellanos was born in Philadelphia in 1965. She's a famous Cuban American journalist, author, and humanitarian who lives in Miami, Florida. She is not only well-known for her ability to communicate with the public and deliver the news to a broad audience. She has worked on Univision Hispanic television networks, and has held other important positions in the community in the effort to bring awareness and aid to those who are in need, in a variety of situations. Dellanos has had quite a colorful life and career, and you may have seen her on television or on social media, but whether you know this gorgeous broadcaster or not, here are 10 things you didn't know about Myrka Dellanos.
1. She's a highly recognized journalist
Dellanos graduated from the University of Miami with her bachelor's degree in journalism in 1986 and got her first big break approximately six years later when she was given the position of co-host on a popular news show which aired on Univision called Primer Impacto (First Impact). Although she has been offered to take other positions in English television, she has turned them down, saying that she prefers to staying with Univision, so long as her show, Primer Impacto continues to be a popular news show.
2. Has a famous social media star, daughter
Dellanos only has one child and her name is Alexa Dellanos. Twenty-five year old Alexa had contemplated following her mother into journalism, but when she realized how much money she could make as an Instagram personality person, she started taking her, already good looks, and upping the anti by having plastic surgeries to make her already beautiful looks, really stand out. She currently has over 1 million followers on Instagram and earns over $3000 per ad on her social media sites.
3. The father of her famous daughter is a local physician
Dellanos married her first husband, and the father of her daughter, Dr. Alejandro Loynáz, in 1991, and in December 1993 is when their daughter Alexa was born. The couple weren't married many years following the birth of their daughter, and divorced in 1998 when Alexa was just about four years of age. Dr. Loynáz is a well respected Internal Medicine physician who practices in Miami.
4. Visited Kuwait
Wayne Newton is known for his charity work with performances for the military. He has made a number of visits to perform for our men and women in uniform and has performed with a number of big name-stars. In 2004, Newton made a trip to Kuwait with several performers, including The McFadden Brothers, Sammy Davis Jr., Lee Greenwood, and Gladys Knight, as well as The Count Basie Orchestra. Dellanos was invited to go along on the trip that performed for troops in Kuwait and Iraq. A very special experience for all.
5. She's a published author
Dellanous not only can talk to people and report the news, but she can write too, and has published a book titled, Succeed and Be Happy: Things I Learned Thanks to God, My Mom, and Life, which was released in 2005 by Random House. She did a big book tour across the US and ass a great honor, the Library of Congress asked Dellanos to participate in the National Book Festival which was being hosted by First Lady Laura Bush and took place in September 2005.
6. She is multi-talented
Dellanos is a woman of many talents and accomplishments. Beyond being able to report news and give her views on hot, current topics, she is also a very accomplished ballet dancer and a piano player. I'm sure these talents help relax her in her off time and are great ways to unwind, de-stress, and get a little music meditation time in.
7. Was married multiple times, and sent one husband to jail
After a couple failed relationships and marriages, Dellanos gave marriage another try, this time to a Cuban-born man by the name of Ulyses Daniel Alonso. Alonos worked as a pharmaceutical rep and the couple married on April 8, 2008. Not even a year later, Alonso was arrested for domestic battery and on August 29, Dellanos filed for divorce.
8. Named Hispanic of the Year
Dellanos received quite an honor. In 2001, Direct Marketing Association of America, named, Dellanos, Hispanic of the Year. And beyond that, she was also chosen to be a Goodwill Ambassador for the International Rescue Committee. This committee is a part of the United Nations and their efforts are for rescuing refugees, one of Dellanos' personal dedications for humanity.
9. She was honored by President Bush
It's not every day that you get recognized by the president of the United States, but in 2004, Dellanos was invited to the White House where she was appointed as a member of the Freedom Corps, a group of people that consists of 25 members who work together as a team, promoting charitable giving.
10. Diagnosed with Diabetes
Dellanos was diagnosed with stationary diabetes at a young age. She says as a young girl, she began to struggle with losing weight and this caused her to seek medical advice, which led to the diagnosis of multiple issues; high blood pressure, high cholesterol and diabetes. It was the diabetes that got her to totally change her lifestyle and habits and it was also the diagnosis that put her into a depression for some time.