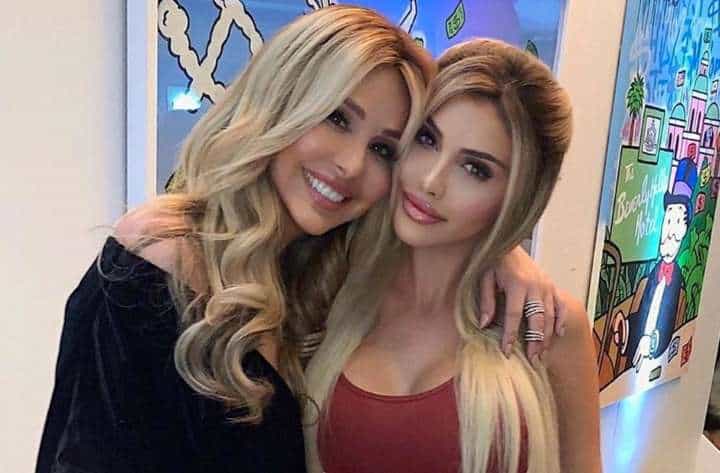 Alexa Dellanos has made a splash on the internet with her hot and sexy pics that she posts on a regular basis. The basis of her career is a internet personality and she has accumulated quite a lot of attention since she began her venture on Instagram and Twitter. She was born on December 30, 1993, making her 25 years old now and she's already built a sweet deal for herself. You may have seen this beauty queen or follow her on social media, but here are 10 things you didn't know about Alex Dellanos.
1. Has a famous mother
Dellanos' mother is a famous Cuban American actress and journalist, Myrka Dellanos, who has also worked in radio and television as a television host. Most people expected her daughter, Alexa, to follow in her footsteps, but apparently Alexa had other ideas for her life. Myrka has made quite an impressive life for herself and has a approximate net worth of $1.6 million, which tells you that Alexa pretty grew up without wanting for much.
2. Her father is a doctor
While her mother makes a living as a famous journalist, her father doesn't do too shabby either. Dellanos' father is a physician. He has his Internal Medicine practice set up in Miami, Florida and between both her parents, they were both able to financially support her through her years, until she began making her own living and doing quite well at what she does, with both her entrepreneurship ambitions and her income.
3. She makes a living as an Instagram model
More and more beautiful women are finding their way to the internet and social media as a way of creating a name and income for themselves. Dellanos is one of these gorgeous women who has hit the jackpot with her posting of sexy pics and has gained quite an impressive following. She is said to have over 1 million followers on Instagram and over 40,000 followers on Twitter. The beauty queen
4. She's not the typical model height
Most models are blessed with something a lot of us wish we had, that model physique that usually includes a taller stature. What most of think of when it comes to a model stature, is height. Dellanos wasn't born with the 'height gene,' as a matter-of-fact, she only stands 5 feet 2 inches tall. But she was blessed with a lot of other model-like traits, so long legs don't seem to be an issue for her when it comes to being gorgeous. Her measurements in other areas include; bust-36, waist-25, and hips-35.
#5. She didn't exactly have the best childhood
Divorce isn't easy on anyone, especially kids. Dellanos is the only child between her parents, and they divorced in 1998, when Dellanos was just a young girl, only four years of age. Dellanos didn't take the divorce well, even at that young age. It affected her throughout her life, and especially because of her mother's continued pattern of failed relationships. It was never clear if her mother got hit with financial obligations to Dellanos' father due to her status and wealth after the divorce, however, it's clear she made a comeback and financial recovery if she ever did.
4. Her step-father was arrested
Dellanos' mother did try to for another marriage. In 2008, Dellanos' mother married a Cuban-born man by the name of Ulyses Daniel Alonso who worked as a pharmaceutical representative. This marriage, too, didn't last very long, and the ending wasn't good, either. Just 1 month shy of the couple's one-year anniversary, they divorced, following on the tail of Alonso being arrested on battery charges.
5. She's a Capricorn
The Capricorn zodiac sign certainly fits her well. The dates of a Capricorn are from December 22 – January 19 and as the sign dictates, those who are born under this sign are considered to be ambitious, talented and intelligent individuals, and this certainly describes Dellanos. They also have a need for stability and for things to be in order, which makes them typically, better in organizational skills. Some of the negative characteristics are said to include; fearful, ruthless, pessimistic, and greedy. Let's hope she doesn't harbor many of those traits.
6. She's not worried about the end of Instagram or social media
The idea of social media, or specifically, Instagram, coming to an end any time in the near future has been presented to Dellanos in the recent past and was asked if this worried her as this is her primary source of income. She claimed she is not worried. Her response indicated that she doesn't believe it will end any time soon, and if it ever did, she believes her following is so strong that her fans will simply move with her to whatever platform takes over.
7. Dating rumors
Dellanos has kept some things private in her life, and one thing she's kept under wraps is whether or not she has a man in her life. Rumors are that she is seeing a guy by the name of Alec Monopoly, who works as a graffiti artist, but as far as making it official that they are in a dating relations, that's one thing neither one of them has put into pictures yet.
8. She receives top dollar for her adds
If you can get the followings and make a big name for yourself, companies are willing to pay big bucks for placing ads on your social media site, and Dellanos gets a big chunk of money for the ads on her site. It's not exact, but sources have revealed that she gets anywhere between $2000-$3000 for every sponsored ad that's placed on her social media pages. Those dollars add up quick and have helped to build quite a substantial financial empire.
9. She admits having plastic surgery
Dellanos says that her body isn't all the real deal. Although she was blessed with many beautiful features, she has chosen to enhance her looks by having multiple surgeries. The surgeries she admits to having include, lip fillers, breast augmentation, and a "booty enhancement" surgery, although she never made it clear if that procedure was a Brazilian butt lift, or other procedure, according to Honey Nine.
10. Australian influencer spoke against the plastic surgeries
After Dellanos revealed all of her plastic surgeries, Australian influencer, Ariella Nyssa spoke out in an interview, stating that although she's not totally against plastic surgery herself, she does worry about how it influences all the young women out there who may think these are natural bodies their looking at, and it gives them all the wrong idea about beauty and the standards of beauty. They don't realize how all these bodies are made from plastic surgery and not all the 'real'deal.'