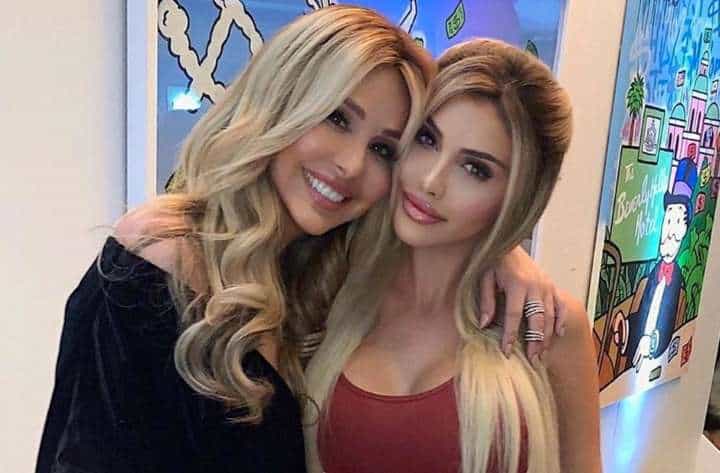 Alexa Dellanos has taken the internet by storm with her sultry and captivating photos, amassing a significant following on social media platforms like Instagram and Twitter. Born on December 30, 1993, the 25-year-old has already built an impressive career for herself. You might be familiar with this stunning beauty, but here are ten lesser-known facts about Alexa Dellanos.
1. Born to a Famous Mother
Alexa's mother, Myrka Dellanos, is a renowned Cuban American actress and journalist who has also worked in radio and television as a host. Many expected Alexa to follow in her mother's footsteps, but she chose a different path. Myrka has an estimated net worth of $1.6 million, ensuring that Alexa grew up without financial worries.
2. Her Father is a Doctor
While her mother is a famous journalist, Alexa's father is a successful physician with an Internal Medicine practice in Miami, Florida. Both her parents were able to financially support her until she started earning her own income through her entrepreneurial pursuits.
3. Instagram Model Extraordinaire
Many beautiful women have turned to social media to create a name and income for themselves, and Alexa is no exception. With over 1 million followers on Instagram and over 40,000 followers on Twitter, she has certainly made her mark in the world of online modeling.
4. Defying Model Stereotypes
While most models are known for their tall stature, Alexa stands at just 5 feet 2 inches. However, she possesses other model-like traits that more than make up for her height. Her measurements include a 36-inch bust, 25-inch waist, and 35-inch hips.
5. A Challenging Childhood
Divorce can be tough on children, and Alexa was no exception. As the only child of her parents, she struggled with their divorce in 1998 when she was just four years old. The impact of her mother's subsequent failed relationships also affected her throughout her life. It's unclear if Myrka faced financial obligations to Alexa's father after the divorce, but she has since made a financial recovery.
6. A Stepfather's Arrest
In 2008, Myrka married Cuban-born pharmaceutical representative Ulyses Daniel Alonso. However, their marriage ended just shy of their one-year anniversary, following Alonso's arrest on battery charges.
7. A True Capricorn
Alexa's zodiac sign, Capricorn, is known for its ambitious, talented, and intelligent individuals, which certainly describes her. Capricorns also crave stability and order, often excelling in organizational skills. However, they can also be fearful, ruthless, pessimistic, and greedy. Let's hope Alexa doesn't possess too many of these negative traits.
8. Unfazed by Social Media's Future
When asked about the potential end of Instagram or social media, Alexa expressed no concern. She believes her strong following will simply move with her to whatever platform takes over if Instagram were to disappear.
9. Dating Rumors
Alexa has kept her romantic life private, but rumors suggest she may be dating graffiti artist Alec Monopoly. However, neither party has confirmed their relationship status.
10. Earning Big from Ads
With a large following, Alexa receives a substantial amount for sponsored ads on her social media pages. Sources estimate she earns between $2,000 and $3,000 per ad, contributing to her growing financial empire.
11. Open About Plastic Surgery
Alexa admits to having undergone multiple surgeries to enhance her appearance, including lip fillers, breast augmentation, and a "booty enhancement" surgery. The exact nature of the latter procedure remains unclear, according to Honey Nine.
12. An Influencer's Concern
After Alexa revealed her plastic surgeries, Australian influencer Ariella Nyssa expressed concern about the impact on young women who may believe these surgically-enhanced bodies are natural. She worries that this perpetuates unrealistic beauty standards.