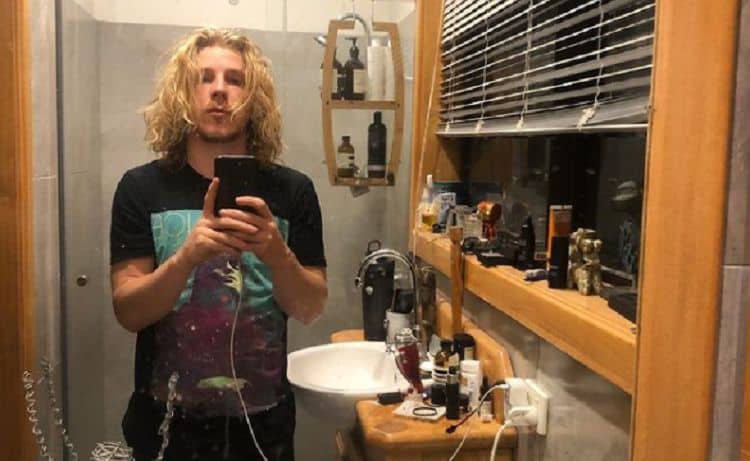 Born and raised in Australia, Daniel Webber doesn't come from a family with a history in the entertainment industry. Still, however, he couldn't resist the allure of acting. Since making his first on-screen appearance in 2008, Daniel has gone from a completely unknown actor to someone whose name and face are known to people all over the world. From TV to movies, he has shown that he can light up any screen. Daniel hasn't made any on-screen appearances in 2021, but the time is definitely coming. It was recently announced that he would be in the upcoming TV series Billy the Kid and his fans are really looking forward to it. Here are 10 things you didn't know about Daniel Webber.
1. He Was Proud To Be Part Of Danger Close
In 2019, Daniel portrayed Private Paul Lodge in the movie Danger Close, and he was really proud to be part of the project. He told Pop Culturalist, "It's been an honor to play these young men, who were only nineteen or twenty at the time that they went to fight this crazy battle. Some of them are still around today. If we can pay homage to them, I think we've done our jobs well."
2. He Loves To Travel
Traveling is one of the best ways for people to broaden their horizons, and Daniel is thankful that it's something he's gotten to do a lot of. His career has brought him to several countries, and in the years to come, he'll probably visit even more. His experiences traveling around the world have allowed him to grow as a person and a performer.
3. It's Unclear If He's Had Formal Acting Training
We weren't able to find the details on when Daniel fell in love with acting or what caused him to develop an interest in the first place. Additionally, there was no information on whether he's ever undergone any sort of formal acting training. However, it doesn't appear that he's studied acting at the university level.
4. He Enjoys Taking Pictures
Daniel earns his living by being in front of the camera, but when he isn't working he loves to see things from the other side. Photography is one of his favorite hobbies and he's very good at it. He's a natural at knowing exactly when to snap to capture the perfect image.
5. He Was A Gymnast
The arts have played a very significant role in Daniel's life, but he also has an athletic side. He was a gymnast for several years and he specifically performed trampoline routines. In 2000, he got the opportunity to perform during the closing ceremony of the Summer Olympics in Sydney.
6. He Loves Spending Time Outdoors
Even though Daniel is officially a star, he doesn't feel the need to constantly be surrounded by flashing lights and big events. He actually prefers the simple things in life and being is one of his favorite ways to spend his free time. He likes to do things like hike and swim.
7. He's A Painter
To say that Daniel is a man of many talents might not even be accurate enough to describe all of the things he's good at. In addition to acting and taking pictures, Daniel is also a pretty skilled painter. He enjoys painting and finds that it's a great way for him to realx.
8. People Love His Feet
Apparently, Daniel's acting skills aren't the only thing people love about him. His feet have also gotten a lot of attention on the internet and they've earned a nearly five-star vote on the celebtity foot database, Wikifeet. If you have a thing for famous feet, this is one site you'll definitely want to add to your bookmarks.
9. He Really Sang In The Dirt
Since Daniel isn't technically a singer, most people probably assumed that he lip synced in his role as Vince Neil in the movie The Dirt. To many people's surprise, however, Daniel was actually singing. According to Pop Sugar, "Daniel had a vocal coach, Douglas had a bass coach, and Iwan had a guitar guy who would come over and sit with him. It was a month and a half of really intense training everyday. Not just learning the instruments, but working with a choreographer on moving like the guys."
10. He Has More Than 30 Acting Credits
Daniel has been acting professionally for more than a decade, and during that time he has built a very impressive resume. His IMDB page reports that he currently has 31 acting credits. With more roles coming his way each year, there's no doubt that that number is going to continue to grow.painting
Tell us what's wrong with this post? How could we improve it? :)
Let us improve this post!