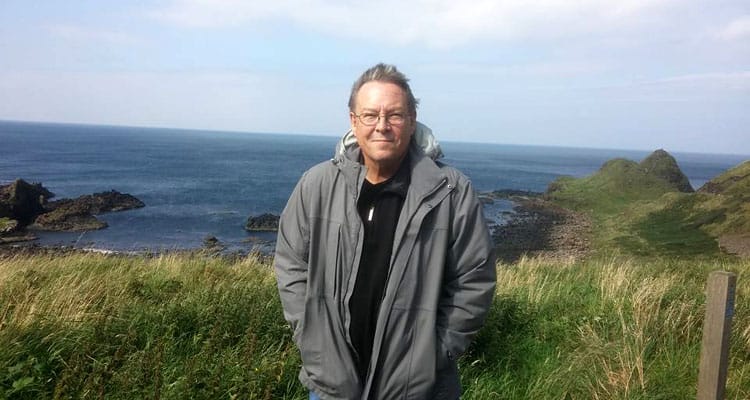 Daniel Blake Smith is a professional historian-turned Emmy-winning screenwriter/producer whose work spans seven feature documentaries and eight narrative features in various stages. He's best known for his crime thriller, Texas Heart, starring John Savage (The Deer Hunter) and Lin Shaye (Insidious), as well as his nationally broadcast docs, February One: The Story of the Greensboro Four and Terror of the Soul: Edgar Allan Poe, starring John Heard, Rene Auberjonois, and Treat Williams. Smith's upcoming projects include Awaken, a psychological thriller/horror film filming this August; A Beating Heart, starring Cybill Shepherd (Last Picture Show), a horror film he wrote and is producing this fall; and the adventure dramedy Crazy Love, based on his own just-published novel of the same title.
1. Small World: From Last Picture Show to A Beating Heart
Smith grew up in Wolfe City, a small north Texas town, where he played football and basketball against teams in Archer City, Texas—the very town where Peter Bogdanovic's iconic film, Last Picture Show, was filmed, an Academy Award-winning movie Smith has long admired. That film starred, among others, Cybill Shepherd. Now, many years later, Smith finds himself on the phone discussing his upcoming new film, A Beating Heart, with the star of the film, Cybill Shepherd.
2. Often the Best Stories Are the True Ones
Trained as an historian, Smith started out focusing strictly on true stories—on the stage and via documentaries. While teaching American history at the University of Kentucky, Smith moved into dramatic storytelling and writing plays. His stage play, Franklin in Memory, about the complicated world of Benjamin Franklin, went on a brief tour, including a performance at the Benjamin Franklin Hotel Plaza in Philadelphia. He also wrote a one-woman show, American Jezebel: The Trials of Anne Hutchinson, about the spiritual bravery of the rebel midwife who was kicked out of the Massachusetts Bay colony in the 1630s for heresy. Smith went on to write and produce feature documentaries for PBS on Edgar Allan Poe (American Masters Series) and the 1960 dramatic sit-in at the Greensboro Woolworths that launched the civil rights movement (PBS's POV series). Smith is part Cherokee and turned that personal connection to race into a feature doc, The Trail of Tears, narrated by James Earl Jones (also part Cherokee) and Cherokee film star Wes Studi.
3. When Jack Reacher Calls
Last fall, Smith got a call from Alan Ritchson, an actor he barely knew. That was then. Alan, it turns out, is a big fan of American history and is especially interested in exploring the tale of the Cherokees' tragic fate on the trail of tears. He had read Dan's prize-winning book, An American Betrayal: Cherokee Patriotism and the Trail of Tears, loved it and wanted to use it as the basis for a limited series on the trail of tears for Amazon Prime or HBO Max. Was Dan interested, Alan asked? It was a quick yes. But there was a catch: "I don't know how this Jack Reacher series I'm starring in is gonna go when it comes out in February," Alan told Dan. Guess it worked out pretty well for Alan. So much so that he's currently besieged with offers, thus delaying the partnership with Smith on the trail of tears. Worth the wait.
4. Baseball Before Film
Until his early 20s, Smith was totally devoted to a life as a professional baseball player. As a high-profile pitcher in north Texas, Smith was scouted by the Cincinnati Reds and offered a contract to pitch in the Florida rookie league. He decided instead to go pitch major college baseball at Oklahoma State University. But soon, he got seduced away from baseball into telling stories—via history—and decided to go to graduate school at the University of Virginia, where he earned his Ph.D. in American history.
5. Saying 'No' to Morgan Freeman
While making his crime thriller, Texas Heart, in Charleston, Mississippi, Smith—like many indie filmmakers—found himself running out of money and time to complete the shoot. So, he had to spend one full weekend cutting and rewriting scenes. That very weekend he got a call from the business partner of famed Charleston resident and international movie star, Morgan Freeman, asking if Smith would like to play golf with Morgan at his tournament that weekend? With pain in his voice, Smith had to decline to get the script revisions done and the film completed on time.
6. The Generosity of Famous Strangers
In casting about to find the right person to narrate his historical documentary about Kentucky, Smith reached out to one of the state's most prominent natives, Ashley Judd. But with a very tight budget, Smith worried about being able to afford Judd. Indeed, her reps warned Smith about the star's likely deal-breaking cost and extremely limited schedule. But when Smith managed to reach out directly to Judd, she not only was excited to help tell her home state's story, she offered to do it for scale. Kentucky: An American Story, directed by Oscar-winning Paul Wagner, is as compelling as it is in large part due to Ashley's sensitive and thoughtful narration.
7. Always Be a Producer
Smith's greatest lesson from his years in the film business came from his very first gig—writing the biopic/documentary on Edgar Allan Poe. Shot in North Hollywood for over $1M, a very pricey budget for a documentary back in the 90s headed for PBS—even one with stars like John Heard, Rene Auberjonois, and Treat Williams, and with music from the famed minimalist composer (and, it turned out, Poe-lover) Philip Glass, Terror of the Soul, though, soon became reworked to fit the vision of the director, taking considerable liberties with the story Smith had fashioned that had gotten the project so much funding. But as the producer on the project wisely advised Smith on set, "Remember, Dan, always be a producer, so you at least have a seat at the table." He has never forgotten those words, never again working strictly as a writer.
8. Ken Burns to the Rescue
Smith's unique filmmaking approach to telling historical stories prompted concern among many of his traditional, books-only colleagues at the University of Kentucky. So, in an effort to get 'credit' for making films like Terror of the Soul; February One: The Story of the Greensboro Four; and The Trail of Tears, Smith reached out to the likes of Ken Burns to write a letter of recommendation. Burns' letter no doubt helped as Smith became a full professor.
Tell us what's wrong with this post? How could we improve it? :)
Let us improve this post!