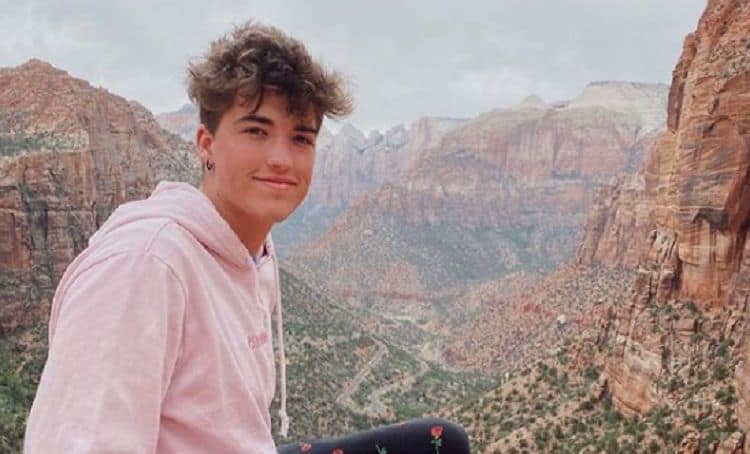 Joey Klaasen is like many other young people his own age. He is internet famous. He became famous on TikTok after he began posting photos of himself, along with videos of himself, and fans caught on to something that they liked about him. He began his TikTok career while he was in college, and he's grown substantially over the years. While many people are unfamiliar with the TikTok universe, there are tens of millions of young people across the globe who know everything about this young man. It's time for those of us who don't know him well to learn a bit more.
1. He is from Indiana
He was born and raised in a place called Greenwood, Indiana. He and his brother grew up with their mom and dad, and they also had a pet cat growing up. Joey Klaasen was born on April 10, 1999. He stuck around the area most of his life, and he didn't leave until it was time for him to head to college.
2. He Has a Famous Brother
One thing that you might notice about him is that his last name is familiar. That's because he has a famous brother. His brother is pop singer Jon Klaasen. He also appeared on "The X Factor," way back in 2013 when Joey was a middle school student. The entire family became a little bit famous back then because of this.
3. He Went to College
Joey Klaasen was posting videos of himself online all the way back in 2014, but he still made the decision to attend college. He already had a significant following online, but he wanted to further his education. He enrolled in courses at the University of Cincinnati, left home, and he began his college education.
4. He is Athletic
Growing up, Klaasen was always athletic. He played basketball on the varsity team while he was in high school. He often shows off his basketball skills when he films videos of himself, and it's something he really enjoys. He might not have gone pro, but he does enjoy playing any chance he gets.
5. He Studied Medicine
When he was in college, he was studying medical science. He figured he'd take his social media to the next level the first year of college when his friends were encouraging him to try out the TikTok thing. They seemed to know then it was the next big thing to happen to the internet. He decided to expand his social media presence by starting his own TikTok account, and the rest is – as they often say – history.
6. His Family Inspires Him
His mom, dad, and brother are the people who inspire Joey the most. He feels they have always led by example, and they always support his endeavors. Like many parents who didn't grow up with social media like this, they might not understand what he is doing with his life and how it works, but he's happy, successful, and doing well, so they support him even with blind faith.
7. He Doesn't Believe in Being Like Everyone Else
His one piece of advice for his fans is to be unique. Don't try to be like anyone else. Don't do what everyone else is doing, and don't be the same as everyone else. Try hard to be yourself, but also to be someone who is unlike anyone else.
8. He Moved to California After His First Year of College
He completed his first year of college, but he left after that. He moved out to California to be with his big brother. He'd already been living there for some time, so Joey moved in with him and began focusing on his social media career.
9. He Doesn't Have any Goals
That sounds terrible, doesn't it? Joey Klaasen is very open about this, however. "I guess right now I'm just living day by day working at whatever I feel needs to be accomplished that day. I really don't have any specific goals or anything like that outside of just growing my social media," is what he says. So, it does sound to us like he has a goal, but maybe he doesn't view it that way.
10. He Loves his Fans
Any good public figure does, though. He knows that without the fans that watch him, download his videos, and support him with their likes and comments online, he has nothing going for him on the internet. He makes sure he tells his fans regularly how much he loves them and appreciates them for their support and all that they give to him.
Tell us what's wrong with this post? How could we improve it? :)
Let us improve this post!