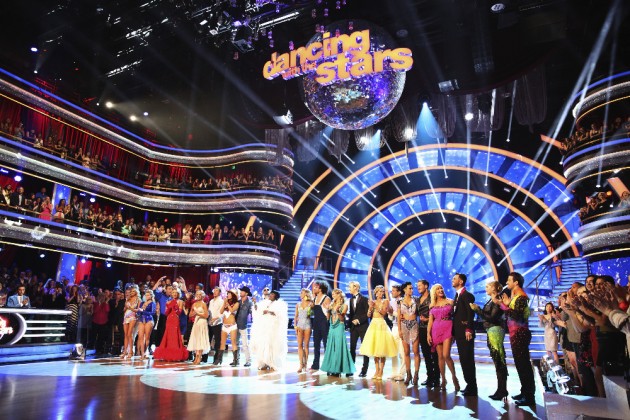 As I settled in for Latin Night on Dancing With the Stars, my thoughts immediately went to who was going to be eliminated tonight. At this point, while I don't quite agree that we are as far ahead in the competition as the judges say we are, I do feel that as if I like some couples better than others. The fact that you get so many votes per week does help with that if you have to split votes, though.
Before I get to the eliminations tonight, first we must look at the dances! To start off with, let's talk about Willow and Mark's dance. They performed a fire and ice themed dance, similar to last week's portrait dance. Willow, like many of the celebrities, has gotten better, but I wish we could just see her, plain and simple. She already completed one of the most complicated dances of the night, and the fact that she was injured while doing it proves that she belongs in this competition. I feel if Mark could simplify the dance, even for a week, they may score better than a 32.
Moving on to Val and Rumer, their dance was great! I saw a combination of disco and salsa, and for a guy who doesn't like disco to still enjoy it, that means it had to have been pretty good. Len said it was the "best dance I've seen all season." I'm not going to go so far as to say they are my favorite couple. However, I will say that out of all the pairs on the show, as long as they get the votes, they could go all the way.
No matter how Noah and Sharna do just the fact that he's dancing on a national stage (and excelling at it) is impressive. I'm not sure how I would react if I were in his shoes. I certainly wouldn't bench press and then dance. He's also always trying new things, and unfortunately, the prosthetic arm didn't work but at least he gave it a shot. The Twitter comment the show put up when they both were heading up to the skybox said it best: "Noah & Sharna redefining dance one week at a time."
Just a few quick notes:
– I do think Michael is getting better, but I just noticed that his fake smile came back this week. I know it's just nerves, but it looks weird.
– I finally noticed the lack of chemistry between Derek and Nastia. It's not that they don't have any chemistry but it makes sense. They don't practice together nearly as much as the other couples do, not that you could tell by their scores.
Again, with the show running out of time, the couple eliminated tonight was…. Charlotte and Keo. Keo never even seems to make it to the halfway point, but Charlotte did say that she just wanted to make him happy so I guess all is forgiven?
Last but not least, here are the scores:
Riker & Allison- 34
Derek & Nastia- 34
Val & Rumer- 33
Willow & Mark- 32
Noah & Sharna- 30
Robert & Kym- 29
Chris & Witney- 28
Suzanne & Tony- 25
Michael & Peeta- 24
Charlotte & Kao- 22
Patti & Artem- 22
[Photo via ABC]