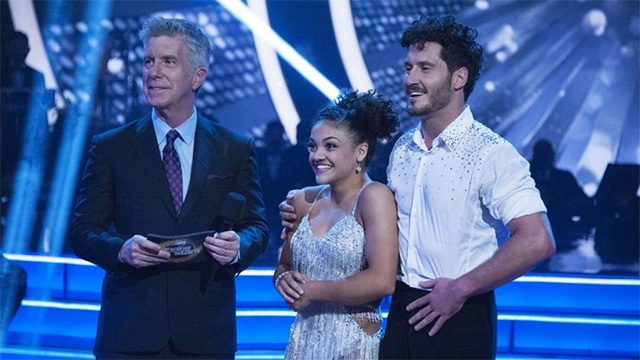 Seven couples remained for judging at the Halloween Night of DWTS competition. Of the seven, Laurie Hernandez, Calvin Johnson and James Hinchcliffe earned perfect scores from the judges for their individual routines. All of them were entertaining, scaring up loads of fun. When the cobwebs settled, Ryan Lochte was the dancer who was eliminated from the competition. His individual scores were identical with Marilu Henner, with both scoring 7-8-8, and this prompted some skeptical comments from Americans suggesting that she was kept on longer due to her partnership with Derek Hough.
The public has had the chance to vote for their favorite couples, and this has affected the overall results in a big way. With popular stars receiving public votes, often the judges' votes have not seemed to hold as much sway as they could if only those scores were tabulated. Starting with the most recent Halloween Scores, the top couples have emerged, based on their ability to entertain and their dancing skills.
Halloween Night Individual Routine Scores:
Laurie Hernandez and Val Chmerkovskiy. Score: 10-10-10
Laurie completely captivated the audience with her innocent facial expressions, flowing dancer's lines, and sprightly footwork. Her lyrical performance was enchanting and she was completely connected with her partner, the elegant Val. It's no wonder that she is leading the competition.
Calvin Johnson, Jr. and Lindsay Arnold. Score: 10-10-10
Calvin did a superb job with his performance. He brings energy to his dance, but he also has much of the precision footwork and great lines dancers gain through years of training. Top that off with his obvious showmanship, it's no wonder that his Halloween scores were perfect. His confidence and energy translates into entertainment for his audience. He attributed his success so far to his "pedigree" with the NFL players who have always done well on DWTS. He said that everyone in his professional sports world strives to achieve their highest performances at all times.
James Hinchcliffe and Jenna Johnson (subbing for injured Sharna Burgess). Score: 10-10-10
James has an artistic command of his performances. He is deft on his feet. He does sit into his hips a bit, rather than pulling up from his core as professional dancers do. But, what he lacks in training, he makes up for in terms of his presence on the floor. He is rhythmic, fluid, his feet are handling complicated steps in time, and connected with his partner.
Jana Kramer and Gleb Savchenko. Score: 9-9-9
Jana is a great entertainer. Her face glows while she is dancing, and she can portray a character well, but her feet lack the dancer's finesse. She has the energy and flexibility of a cheerleader. However, she can be flat footed and without the pointed toes which distinguish the dancer's lines.
Terra Jole and Sasha Farber. Score: 8-8-8
Terra is a great performer. Her facial expressions completely convey the characters she has portrayed over the weeks of DWTS competition. She is rhythmic and her flexibility and style are undeniable. She is one firecracker dancer. Her technique is weakest is in her feet and ankles, which is common for dancers without years and years of training. The judges have also mentioned that her choreography needs more complexity.
Marilu Henner and Derek Hough. Score: 7-8-8
Marilu continues to use her great legs to super effect. She has much of the elegance of a dancer's body even though she is older than the typical professional dancer. She suffered from missteps, and her face couldn't hide moments of anxiety during her Argentine tango, but her performance was sultry and convincing overall.
Ryan Lochte and Cheryl Burke were eliminated. Score: 7-8-8
Ryan has accomplished much during his stay on DWTS. He became a nice performer, delivering his character well. He also took on the challenge of learning how partner well, which for male dancers is often about showcasing his female partner as well as his own technique. Unfortunately, his steps lacked the lightness necessary for the dance, and his body often appeared wooden as he danced through his routine.
The big scoring excitement was the three-way tie, with perfect scores for each, among Laurie, Calvin and James. With a look at the various scores accumulated over the 8 weeks of the competition, and taking into place the Halloween Night results, it's easy to see the pattern that has emerged:
Laurie and Val have earned the highest scores for 5 of the 8 competition weeks. They had the highest scoring dances in Weeks 1, 2, 4 and 8. They have never had the lowest scoring dance, except with the Week 7 Team Freestyle.
James and Sharna have earned the highest scores for 3 of the 8 competition weeks, tying with Laurie and Val on the 1st and 8th weeks. They had the highest scoring dances in Weeks 1, 5, 7 and 8. They have never had a lowest scoring dance.
Calvin and Lindsay have earned the highest scores for 3 of the 8 competition weeks, tying with Laurie and Val on the 6th and 8th weeks. They had the highest scoring dances in Weeks 3, 7 and 8. Their Week 5 Jazz dance was the lowest scoring that week.
Jana and Gleb earned the Highest Scoring Dance in Week 6, with their Argentine Tango. Their Team Freestyle was the lowest scoring in Week 7.
Ryan and Cheryl had the Highest Scoring Dance in the Team Freestyle in Week 7. Their Week 5 Contemporary, Week 7 Rumba, and Week 8 Tango were the lowest scoring dances those weeks.
At the beginning of Halloween Night, 5 top contenders entered the ballroom for competition. At the end of the night, Ryan Lochte was eliminated leaving only 4. Of those, Jana Kramer has only won top spot once during the competition. It's not likely that she will advance given the time remaining and the stiff competition ranked above her; though with her energy and wow factor, one never knows. That presumably leaves Laurie, James and Calvin to battle it out to the finish, if the past numbers are any predictor of what is to come.
What's not completely a done deal is the general public's part in voting. Their votes are always a surprise, with popular stars often lasting much longer in the competition than judges' votes alone would predict. Another huge factor is the competitive nature of the three highest scoring contenders for the prize; and the fiercely professional competitiveness of their mentoring partners.
James exhibits a high level of acting presence and the ability to incorporate ever improving dance skills into his routines. Calvin is doing the same, and has a charming "it" factor to add to his list of skills. He exudes personality, and that is coupled with an entire range of physical skills which enhance his dancing chops. These two may just give Laurie a run for her money, as evidenced by their rising scores the longer the competition continues. They are ever improving, consistently incorporating better physical lines, better coordination, better partnering, better presence and improved footwork into their dances.
Laurie and Val certainly have their work cut out for them in the competition time left. James and Calvin are no longer running behind, but have maneuvered into flanking positions. It will be interesting to see what the competitors do to fortify their positions and guard themselves for the competition ahead.