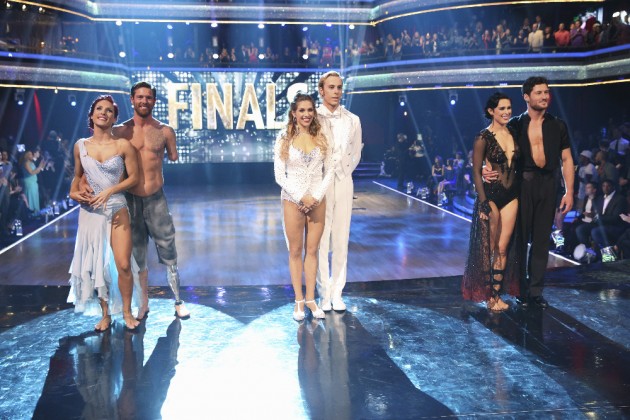 The road to the Mirrorball started last night on Dancing With the Stars, with the final three couples, Noah and Sharna, Riker and Allison, and Rumer and Val, dancing like they've never danced before. As in previous weeks, last night's episode was broken up into two rounds. The first round had the pairs re-creating a previous dance that they believed they could improve on. Every star, whether they are at the top of the score boards or not, has gained confidence during the season and that's what all of these performances showed. Between everyone commenting on Rumer's smiles this time around to Noah being told, "You owned the space," this was obvious to both the judges and the viewers. Riker's dance even got a standing ovation from Len!
Round two was the free style dance round. All of the professionals had to create a dance in that style to showcase their partner's dancing abilities. Just like the contestants, each dance was so different but so good! For Noah and Sharna, she wanted him to tap into the feelings of when he first found out about his injuries. At this point, I was crying, and I hadn't even seen them dance yet! By the way, the dance was stupendous! Riker and Allison decided to create a mash-up of different song styles (modern, hip-hop, etc.), which looked phenomenal. Len even said, "You brought the past into the present." Finally, Rumer and Val chose to do a bare-bones, stripped down dance that wowed the judges.
I am looking forward to watching part two of the finals tonight. Dancing With the Stars seems to have packed it with so much extra stuff. Knowing their time management problems, it'll be interesting to see what happens when they have so few minutes left to get oh so many things done. (I don't like when they say they're running out of time. I enjoy hearing the judge's critiques!) Who would you like to see take home the Mirrorball? Tune in tonight at 9 p.m. to find out the winner of Dancing With the Stars!
[Photo credit: Adam Taylor/ABC]