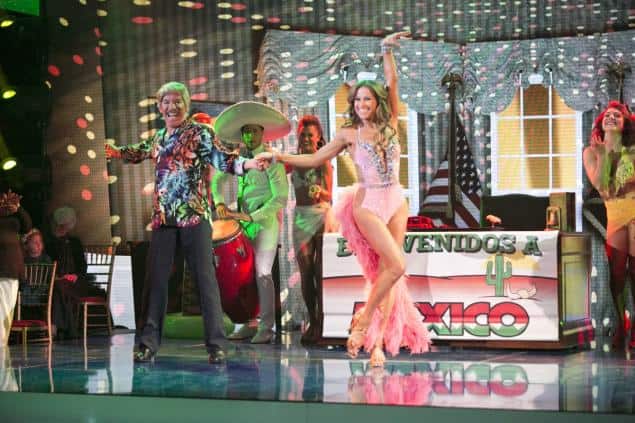 Geraldo Rivera and dance partner Edyta Sliwinska tried to spice things up a little bit on Dancing with the Stars last night. The two decided to dress up as Donald Trump and his wife Melania Trump. Given that Geraldo wasn't in the greatest standing with the judges, this was more than likely a desperate shot to keep himself from being tossed. Unfortunately the plan didn't work. Rivera put on the blondish wig, a fancy suit, and filled out the attire by making his face a bit more orange than normal.
His partner Edyta simply dressed in a sexy outfit and made her hair look a little more like Melania's. While Rivera certainly had Trump's masculinity and bravado down pat (and the judges knew this) it didn't really change his dancing ability which was below average at best.
"Unfortunately, you did not make dance great again," said judge Carrie Ann Inaba. "But you did make me laugh." In a rehearsal video, Rivera said of Trump, "I think he's going to get a kick out of all of this."
We still haven't heard from Donald Trump about his response to this dance but we do know that Trump was quoted less than 24 hours ago for saying that he's better than most of the dancers who have ever been on the show. Here's his direct quote that he gave to People Magazine:
"I think it is wonderful. I am very happy for her and think she will do very well." Trump is no stranger to reality television, after all, and even considered an appearance on Dancing with the Stars back when he was still hosting The Apprentice. "I'm not a bad dancer," he told Extra in 2010. "Many people want me to do Dancing with the Stars… I can dance a lot better than most of them, I'll tell you that. I watch some of them and they're terrible."
I'd pay to watch Trump dance and fail on Dancing with the Stars. Here's the Rivera dance
Tell us what's wrong with this post? How could we improve it? :)
Let us improve this post!