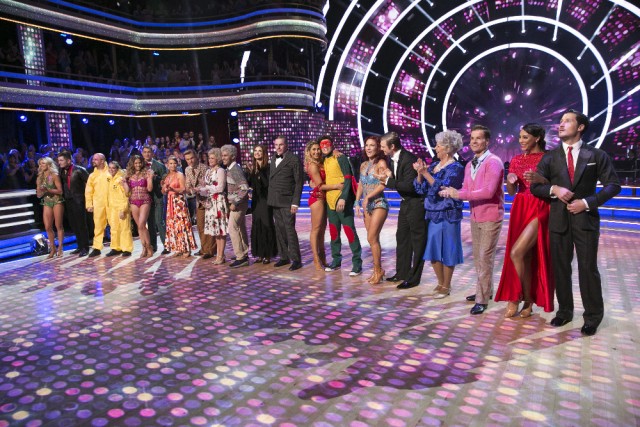 Last night on Dancing With the Stars, all of the celebrities chose their most memorable year to dance to, whether that be an emotional one or a happy one or a powerful one. I cried through a lot of their packages. I was happy some celebs had fun and uplifting ones, because my tissue box was running low for the more emotional performances. For every Alexa with her family moving out with her to start her acting career, you had a Tamar who almost lost her husband. For each Paula who started her own business, you had an Alex who, that very week, had a shooting on his college campus.
Right now, I'm focusing on more personal moments. For example, when Gary and Anna were preparing their dance, she mentioned that she had to start dealing with the brain trauma he had. I can deal with all of that, but when Anna put her hand on the part of Gary's skull where it cracked, I got the hibbie-jibbies! Unfortunately, they only received a score of 16, but Bruno did say, "There's nothing average about you. Everything is absolutely and definitely Gary!" That's very true.
Next, Hayes and Emma's dance was just good. Bruno commented, "What a breakthrough!" The judges agreed with me and awarded them a 27.
Moving on, Bindi and Derek's dance was great! It definitely deserved the first 10 of the season, giving them a score of 28. Also, it's not that I mind Bindi's constant perkiness. It was just nice to see her feeling other things this week because it feels, to me as a viewer, that the happiness is not all for show. Now I know that it's real. Although speaking of expression, Alex had literally none during his dance with Lindsay. Carrie Ann even stated, "It wasn't the most expressive dance," but that he "does push through everything." They got a score of 24.
Carrie Ann said it best when she said that they had to judge the dancing, not the video packages, but the videos did tell quite a story. Andy's told the story of his mother passing away due to breast cancer, and long story short, that's how his actual professional musical career began to develop. And while his dance wasn't the best, he still got a score of 23.
As for Tam and Val, they were on fire. Bruno said, "Your connection was wired to perfection!" Also, because Tam told the story of when she almost lost her husband, she didn't even hug Val at the end. She immediately went over to her husband.
Carlos and Witney were also people who had a better connection. As Bruno stated last night, with his usual Bruno flair, "You were two luminous heavenly bodies intertwined with each others." And it seems that their connection paid off, as they received a score of 25 for their dance.
A side note: I knew that I was going to cry. I knew it. I just wanted to see if the judges were going to cry… and they did. Carrie Ann lost it almost right off the bat during Tamar and Val's dance, the third one. When you give a comment like, "Your story touched me deeply and yet what you danced touched me even more deeply," it makes sense. It wasn't until Bindi and Derek's dance, the last one, that Julianne and Bruno cried. Julianne cried first, commenting, "I'm probably not the only one here that [the dance] took my breath away." Then, after Bruno gave her a 10, and Bindi came over and hugged him, he lost it. I'm glad I'm not the only crier on the Dancing With the Stars judging panel.
Finally, the eliminated couple was… Gary and Anna. When I was watching them dance, I was proud of how much Gary had accomplished and how long he had stayed in. This had nothing to do with his car accident, but he managed to outlast some dancers who were, practically speaking, better, because he let his characteristics and individual traits come through in each dance. I appreciated that.
Below are the final scores for this week:
Bindi & Derek- 29
Tamar & Val- 27
Hayes & Emma- 27
Nick & Sharna- 27
Carlos & Witney- 25
Alex & Lindsey- 24
Andy & Allison- 23
Alexa & Mark- 21
Paula & Louis- 18

Gary & Anna- 16
[Photo credit: Adam Taylor/ABC]