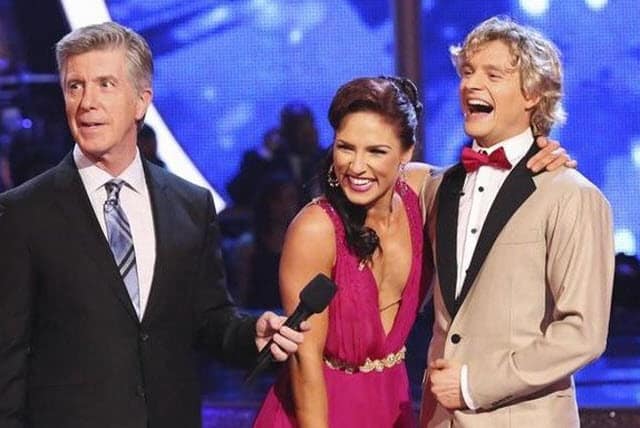 Here we are, one week closer to the elusive Mirror Ball on Dancing With the Stars! Tonight was Semi-Finals, a big deal in the Dancing world. With only one week left to go until the contest is over, the pressure's on. Some teams are taking it in stride. James & Peta just focused on the dances. Other teams didn't handle it so well. Candace made mistakes while she was dancing and it showed on her face while Maks couldn't think of routines good enough for his partner Meryl who "is the best dancer." All of the teams think this way because they're so close to the end they can practically see their reflection in the Mirror Ball.
Before we get to the dances though, our guest judge tonight was Kenny Ortega, choreographer for hits such as Dirty Dancing and High School Musical. He was a great addition to the judging panel per se. All of his critiques were spot-on and well thought out. The only problem I had with him was that he had no defining characteristics. For example, everyone knows Abby Lee Miller from Dance Moms and how angry she usually gets. She does give good critiques and she did but that's her stick. Ricky Martin is a face of Latin Night. Both of these guest judges brought their own unique charisma and personality to their judging and episode. Mr. Ortega did not. He just seemed like he was a part of the normal judging panel but that's not what I look for in a guest judge. I look for them to bring their own flair, their own style and he didn't.
As tonight was American Icons night, tonight each star got to talk to their own icon or someone they admire. I think that at this stage of the show that BBC Worldwide, the company that produces DWtS, is looking for filler. I'm not saying these segments are pointless. I truly to believe that after all of the hard work they do rehearsing and dancing, they can use a short respite like this one. I just don't think that they need one practiced and auditioned by the show though. There were no big surprises. I did enjoy how 'shocked' Amy was that Oprah called her and offered to take her out to dinner when she won.
As for the dances, they were almost all very good. We all noticed, and by we I mean the judges, the small mistakes that the dancers made. The only time is that the dancer let on though was Candace. She let it get to her and it rattled throughout her first dance. Everyone saw how she trusted her partner Mark, which she has a great camaraderie with as shown in their package, and she moved on in her second. With her waltz and jazz scores combined she got a 72 out of 80.
Derek & Amy were fun because that's what she was this week- fun. She got a new set of feet. She got a call from Oprah. She was able to give back to Derek what he gave to her this week and let me tell you, the dance looked great! Derek had made a comment earlier in the episode that pressure is something that you create for yourself but Kenny said after their second dance that, "There was no fear when you created that piece." They got a 78 out of 80 for their quickstep and jazz.
Charlie always smiling when he's dancing with his partner Sharna. He could making mistakes like in Week 5 with Disney Night or getting a perfect score like last week with the Celebrity Dance Duels. Either way, you will always see that guy beaming from ear to ear and this week was no different. Carrie Ann commented, "I want to live in Charlie's world!" His dances were excellent. He did a spin in his foxtrot that was like one of those little ballerina's on a girl's jewelry cabinet and it was flawless. Along with his samba, he got a combined score of 76 out of 80.
James & Peta danced the cha-cha to Michael Jackson's new song co-written by Paul Anka, "Love Never Felt So Good." Their moves were smooth, clean, and precise. Together with his rumba he also got a 76 out of 80.
Finally, Meryl & Maks just go well together. Every time one of them gets upset the other just stops and makes them laugh and everything becomes ok. It was nice seeing that in the package. I do have to agree with Maks though. He has the best dancer. If she can get enough fan support to come and vote for her, she can win this competition. With her jive and waltz scores combined, they got a perfect 80 out of 80.
At the end of the episode, it was revealed that Charlie & Sharna were eliminated tonight. The entire crew were so stunned that they forgot to give Tom a time update as to how far along the show was! I know who I wanted to go home tonight but it wasn't Charlie.
On a personal not, please watch DWtS on Monday, May 19th at 8 PM. I way I see it is that all of the people who watch the show are going to see what a good job their favorite couple has done, not vote because for that couple figure they believe that everybody else will, and then be shocked when that very same couple get eliminated. After that show, please vote for your favorite. There's only one night to vote for the winners of DWtS and that's the night to do it! Now, I have a couple that I want to win. I also have a couple that I'm pretty sure are going to win. However, if enough fans don't come out and vote for them, a completely different pair could take that Mirror Ball right out from under them. See you on the 19th!
[Photo via ABC]