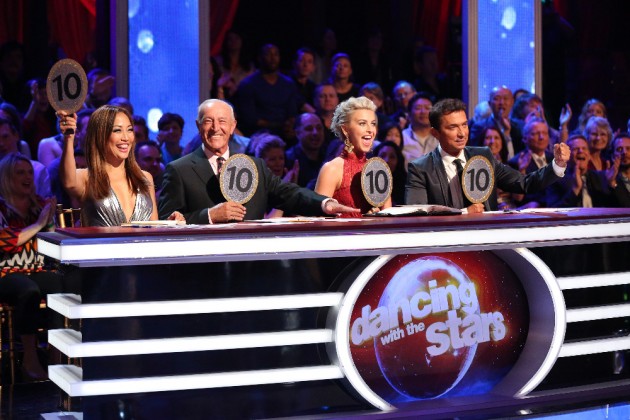 Last night was the Dancing With the Stars Results Show, and to me it just felt like the producers decided to 'throw everything against the wall and see what sticks,' so to speak. In a normal episode, we see the pairs' video packages, the dances, the scores, and then round two, whatever that is. In Tuesday's episode, though, the show seemed to cram everything in there, hoping that it would fit. I think that the reason for the Tuesday night's show was to give more camera time to both couples eliminated. In that estimate, it did a fair job. On the other hand, it also gave time for a lot of filler–musical performances by Carly Rae Jepsen and Josh Groban, a dance performance piece by Travis Wall and Shaping Sound, an encore dance, video clips of each pairs the night before, and Dance Center.
First, the video clips of the week and night before were cool. You saw the pressure getting to the stars and then how the scores affected them on Monday night. It showed that at certain points everyone cracks under the pressure. Robert only talked to Kym about his scores but no one else. Noah messed up during dress rehearsal. In the past, several stars and pros have commented about how poorly the video packages made them or their partners look, and it rattled them.
Second, I couldn't stand Dance Center, their knock-off of ESPN's Sports Center. They claimed to be discussing the merits of each dancer and whether he was going to make it in the semi-finals. I don't think Jerry Rice, one of the commentators in the booth, has much dancing experience but all he and the other guy did were make fun of the stars. Len Goodman, one of the judges, was at least on the panel. Unfortunately, he didn't tell them anything he hasn't told me before.
Finally, what it all comes back down to for me is editing. The way that it could have worked was, in my master editing suite, you bring three pairs down. You tell one that they're safe and they're moving on to the semi-finals and that the other two are in jeopardy. The producers know that they have two singers, one dancing troupe, and two Dance Centers. Next, pull Carly Rae Jepson and the first star eliminated tonight. Next, you can do Dance Center, the Travis Wall and Shaping Sound, and another Dance Center before bringing the last three pairs down. Once again, one's safe. Two are in trouble. Pull out a Josh Groban and the second star to go home.
This week, two couples were eliminated: Robert and Kym and Chris and Witney. I did vote for one of these pairs for a week here and a week there, but when you're not crushing it with the high rollers, you've got to bow out gracefully. They both did. Chris even went out crying, and from a show like this, where you can not only forge friendships with an amazing cast of people but a beautiful partnership with someone in particular, that's the best you could hope for.
[Photo credit: Adam Taylor/ABC]