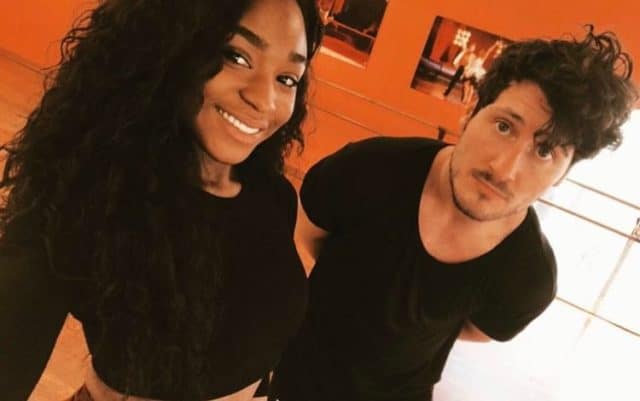 Dancing With the Stars is wrapping up its 24th season this week. The finalists will compete to win the Mirrorball trophy. The dancing contest which pairs celebrities with professional ballroom dancers comes down to the final judge votes. The 3 remaining couples will perform a Redemption dance, a style they have performed previously this season, and a Freestyle dance. The 9 week competition concludes with a "24 hour Fusion" challenge where each couple will fuse 2 contrasting dancing styles that they have performed this season. Fans are eager to find out who will win this season's Mirrorball.
Here's our prediction of who will win this season's DWTS.
Team "Lady and the Gramp" – David Ross and Lindsey Arnold
Coming off his team's World Series win, the Chicago Cubs catcher has brought personality and charisma to DWTS this season. David Ross, "Grandpa Rossy" has proven to be a good sport and humorously self-deprecating. He also did not shy from some outrageous outfits. With partner, Lindsey Arnold, David Ross has proven his growth as a dancer and a fan favorite. Arnold began her dance training with former DWTS professional and now judge, Julianne Hough in Utah.
Their slow dance to "Forever Young" was phenomenal. Perhaps their best dance of the season was the couple's waltz to "Humble and Kind". They also did a great Foxtrot. For their final dance, we will see Ross and Arnold perform the Viennese Waltz again for their Redemption dance to "Let's Hurt Tonight" by One Republic. The pairs final Freestyle dance will be to "It Takes Two" and (appropriately) "Take Me Out to the Ball Game" by Rob Base and DJ EZ Rock with Ronnie Newman
Despite their great work together, chances are "Lady and the Gramp" will not win this year's Mirrorball.
Team "Shadsquad" – Rashad Jennings and Emma Slater
Rashad Jennings and Emma Slater have been on top all season of DWTS. They have been serious competitors on DWTS. Jennings is an NFL Running Back who has played with the New York Giants, Jacksonville Jaguars and Oakland Raiders. Slater is an English born professional dancer who has appeared on Broadway and brought Bill Engville to the finals on DWTS in 2013. Because of his skills as a football player, Jennings had to work on his dance skills and showed improvement throughout the season.
The pair's best dance so far was an emotionally performed Contemporary style dance. For Team "Shadsquad"'s Redemption dance, they will perform the Viennese Waltz to "Dark Times" by The Weekend and Ed Sheeron. For their Freestyle dance, Jennings and Slater will perform to "Let's Go" and "Uptown Funk" by Mark Ronson and Bruno Mars.
Despite their serious work in this season's DWTS, Team "Shadsquad" will most likely come in second place.
Team "Valmani" -Normani Kordei and Val Chemerkovskiy
Normani Kordei and Val Chemerkovskiy have performed outstandingly throughout this season of DWTS. They are also popular with the fans of DWTS. The Fifth Harmony singer from Atlanta Georgia and New Orleans has great dancing skills and is capable of bringing an emotional and dramatic performance every time. The veteran DWTS Val Chemerkovskiy continues to bring his talent and charisma to the dancefloor for the show, and he went on tour with Fifth Harmony to Asia to help train Normani.
The 2 bonded and their friendship and connection is noticeable. ordei and Chemerkovskiy's Contemporary dance was powerful and emotional. It brought the audience and Judges to tears with a standing ovation. Their Jazz dance to "What a Wonderful World" was outstanding. Perhaps their best dance of the season was the Mulan inspired Paso Doble. For their Redemption dance they will perform the Quickstep to "Check It Out" by Oh the Larceny. Their Freestyle dance will be "What the World Needs Now Is Love" by Andre Day.
As fan favorites who have consistently scored high all season on DWTS, Team "Valmani" is sure to win the DWTS Mirrorball. Unfortunately, Normani recently suffered and ankle injury, but if she can overcome that and perform as well as she has all season, Team "Valmani" should win this season's DWTS.
Tell us what's wrong with this post? How could we improve it? :)
Let us improve this post!