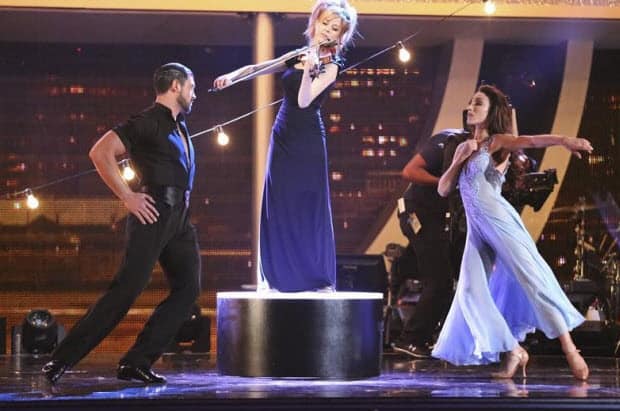 by Daniel Gilligan
On tonight's Dancing With the Stars, we have… Most Memorable Year! This night has all of the contestants picking a year that was important to them and dancing to it. For example, James Maslow chose the year that "he overcame bullying" and Cody Simpson chose the year when "his parents gave up everything for his career." This was all very nice and generally gives the audience a "Grandma's apple pie" type of feeling. Who wouldn't be touched by any of these stories? Well, that feeling turned into heartfelt tears first when Danica McKellar comes up with the year where her son was born just a few weeks after her grandmother died, who so wanted to see her son. Oh my god. Right there, tears coming to my eye. Next, after her, we have Amy Purdy story's come up. After she got her disease, her father not only gave up his kidney for her, but she then danced with him before she could even walk on her new legs! I was going to give her the forty points without even seeing her dance.
All of the contestants did do very well. With the guest judge of Robin Roberts, who I'll get to in a minute, they all got scores in the range of thirty to thirty-nine, with Drew & Cheryl being the lowest to Meryl &Maks being the highest. Commenting on a few of the dances, Drew's dance seemed a little odd. He was honoring how much he loved his son and all of the good times they had and he danced the waltz. While I wasn't expecting an up-beat jazz number I was still expecting something with a little bit of a beat. On the other hand, I couldn't get enough of Meryl's dance. She danced the foxtrot and all of the judges loved her story. It truly was an impressive one, her year being really a "seventeen year journey." Like the judges, I am also wondering what happened to the shy young girl she said she was that needed a "sticker placed on [her partner's] forehead" at a young age because you should have seen the chemistry between Maks and her tonight! As long as she gets the votes, Meryl will go very far in this competition if not win it.
As stated before, all of the dancers were good. James & Peeta started off the show with a great dance and all of the judges were impressed. Nene had a sensual rumba with Carrie Anna commenting that the performance, "Brought out a whole new side of [you.]" That's true. I've seen her several times over the years but now, in this dance, she seemed flawed. That's not the Nene I'm used to seeing. Cody & Witney's dance was very smooth and, as usual, he put his own personalized touch to it. I wonder if he thinks this will give him an edge later in the competition. Charlie & Sharna's dance was the jive and you could tell he was just having fun. Starting way backstage, he danced with a few stagehands before he even reached the main dance floor! Finally, Candace & Mark's jive to Elvis was a whole lots hips and hair, which Erin Andrews even commented on. Last but not least, Billy Dee & Emma were eliminated tonight not because of the number of votes he received but by doctor's orders. We'll see you soon Lando…
Now, I loved the guest judge! Having Robin Roberts sit on the judge's panel was great because she's a self-professed fan. She even commented at one point that she'd be eating a big bowl of popcorn or threatening to strangle Len if she could. It was like having the guy on the couch next to me being able to judge. The fans aka the audience knew that she could relate to us too. When we were crying at Amy's story, we knew she was too. That's what we want to see!!
Last but not least, it's been interesting to watch Erin Andrews as the new co-host on DWtS. She is a former contestant which is why it probably made sense to the producers. Whether or not you know that, it's interesting to see her on the other side of the dance floor. While she hasn't related so much of her time practicing and training yet to this new job, I'll let her get used to the job for a few more episodes and then judge her completely.
P.S. I'm actually really happy we got to see a mini Full House reunion with DJ, Kimmie, and Rebecca!!