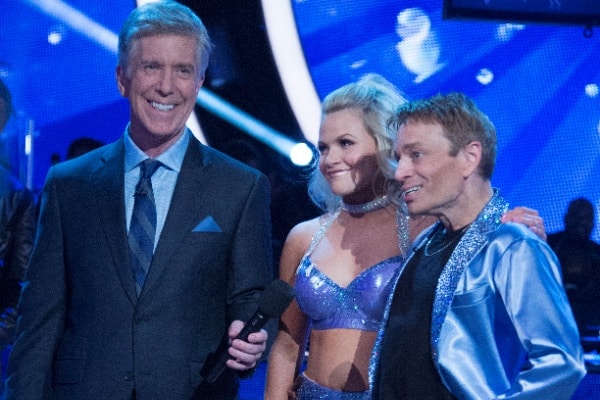 While I was hoping the biggest story to come out of Dancing with the Stars last week would be Mr. T, it was not. The man looked thin, old, and what was up with how many times he kept saying, "yup" or "yeah." Was he just super nervous? It was not only weird but kind of disappointing. Then again, what can you do? The guy is creeping up on 70 so you can't blame him. The true biggest stories from last week were Bonner Bolton and William Shatner. You read that correctly. William Shatner's not even on the show but he felt it was important to troll Nick Viall on Twitter to try and get him eliminated from the show and it cause waves in social media. The twitter beef has since been settled by the way.
Now everyone is speculating that Bonner Bolton is dating his dance partner Sharna Burgess because of their steamy performance. Bolton has confirmed that he is still 100% single but if we see another sultry dance, rumors will still be flying. The question for this week is "who will be eliminated?" Of all the contestants that didn't have strong showings, Chris and Witney, Mr. T and Kym, Charo and Keo, Erika and Gleb, and Nick and Peta probably seem most likely.
I highly doubt the show is knocking off Mr. T right away. I wouldn't be surprised if Chris Kattan gets the boot. He and Witney did not do well and I'm not sure how much "up" there will be from last week from these two. However, don't count out Erika Jayne. She was pretty awful too.
Who do you think it'll be?
Save
Tell us what's wrong with this post? How could we improve it? :)
Let us improve this post!