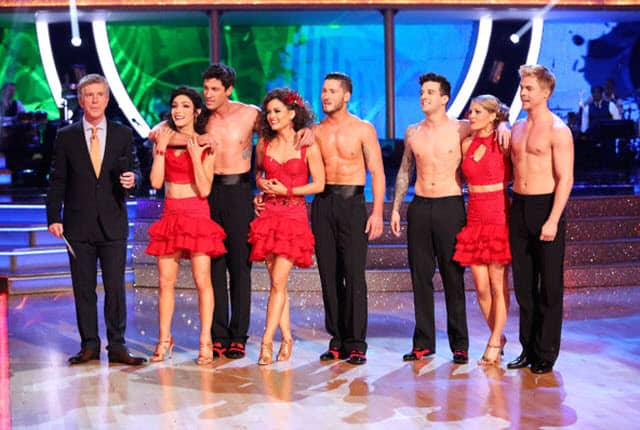 by Daniel Gilligan
On tonight's episode of Dancing With the Stars, we have the Celebrity Dance Duels! While a person might think that the couples would dance with each other until the best one standing (or dancing) is left, that's not the case. I'm going to figure that they also didn't want to repeat the same events that they have done in certain past seasons as well. No, tonight they had two celebrities dancing together. Let me tell you. It was fun! More on that later.
Tonight, there was no theme which I somewhat enjoyed. They didn't have to rock out to party anthems or salsa their way through Latin numbers. Tonight the couples chose the songs they wanted and put it all out there. However, they weren't just under the watchful eye of Len Goodman, notorious for being Mr. Technical. They were also being judged by Abby Lee Miller of Dance Moms. When I began watching the episode, I came into fearing the worst. I thought that she was going to be rude and ridicule my favorites and I wasn't going to like her. Surprisingly, I was wrong. I'm not her biggest fan but I can say that Dance Moms may make her out to be a little worse than she possibly is. She admitted that she was going to be critical but as I went through, I realized that it wasn't a bad thing. I'm not saying I understood everything she said. She was using words that I've never even heard of before but as long as they made sense to the dancers and their partners then the expressions were okay by me!
Moving onto the dances, I thought that some of the dances were so good. When I watched Meryl & Maks do the rumba, I got goose bumps. Meryl said it was one of her favorite dances because it was so "emotionally raw" and it was. From a dinner fight in the beginning to the facial expressions within, you could tell the story behind this dance. I get chills just thinking about it. She ended up getting a 36 of out 40 because Abby Lee noticed that feet were towards each other like ice skates. I think they should have gotten a 40 but I wasn't a judge. Where can I apply for next season this they need so many?
Candace & Mark did the foxtrot and it just looked like fun! The judges all felt this way about the new Candace that they've seen since last week. She was positive and more in her stride. Len even said that this dance was "so joyful!" I can tell you, and again I have no technical or judging abilities whatsoever, that it looked like it had impressive footwork. She got a 36 out of 40.
There was a dance that was not so good in my opinion. I understand that Amy had a back injury. I completely accept that so if she either had an easier routine or something that she had to push and work through, that would have been fine. However, I noticed in Amy & Derek's tango that she used a stool she was sitting on a lot. The judges, though, disagreed with me. They gave them a perfect score with 40 out of 40.
Now that it's coming down to the wire, there are very few couples left! I didn't even realize this but the show is ending soon. How sad! James & Peeta danced the waltz and got a 36 out of 40. Their great chemistry came up again and the dating question was asked for a second time. They shrugged it off without answering. Interesting… Danika & Val did the tango. Bruno said it was "majestic" and they got a 38 out of 40. Finally, Charlie & Sharna got a 40 out of 40 with their quickstep and Charlie was excited. When asked why he thought it happened, he said that the couple was focusing on the scores too much in the past and not on the fun.
Now it's time for the Celebrity Dance Offs! Again, much like the switcheroo from earlier in the season, it wasn't all it was cracked up. It was enjoyable though. Danica & Meryl started off with the samba. Every once in a while it's fun to see the those video packages. Whether they make you nervous about the upcoming dance, like James & Amy's did, or excited, like Candace & Charlie's did, they always try to put you in some sort of emotional state. This package was no exception. It shows Val & Maks getting snippy with the two stars. Would they do well? Would everything turn out okay? Of course it would but now I was 'nervous' to find out per se. The dance wasn't perfect. They lost their synchronicity in certain parts but overall they got a 34 out of 40. Candace & Charlie did a little contemporary and this just looked like another good dance. You could tell that the two stars were a 'couple' so to speak that were trying to be together but the dancers were keeping them apart. It also didn't hurt that Charlie lifted Candace for their entire solo. Does it really count as a dance if your feet never touch the ground? Either way, I liked it and so did the judges. They got a 38 out of 40. Finally, James & Amy danced the jive. They were both nervous around the other at first. James didn't want to have her lose her balance and Amy didn't want to hold James back. In the end, they got a 39 out of 40.
At the end, Danica & Val were told that they had to leave the ballroom. While I did like them, I liked the other two couples in the bottom three more (James & Peeta and Candace & Mark). I will tell you this. I have been voting for whom I want to win this competition but next week is the sem-finals. The closer that we get to the end, the more I see that Meryl & Maks are safe every week. They can win this and maybe they should. See you next week for American Icons week!
[Photo via ABC]