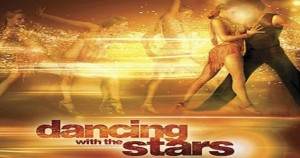 The night so many of us have been waiting over three months for finally arrived — Dancing with the Stars Season 12 premiered tonight ­­­­­— and was the fantasy as good as the reality? You bet. The night was full of excitement, tears and surprises!
Our infamous judges, Carrie Ann Inaba, Len Goodman and Bruno Tonioli were all back for Season 12 as were funny man host Tom Bergeron and his sidekick Brooke Burke. The live two hour premiere kicked off with an introduction of all the contestants set to the theme music that we know and love so well. So let's get to the dancing of Week 1:
Chelsea Kane & Mark Ballas'foxtrot: The judges agree it was a youthful, fun performance and recognized her talent, but urge Chelsea to extend her lines more. Scores: Carrie 7, Len 7, Bruno 7
Wendy Williams & Tony Dovolani's cha cha: The judges felt her dance lacked her personality and they could see her fear and timidity. Scores: Carrie 5, Len 4, Bruno 5
Hines Ward & Kym Johnson's cha cha: While noting his exuberant, confident performance, judges agree Hines should work on his posture and Bruno wants more swivel in the hips. Carrie 7, Len 7, Bruno 7
Petra Nemcova & Dmitri Chaplin's foxtrot: The judges felt her charm, grace and elegance, but she must work on her posture. Carrie 6, Len 6, Bruno 6. After stating she would not penalize Petra on the season opener, Carrie gave Petra a 6?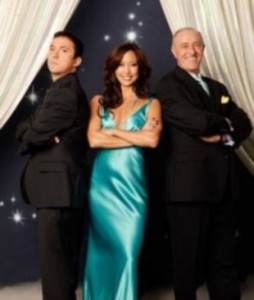 Romeo & Chelsie Hightower's cha cha: After stating he wanted to bring back the legacy of his family to DWTS (after Dad Master P had scored 2s), Romeo didn't disappoint. Judges acknowledge his vibrant, sexy performance and technique with decent scores, but said he needs to work on posture. Carrie 7, Len 6, Bruno 6.
Sugar Ray & Anna Trebunskaya's foxtrot: While judges liked his performance overall, they hit him harm on his posture. Carrie 6, Len 5, Bruno 6.
Kendra Wilkison & Louis Van Amstel's cha cha: The judges liked her performance and acknowledged that Kendra took on hard choreography without missing a step. Her biggest flaw is not straightening her legs enough. Carrie 6, Len 6, Bruno 6. I think she was robbed though; her performance was as good as the other high scorers of the night. The judges might not have been thrilled with her producer package, and more on that later.
Ralph Macchio & Karina Smirnoff's foxtrot: The audience gave Ralph a well deserved standing ovation and the judges were mighty impressed as well. They felt he showed great showmanship, nice execution, with Bruno calling it the best foxtrot of the night. Len remarked on Ralphy's 'creepy hand'that just sort of appears at times and told him to learn to do something with it. Carrie 8 Len 8, Bruno 8.
Chris Jericho & Cheryl Burke's cha cha: A powerful performer with energy, fun and entertainment, but the judges want to see more content (steps) in his dance. Carrie 7, Len 6, Bruno 6.
Mike Catherwood & Lacey Schwimmer's foxtrot: Well, Mike didn't think he had dance ability and unfortunately he is right. What he lacks in skill he made up for in personality. He's a very funny guy and I think America will want him to stick around for a while. The judges all agree he lacks dance quality and is jerky, and want to see him put forth a good effort in next week's jive to save himself. Carrie 5, Len 4, Bruno 4.
Kirstie Alley & Maks Chmerkovskiy's cha cha: Kirstie's dance was a wonderful surprise. She looked so great on the floor and her steps were on point. The judges said in fact she showed the best foot placement of the night, and said her performance was sizzling, musical, cheeky and overall well done. Carrie 8, Len 7, Bruno 8.
So what were the more interesting moments during the show? The producer packages, naturally. Wendy's package certainly didn't do her any favors, as it chronicled her tears during a few rehearsals. See the video below. The judges could smell her fear as she danced across the stage and called her on it. Wendy nearly broke down when she received her scores. Sugar Ray was shown nearly breaking down in his package and Ralph showed he had no confidence in his body. Luckily for Ralph, his performance wowed the crowd and the judges. Kendra's package showed an overly confident woman and she came off a bit trashy. Kendra may doing well dancing, but I don't think she's going to win over middle America.
The biggest surprise of the night was Ralph Macchio, based on interviews and rehearsal videos, the bloggers were all but writing him off (myself included!) But, not only did Ralph prevail with a standing ovation, he tops the leaderboard at 24. Rounding out the bottom are Mike & Lacey with 13.
These scores will be tallied with viewer votes to determine who stays and who goes on next week's results show. The Dancing with the Stars Results Show airing March 29 at 9 p.m. (EST) on ABC, will feature two performances by Chris Brown, as well as the drawn out, agonizing elimination. Who do you think will be the first to go?