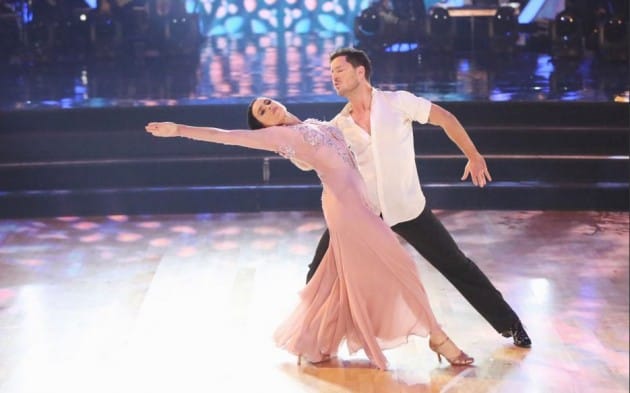 Welcome to another season of Dancing With the Stars! For the show's 20th season, they have announced some changes like a golden mirror ball (and new phone numbers?). They have also kept certain things like Disney Week, a favorite of mine, and the switch-up, which was not.
Before all of that though, we had the dances! Some I was blown away. Others I couldn't figure out to save my life. One of the two bad ones was Redfoo and Emma. I didn't like him right from the beginning. The way he talks is just confusing, and he's just a block-head. While the judges admired his dancing, if he were the first to go, I know I wouldn't mind.
Next up was Charlotte and Keo. First of all, the thing she's known for is the Super Bowl commercial. That's it. She said she wanted to show people she's more than just boobs. If so, she should've told her costume that. I would like her to stay though so that she has one more claim to fame. Both Charlotte and Keo and Redfoo and Emma had the lowest scores of 22.
Moving onto the good dances, there's usually one truly elegant dance every show. That honor almost went to Nastia and Derek last night, but then Rumer and Val performed and knocked them right out of the park. They were graceful, and Julianne spoke of the "passion [they] both had." Many people had put Derek's pairing in the lead before the show, but after this dance, Val's team may "be the ones to watch," as Julianne put it.
Next, Noah and Sharna, while not the highest scoring, had, as one judge put it, "the connection [that] you need in this competition," and it showed. What the judges explained to the viewers was that men usually lead with their left arm, and Noah lost both his left leg and arm in combat. Thus, the fact that this did a dance like this and didn't score at the bottom was incredible!
Finally, I actually like the way that Allison and Ryker danced, not that I have much of a dancing background. Still, though, I thought they were pretty good and so did the judges. They got second place overall last night.
A few quick notes:
– I actually liked Chris and Witney's dance. I'm not sure if I thought they were good or I just like the song "Footloose," which they were dancing to. It is one of my favorites.
– When Michael dances with his partner, Peta, you can tell he works at it (three hours a days at the gym and then four days at the dance studio?!); however, as Carrie Ann pointed this out, he puts on a huge fake smile when he's dancing. It's almost like one of those creepy clown masks from a horror movie.
Now, here are the scores:
Rumer & Val- 32
Riker & Allison- 31
Nasia & Derek- 30
Robert & Kym- 28
Chris & Witney- 26
Michael & Peta- 26
Noah & Sharna- 26
Mark & Willow- 25
Patti & Artem- 25
Susanne & Tony- 25
Charlotte & Keo- 22
Redfoo & Keo- 22
What did you think of the Dancing With the Stars Season 20 premiere?
[Photo via ABC]
Tell us what's wrong with this post? How could we improve it? :)
Let us improve this post!