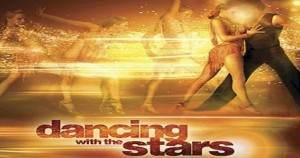 Dancing with the Stars Season 12 is in full swing, with Week 2 underway and one couple on their way out. For their 2nd dance, the couples had to perform either a quickstep or a jive, two dances that require stamina and the fanciest of footwork. Low scores dampened the mood, and Len Goodman's crankiness was a standout theme of the show. Tom Beregon even offered Len some fiber to alleviate his mood!
We went into Week 2 with some burning questions from last week: Could Mike Catherwood redeem himself? Will Wendy Williams bring 'Wendy'to the dance floor? Would Kristie Alley and Ralph Macchio pull off another fab performance? I have the scoop along with the scoring breakdowns right here. The scores from tonight are added together with scores from last week, with the highest possible total being 60. The combined results for each contestant are included in parentheses.
Sugar Ray & Anna Trebunskaya's jive: Sugar Ray gave a decent performance, but the judges called him out on his imperfect footwork. Len tells Sugar Ray he is in jeopardy. Carrie 6, Len 5, Bruno 6 (34/60). I think he was robbed, his footwork wasn't perfect, but it certainly wasn't deserving of scores that low, not in week 2. After watching him fall in his rehearsal/producer package, I was just glad he made it through the routine.
Kendra Wilkison & Louis Van Amstel's quickstep: Finding it too stressful to be a lady, Kendra was the crier this time in the producer package. And while her steps were good, she was lacking a bit in the elegance department. Overall the judges thought her performance was good, but noted she messed up a little on her footwork. Len invented a new word: 'your chesticles hit Louis a few times.'Carrie 7, Len 6, Bruno 6 (37/60).
Chelsea Kane & Mark Ballas'jive: Mark was all but spanked by the judges for introducing some unique choreography to the jive and they claimed the dance lacked actual jive movements. Only Bruno appreciated the risks Mark took. Mark retaliated by reciting a list of all the jive elements that were in fact incorporated into the routine. Carrie 6, Len 5, Bruno 7 (39/60). Another scoring robbery here. Their dance was perfectly executed, and yet none of the judges noted this.
Chris Jericho & Cheryl Burke's quickstep: For a big wrestler, Chris sure bounced around a lot, and that's just what the quickstep calls for. The judges heralded his light breezy, footwork and good frame. Bruno loved the way Cheryl tamed Chris into a 'gazelle'(isn't that an antelope?). Carrie 8, Len 7, Bruno 8 (42/60).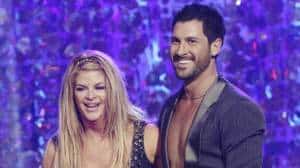 Petra & Dmitri Chaplin's jive: Although the jive was a risk for Petra's long legs, it was a very nice and neat performance. The judges encouraged Petra to build on her core strength to help with her 'placement'. Carrie 6, Len 6, Bruno 6 (36/60). Petra was robbed. She overcame a huge challenge in dancing a jive – because it is so difficult when you are long and lanky – and she performed it so effortlessly.
Kirstie Alley & Maks Chmerkovskiy's quickstep: I was very excited to see if Kirstie could pull off another great performance tonight and I thought she was fantastic. Once again, she was sharp, on point and her chemistry with Maks is awesome. The judges gushed about her talent and her connection with Maks, but noted she lost energy toward the end. Carrie 7, Len 6, Bruno 7 (43/60).
Mike Catherwood & Lacey Schwimmer's jive: I was hopeful Mike could pull himself him up and I know viewers would agree he did. His kicks were sharp and precise and he handled the choreography well. The judges weren't quite so kind. They were entertained but compared Mike to a 'wasp at a picnic'and 'fly stuck on flypaper'. Carrie 6, Len 5, Bruno 6 (30/60). There's a lot of talk about Mike and Lacey being too sexy for TV, and they are pretty hot together!
Romeo & Chelsie Hightower's quickstep: A really great performance by Romeo and finally the judges perked up. Romeo was smooth and showed nice footwork. Len called it the best dance of the night and they all agree he shows great promise and musicality. Carrie, 7 Len 8, Bruno 8 (42/60).
Wendy Williams & Tony Dovolani's quickstep: Wendy promised a comeback and she did try to get her big personality into the dance. The judges recognized her sassiness was there and overall she showed improvement, but noted she lost a bit of steam in the middle. Carrie 6, Len 5, Bruno 6 (31/60).
Ralph Macchio & Karina Smirnoff's jive: Feeling the pressure of maintaining his lead, Ralph gave it his all, but the judges thought he got carried away. While noting his likeability and his ability to embody the character in the dance, the judges thought it was frenzied and needs more footwork precision. Carrie 7, Len 7, Bruno 7 (45/60).
Hines Ward & Kym Johnson's quickstep: Okay, this was THE best dance of the night. Hines and Kym were simply awesome and flawless, and deserved 8s across the board. The judges praised his technique, grace and control. But Mr. Crankypants couldn't bring himself to give it to Hines. Carrie 8, Len 7, Bruno 8 (44/60)
Ralph Macchio maintains his lead with a 45, while Mike Catherwood remains at the bottom with a 30. But as DWTS fans know, it's all up the viewer votes now, and anything can happen. The scores from the two performance shows will be tallied with viewer votes to determine the first couple eliminated. The Dancing with the Stars Results Show airs March 29 at 9 p.m. (EST) on ABC, and yes, Chris Brown will be appearing as of this writing! ABC is also airing a recap of the performances beginning at 8 p.m.