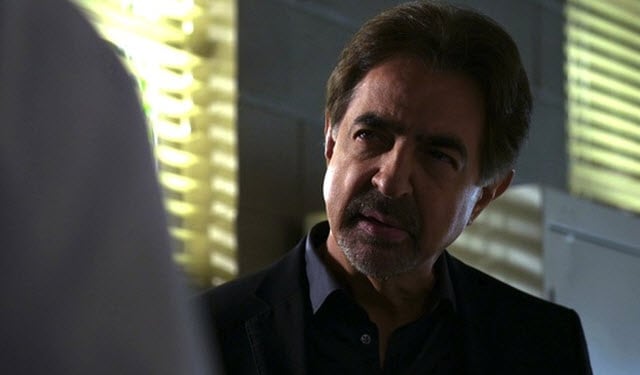 We're nearing the finish line of season nine and this week's Criminal Minds episode was part one of a two-part finale, and that only means one thing: a total cliffhanger by the end of the episode! And let me tell you, this ep was a total adrenaline rush from the moment it started. With a part 1 this intense, we're not quite sure how we're to survive part 2! After all, in the previews being shown for this specific episode, it's teased that two BAU agents will be shot – and it's not going to be returning guest, Esai Morales, as Mateo Cruz. No, it's definitely going to be Morgan and Reid, but more on that a little later.
This episode centers on prostitutes in Texas that are being murdered. There seems to be a religious tie – one Preacher Mills in particular. There are many signs pointing to religious symbolism, including references to "The Man Upstairs," which leads you to believe that the killer is indeed a man of the church. The preacher's background doesn't help either: he had changed his name upon migrating from Canada where he held a criminal background for assault, including cutting girls, and that same night, the BAU found tons of drugs at his home. However, despite all the signs that lead to Preacher Mills, the team realizes that the killer isn't the preacher. We as the audience know it isn't him by face, but we can't help but ask: Who IS this guy, and what is his deal?
The majority of the episode is a whodunit – no surprise there – but the last 1-2 minutes are what are really intense, leaving us gasping at the fact that Morgan and Reid get shot. It looks pretty serious, especially for Reid. See, Preacher Mills gets set up by the killer who lures him to the inside of a restaurant where three of his victims lay and has the authorities, including our BAU guys and gals, headed to get him. While the BAU has realized it's not the preacher, he doesn't know they know that and is overcome with guilt and such anxiety over being blamed that he falls right into the killer's trap. With an agenda, the killer left loads of guns and ammunition for the preacher to attempt to shoot his way out of this one. That he does, and ends up putting a bullet into Reid and Morgan, who comes to Reid's defense. The episode ends rather abruptly after the two fall down and we are forced to wait a whole week to see the finale of both the episode's story as well as the overall season.

Other thoughts on the episode:
I really have no other thoughts on the episode except for one MAJOR issue: REID GETS SHOT! While we already knew that based on previews for this episode, it comes to light that Reid's shot is possibly fatal, especially after seeing that the gunman ends up going to his hospital room, armed to finish the job. Reid's fate wouldn't be so much of an issue if it were guaranteed Matthew Gray Gubler was set to return next season like the rest of the cast. Apparently, he's the only one whose contract wasn't renewed for season 10. While Criminal Minds usually ties up loose ends come the season finale, there's always a possibility they decide to change it up. Fans (including this one!) are speculating a potential MGG departure from the show, which is not sitting well with them. Guess we won't find out until part 2 of the finale next week!
Criminal Minds airs Wednesdays at 9 p.m. on CBS.
[Photo via CBS]