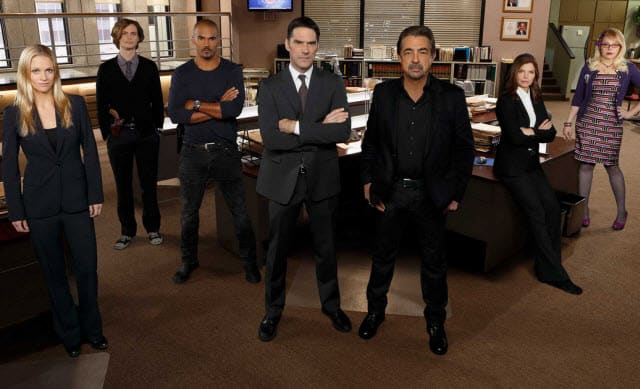 It's finally here: the part 2 conclusion this season's finale of Criminal Minds. Last night's heart-wrenching, emotionally driven episode was quite the ride, picking up where it left off from last week's "Angels" episode, complete with the diner showdown with the preacher and the authorities, including the BAU. Morgan and Reid get shot and things don't look too good for Reid. The most notable detail in all of this was when Blake was with Reid, trying to keep him conscious – she called him "Ethan" in the process. (We'll get to that in a moment.)
A lot of secrets were revealed in this intense roller coaster of an episode. First, it comes to light that sheriff deputy Owen McGregor is the unsub and it seems that most everyone in the force knows of his ways. He even has a nurse meddle and attempted to kill Reid using drugs. There's also the fact that Dinah, the bar owner and manager of the prostitution ring, is in cahoots with Owen, only because he would most likely harm her young son, who lives with her mother. Rossi confides in Blake, telling her his backstory in a tale about his best day that was also his worst day ever, showing the impact of their jobs on their social lives. Speaking of Blake, at the end of the episode, Reid asks her about who "Ethan " is and she comes clean about her son who passed away at the end of 11, due to an illness. You could really see her mentally check out from being on the team at that point.
It's a fight to the finish when it comes to light that the whole sheriff's department and local authorities are corrupt. The local authorities are onto the BAU knowing specific things, and they don't like it a bit. Two officers were ordered to kill Blake and Rossi while they were on their way to help save Dinah and her son. Another male nurse was ordered to attempt to finish off Reid by giving him the incorrect medications, which luckily Garcia caught wind of and stopped from happening by shooting him first.
With the promo, previews and social media teasing the departure of a BAU profiler, it's no wonder that fans would anxiously speculate who it may be – most of the time, it's Reid. This season finale, while it contained no bloopers or gag reel, was just as powerful with those last minutes. Reid was deemed safe after the episode, as it turned out to be Jeanne Tripplehorn (Blake) was the one who would be making their way back home.
Other thoughts on the episode:
– Two words: Doctor Who! Can't help but enjoy the references and dolls of the fan-loved series in this episode – and it's so fitting that Reid is a fan.
– One of the most epic scenes of the season, I think, is when Garcia saved Reid from the corrupt nurse who was adamant on killing Reid. Garcia is always saving the team by using her tech smarts, so for her to save a life through the action of shooting a gun at someone is impressive and commendable. Her reaction afterward was absolutely endearing and such a real reaction – I may have shed a tear or two.
– I am absolutely ecstatic and over-the-moon that Reid (Matthew Gray Gubler) will be staying on for season 10! From the previews to the social media teasers to the fans speculating that it was going to be Reid that the BAU was going to say goodbye forever to was enough to make a fan anxiety-filled and emotionally-charged. He will undoubtedly have a lot going on next season with Blake's leaving/reason for leaving that will most likely be explored, but I'm floored that we fans will have another season with him in it. The BAU just wouldn't be the same without him!
– That said, the leaving of Blake (Jeanne Tripplehorn) was incredibly sad yet beautiful done at the same time. Her reason for leaving and the pain you see her go through makes you just want to hug her and tell her everything will be all right. While I'm glad it wasn't MGG who left, Blake was an integral character that grew so much in the two seasons she was on the show. She will truly be missed!
– Lastly, the one major question looming after the episode was over: What did the text that Hotchner received say? His response to the team was something to the effect of, "We are going to go home and have a long sleep." Assuming it was Blake texting to give her resignation, that doesn't quite make any sense. Guess we just have to wait for next season…
[Photo via CBS]