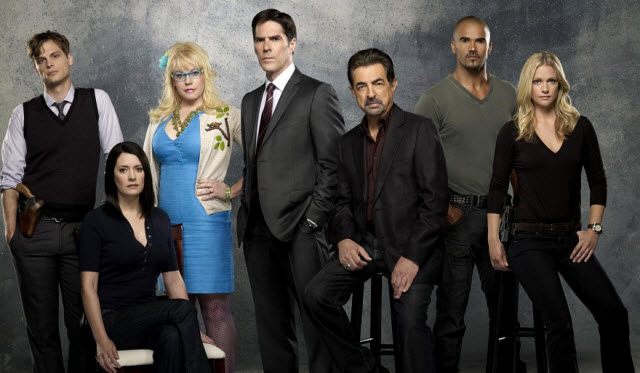 It's been nearly a month since we've seen a new episode on its given Wednesday night slot, but Criminal Minds is back now with fresh episodes until its season finale on May 14. This week, the BAU was dealing with a slew of murders being committed in Long Beach, CA. With arsenic poisonings and handwritten pre-death notes, it's pretty imperative that the team figure out who the unsub is that is committing these murders, which end up with the victims being killed and then strategically placing a piece of twine on/next to their bodies. It turns out that the unsub did this to represent how many years his victims lived.
We discover, along with the BAU crew, that the unsub is a man named Bill, who apparently is obsessed with Greece and Greek mythology (who can blame him?). Bill is retiring from his job at the docks and is finally embarking on that dream trip to Greece he's always wanted to take for over 20 years now. The socially-awkward unsub doesn't seem to have many friends, except for his gregarious now-former boss. Eventually we find out Bill is actually terminally ill with cancer due to asbestos that he contracted at his job – he only has months to live. It is also revealed at his going away party at work when his boss comes clean about the fateful day 20 years prior, admitting that he was the reason Bill missed his shuttle for his trip to Greece. Bill doesn't like this revelation, and it becomes apparent who his next unplanned victim is. Yikes!
As for his previous victims, they were all at the wrong place at the wrong time: Bill had just come from the doctor's where they presented him with the bad news. Down on his luck, he goes to the campus coffee shop right by the medical facility he came from and has an anxiety attack, unable to go into a shop full of happy, undying people. It is then and there that he decides to kill off all those people standing in line at the time.
The episode ended in a bittersweet manner, with the boss being spared and the unsub finding out that 1) people actually care about his well-being and 2) he wasn't meant to go to Greece that day 20 years ago. Bossman comes clean about sabotaging his first Greece trip but gives him a dose of reality, saying that the reason he did so was because Bill was struggling financially and would have left a good-paying job by going to Greece, broke. He can now finally take the trip at his leisure, with money not being a problem. And going that first time would have meant leaving his sick mother – he was able to care for her because of the sabotage. Although the fact that he contracted his illness at the shipyards when he wasn't technically supposed to be there seems like a legit reason, the fact that the shuttle he was supposed to be on ended up crashing with all passengers dying seems to trump everything else. He was meant to stay because it helped him stay that much longer.
Other thoughts on the episode:
The whole idea of the unsub choosing to murder people based on his visit to a coffee shop may have freaked me out just a little. After screening this episode, it makes you think twice about hopping in that line at Starbucks…
Seeing Rossi getting extremely upset over Janice's death was heartbreaking. You know that he really felt his responsibility on keeping her safe and unharmed weighed on him like a brick after witnessing her death on the phone. Brutal!
This episode wasn't my favorite of the season by far, but I did love that it ended with the unsub's boss being the good guy who unknowingly saved him from death's grasp some 20 years earlier, especially when he'd planned to kill him. That sweet twist that boosted what I thought was a mediocre episode, in terms of a storyline.
Based on the previews for next week's pre-finale episode, it looks as though the next two episodes are going to be an emotionally-driven one – for both characters and audience! Two of the team going down with images of Reid and Morgan appearing on taking a hit and falling to the ground? It will definitely call for some nail-biting, breathtaking moments – and not necessarily in the good way. To that, I say: Bring it on!
Criminal Minds airs Wednesdays at 9 p.m. on CBS.
[Photo via CBS]