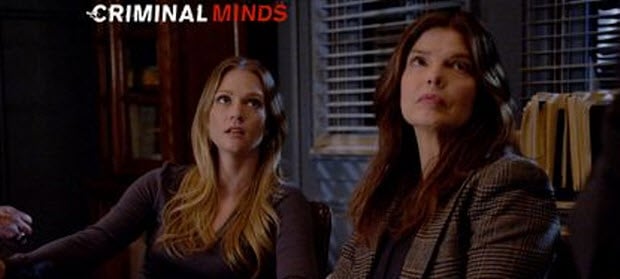 If I had to come up with a quick and condensed way to describe this week's case on Criminal Minds, I'd have say it's a mashup of Romeo and Juliet meets Psycho… in the South. Our pals at the BAU are dealing with some pretty messed up family history with the Howard and Lee families at each others' throats – literally. On top of that, someone's been murdering people in their backwoods community in West Virginia and the unsub seems to harbor anger and resentment towards both families. So who could this twisted person be?
The main issue is about the murders going on in the southern town and the usual whodunit, but, in true CM fashion, there are also the little sub-plotlines and missing links needed to connect the pieces in order to solve the case. We've got Malachi Lee and his family covering up a "business venture" that they're running in their barn, which turns out to be legal in the end, and very profitable. Then there's the outcasted Howard, Caleb, best known as "The Mountain Man," who ended up suspiciously changing his name to Sam Kaplan and got his life together.
Ultimately, we learn that the person behind the killings isn't someone from either of the families (as they'd initially suspected) but an outsider who, for whatever reason, wanted both families to pay. It comes to light that the strong-willed Cissy Howard is actually long-lost Lee girl, Magdalena Lee – yes, Malachi's sister. She and Malachi ended up having a kid together and, of course, it was embarrassing and totally freaked out both biological parents. The unsub captures Cissy/Magdalena and has her fill in all of the blanks from his childhood and why she left him. You kind of feel sorry for the guy for being the kid his biological mother gave up and whose biological dad ran out on… almost. But then you remember all the messed up things he's done and think, "Oh yeah. This guy killed all those people and is pure evil."
Other thoughts on the episode:
– Poor Blake! I know she's the newest of the bunch in the BAU, but the gal is always the one getting accosted in these showdowns. Remember the helicopter crash with the Replicator? And now she gets assaulted and nearly drowned and killed by the unsub. Cut the girl some slack!
– Also on the topic of Blake: since she's gone through so much in her time with the BAU, especially this last time, she seems very shaken up about the situation. While the scene between her and JJ kind of ended abruptly, leaving us with more questions about Blake's condition, and I hope it gets addressed in the episodes to come. Remember when Reid gets traumatized after Tobias Hankel nearly murders him and ends up becoming a druggie? Let's just hope that Blake doesn't go that route.
– How crazy was that last scene with that couple who went to the house completely unplugged to get away from the stresses of life, only to encounter the unsub?! It was just plain freaky – and makes you think twice if you really want to "get away from it all."
– I know I probably say this every week, but this has to be one of the most terrifying episodes of the show in a while. (As I write this, I may or may not still be lingering underneath covers, slightly paranoid that the unsub of the episode may be lurking in a dark corner. Eek!)
– There wasn't much Garcia time, which I feel is such a great, comedic use of making light of the often depressing, heavy material the team is constantly dealing with.
Criminal Minds airs Wednesdays at 9 p.m. on CBS.
[Photo via CBS]