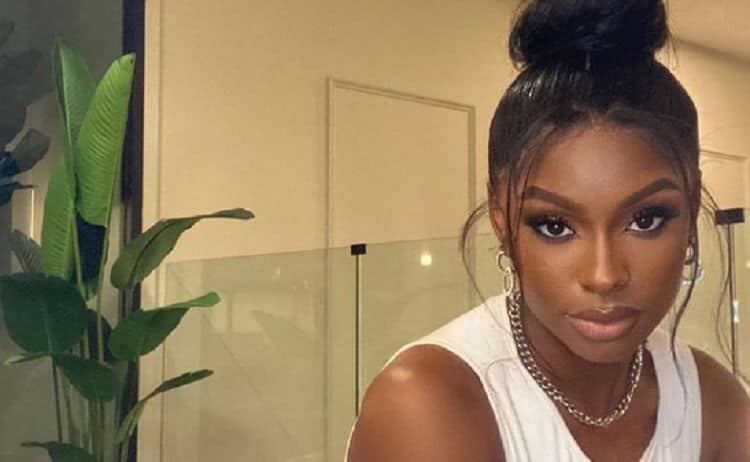 Coco Jones was born just a few months shy of the second anniversary of the final air date of one of the best shows of the decade in which she was born. "The Fresh Prince of Bel-Air," was one of the most popular, most beloved, most amazing shows of the 90s. Every kid who grew up in the 90s knew – and still knows verbatim – every word to the theme song without missing a beat. It's almost as if that song became a rite of passage, and we all still get excited and rap alongside Will Smith when we hear it. What's amazing is that Coco Jones wasn't alive when this show was being filmed, when it went off the air, or when it was at its peak, but she's one of the newest cast members in the Fresh Prince reboot coming to television. Fans want to know more about her now that she's the next big thing.
1. She is Young
Coco Jones is a 90s girl, but we cannot even say she grew up in the 90s. She wasn't even two when the new millennium arrived. Her date of birth is January 4, 1998, which means she was only a baby when the 90s were still around.
2. She's A Southerner
This is a young woman who is born a southerner. What does that mean? Well, we don't know entirely because she didn't grow up in the south, but she knows a few things about southern charm, sweet tea, good food, and the importance of Jesus and your church, and she probably knows how important family dinners are on Sunday (as a fellow lifelong southerner, it doesn't matter how you are – you know these things). She moved from Columbia, South Carolina, as a child to Tennessee, however, which isn't too far off in terms of the south.
3. She is a Disney Star
She was only nine when she had a meeting with Disney, and it went well for her. She landed parts in several big Disney Channel movies and shows, and she was also part of the Radio Disney family for a while. She's exceptionally talented, and her fans already know this well.
4. Her Dad is Famous
What some people don't know is that her last name is not just a common last name. She shares it with a famous man by the name of Mike Jones. The former NFL player is her father, and she grew up alongside him and her mother, Javonda Jones, in Lebanon, Tennessee, where her dad played football for many years.
5. She's Always Been a Singer
She was just a baby when she realized she's not only talented but that she also loves singing. She began singing regularly at that age, practicing, making it a point to sing for her friends and family, and she even thought she'd got into music as a career. She was only six, though, so there were probably times she also thought about doing other things as an adult.
6. She Began Performing in Front of Audiences Young
By the time she was six, she was already performing in front of actual real-life audiences. She performed in an auditorium in front of her friends, family, and all of the parents who were there to see their kids graduate from kindergarten. She sang America the Beautiful, and that was her first time on a stage in front of that many people.
7. She Has Big Idols
Let's look at people like Mariah Carey and Celine Dion and Jennifer Hudson and Aretha Franklin and Etta James just to name a few. These are a few of Jones' biggest influences and idols, and she has worked long and hard to emulate and expand upon what they've taught her and what she's learned from him. She loves these talented women, and she has worked hard to learn what she can from their own successes.
8. She's the New Hillary Banks
When the new Fresh Prince airs, we will get to see a brand-new Hillary. Fans loved Hillary. Not only was the eldest daughter of Uncle Phil and Aunt Viv beyond obsessed with herself and her own life, she was hilarious in her quest to be the most beautiful woman around. She was a fan-favorite every season, and we can't wait to see Jones take on the role.
9. She Appreciates Her Privacy
Coco Jones knows a thing or two about being in the spotlight, but she also knows a thing or two about maintaining her own privacy. She knows that her life is something she has to focus on outside of work and outside of the cameras, and she's good at making that happen.
10. She's Huge on Instagram
Coco Jones has a massive following on the 'gram. She has more than 900k followers, which puts her pretty darn close to 1 million. With the announcement that she's taking on this new role, we won't be surprised if she hits a million followers before much longer.
Tell us what's wrong with this post? How could we improve it? :)
Let us improve this post!