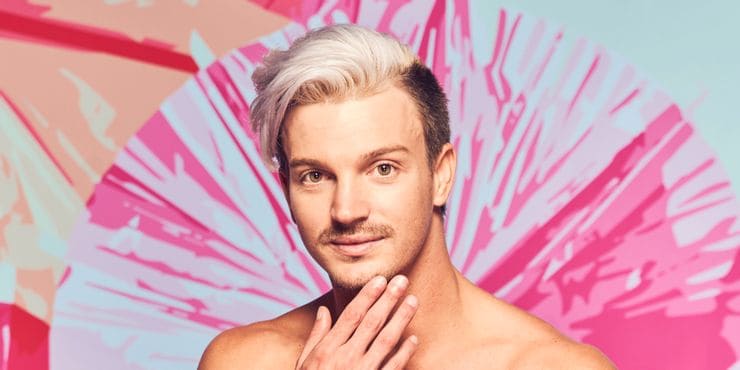 Christian Longnecker is handsome, smart, and ambitious and he's hoping all of those things will be enough to crown him the winner of Love Island. Although the show is about forming a connection, it also requires a certain level of strategy and Christian is ready to show the world that he's capable of bringing both things to the table. Christian will be appearing in the upcoming third season and he's ready to give himself a shot at love and a nice cash prize. Since being announced as one of the cast members, Christian has already been getting a lot of love from fans. However, season three doesn't premiere until July 7, 2021, so we'll have to sit tight for a little longer. Let's get into 10 things you didn't know about Christian Longnecker.
1. He's A Model
Christian's handsome face and chiseled physique are probably the first things most people will notice about him and he's well aware. His appearance has gotten him a lot of opportunities over the years including a successful modeling career. At the moment, however, he doesn't appear to be signed to an agency.
2. He's Passionate About Health And Fitness
As someone who's used to spending a lot of time in front of the camera, it's probably not much of a surprise that Christian is really mindful of how he looks. He loves to keep himself in good shape and he's all about living a healthy lifestyle. After all, staying active and eating good foods isn't only good for his body, it's good for his mind as well.
3. He Started a YouTube Channel
Christian isn't what most people would consider a YouTuber, but it looks like he's given it a try. Christian started a YouTube channel in 2017, but he never got into posting videos consistently. Like lots of other reality TV stars, he may decide to start putting more effort into his channel after being on Love Island.
4. He's An Entrepreneur
Christian is much more than just another handsome face, he's also all about his business. He is the founder of a coffee company called Dynamize. The company is all about selling great coffee while also doing its part to take care of the environment. In addition to starting the company, he's also in charge of marketing.
5. He Already Has A Big Instagram Following
It's become very common for people to grow their social media followings after being on reality TV, but it's a little less common for people to already have large followings before they're cast in something. However, Christian already has more than 30,000 followers on Instagram and the show is only going to increase that number.
6. He Loves Traveling
Christian is the kind of person who is always looking for a fun adventure, and traveling is one of his favorite ways to let his adventurous side free. He has gotten the opportunity to visit different parts of the world. Some of the countries he's been to are Brazil and Costa Rica. He's also traveled all over the United States.
7. He's Volunteered With The Special Olympics
Being handsome and successful is great, but people will be even more excited to know that Christian has a compassionate side, too. He loves being able to help others and, according to his LinkedIn profile, he spent four years volunteering as a soccer coach for the Special Olympics.
8. He's An Expert At Sea
Christian loves being out on the water, and he's very in several water activities. Christian's LinkedIn profile shows that he is a 100 ton Masters Captain. According to Mariners Learning System, "The USCG 25/50/100 Ton Masters License allows you to perform the duties of an OUPV/Charter Boat Captain and also operate Inspected Passenger Vessels that are approved to carry seven or more passengers. In order to carry seven or more passengers "under sail" a Sailing Endorsement is also required."
9. He Loves Taking Pictures
On top of being a model, Christian is also very comfortable on the other side of the camera. He enjoys taking pictures and he's developed a good eye for knowing exactly when to snap the right shot. His love for taking pictures goes along nicely with the fact that he loves adventures.
10. He's An Adrenaline Junkie
Traveling isn't the only way Christian likes to show his adventurous side. He also loves to get his blood pumping. Christian isn't afraid to live on the edge and he enjoys doing things like rock climbing, hiking, snowboarding, surfing, and diving. Whoever he ends up with has to be someone who also likes to live life to the fullest.
Tell us what's wrong with this post? How could we improve it? :)
Let us improve this post!