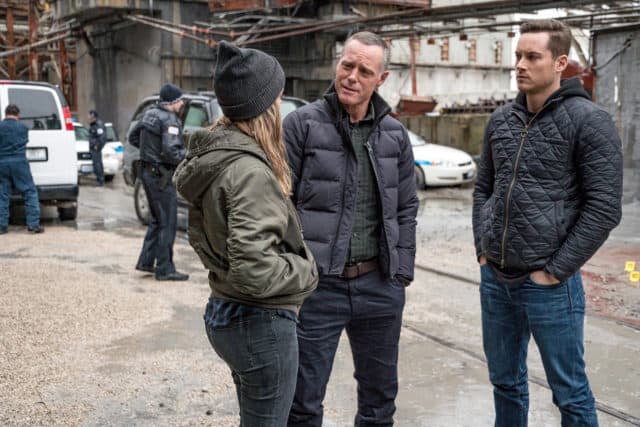 An episode of Chicago P.D. focused on Hailey Upton has been a long time coming since her upgraded status on the show. Though she was brought in to fill a Lindsay's place on the team (and to keep Burgess company amid all of that testosterone), Upton has distinguished herself, and her place in Intelligence. She is the one who was able to pull Halstead back from the brink, and she's been loyal, focused, and determined on each and every case. Voight hasn't questioned his choice to bring Upton to Intelligence, and her actions on a very personal case prove that he made the right call.
Intelligence tries to intercept a liquid meth shipment, but the case takes a turn when one of the victims they are tailing turns out to know Upton. More precisely, he knows Upton under her former cover. Years earlier, Upton worked undercover for a meth dealer named Booth. Her partner was also undercover with her, until he suddenly disappeared. To get Booth, as well as justice for her partner, Upton goes back undercover. But that's hardly the whole story.
Three years ago, Upton had Booth's trust, and he still nearly killed her. Now she doesn't even have that. What's worse is that Booth has gotten worse, not better, since prison. He's paranoid, trigger happy, and obsessed with Upton, even if he's unwilling to admit it. That's the whole reason he tries to back out of a deal she sets up. He believes her contact, Halstead undercover, is involved with her, and he doesn't like that. Voight likes it even less. When he tries to pull the plug on the operation, Upton has other ideas.
It was clear from the very beginning that she was compromised. Not her cover, but her personally. This was someone she needed to conquer. He killed her partner, he made her vulnerable, and that's the type of power that needs to be taken back. When she does, those few extra punches seem justified. I'm not so worried about her after this. She's not a person who loses control, or typically goes past her boundaries. Upton knows herself well enough to pull back. The same can't be said for everyone.
I'm not gonna lie. I'm genuinely worried that Voight and Olinsky won't be able to get out of this investigation. To be fair, they did commit the crime. Several, in fact. This is not going to end well, and I truly can't see a way out of this.
Did this episode shine a new light on Upton and her place in Intelligence?