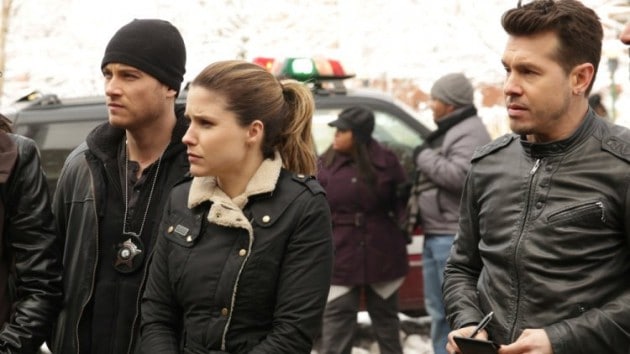 With the 2014-15 TV season coming to a close, TVOvermind is taking a closer look and reviewing the most recent seasons of some of network TV's biggest shows. We last examined ABC's "Nashville." Next up: NBC's "Chicago PD."
Sophomore seasons are usually the toughest to make, especially after a solid first, high expectations towards a quality delivery are set, and both established fan bases and potential new viewers can be brutal. However, Chicago PD took the foundation the series had laid out for itself during its initial 15 episodes and developed its characters and storylines further into a second season that was comprised of 23 installments. In addition, the show continued its trend of having crossovers with its sister series, Chicago Fire and (its mother?) Law & Order: SVU, a move that proved to be as successful as it was engaging. Since the cases of the week are not what make the show strong (the characters are), here are a few of the elements that allowed Chicago PD to secure its place both in the schedule (it got picked up by NBC for a third season) and in the audiences's hearts.
Deaths in the (Squad) Family
Chicago PD Season 2 opened with the aftermath of Jin's death and closed with Nadia's. The former unleashed an investigation that involved Voight, who wiggled his behind out of trouble in a very Voight-like way: with leverage. This is one of the many ways in which Voigth became a richer character; he is a man who is not only good at his job but understands that he will cross lines in order to "protect his city." At times, he gets his hands dirty, yet the fact is that there is dirt. He had damming information regarding the higher ups, and that was what got him out of hot water. Plus, he did put the people responsible for Jin's murder behind bars.
Then there is Nadia, a character we all loved and championed, the underdog who grew into so much more. Nadia fell into the hands of a serial killer and was executed (after having been raped and tortured all the way from Chicago to New York City) during a two-hour crossover event with SVU that was both gut-wrenching and filled with suspense. In my opinion, the way the character was written off had too much of an overkill effect. We didn't need to know about everything that was done to her with precision and detail. I understand shock value, but at the same time, Nadia felt like part of the family, and some sort of modesty regarding how brutally assaulted she had been wouldn't have hurt. We all would have mourned her if we hadn't known about every single cut, bruise, lesion, etc. That said, the resolution of the case, in legal terms, was fulfilling, and the impact of Nadia's loss led Erin Lindsay to her old ways, leaving her vulnerable, abusing drugs and alcohol, and spending time with bad company. As a result, the shocker of the season was that Erin quit the force. Dramatically, the arc worked like a charm, and Sophia Bush proved once again just how talented of an actress she is.
The Romance
Thanks to the crossovers, Voight and Olivia Benson have started to develop a very interesting relationship. Even though that bond remains platonic, I found it compelling how two very tough people who have been fighting for justice while putting their personal lives on the backseat, can relate, help each other, and basically find a place where neither of them judges the other. Additionally, with the ageism that goes on in showbiz, this pairing of two mature adults is refreshing and important.
Fans also got some brief time with the relationship they had been asking for since Chicago PD debuted. Lindstead happened, and to be succinct, it was hot. The partners finally got to know each other in a carnal sense when Lindsay left Intelligence for a beat, and she and Halstead were no longer partners. However, once she made it back to the squad, sneaking around proved unsuccessful as Voight, using his sixth sense, was on to them. Linstead was dead a little bit too soon, but they were great while they were together, and their cooling off period seemed somewhat believable as well.
Burgess and Ruzek had a bumpy first season, filled with tension and forbidden interaction; however, the couple has found a balance between their jobs and domestic life. Sometimes, this duo does seem to good to be true, almost unbreakable, but that is precisely what made their proposal at the end of the season such a realistic development. I am excited to see more.
Antonio, who went through a difficult separation with his wife, who can't deal with the risks attached to his calling, also found love in a former colleague, and though the story was never fully developed, the glimpse offered was fulfilling. The same goes for Alvin, who moved out of his garage and reconciled with his wife. On this note, though, I remain marginally hopeful for his marriage since the season finale revealed that he fathered a daughter, while still married, years ago on an undercover stint.
The Action
From arsonists to serial killer and drug cartels being taken down, the team, as a whole, always worked well together. Despite a few disagreements and some doubt, Intelligence has proven to be consistent and efficient. I will stress this again, even though the cases are good, the weight of every episode is put squarely on the members of the squad: how they perform, need each other, expand their tactics (even when that means crossing a legal line), and how their personal lives take hit because of what they see on a daily basis. To that, the level off adrenaline and suspense provided is always high and offers a good doze of pay off.
All in all, I thoroughly enjoyed Chicago PD's second season, which remained on brand with Dick Wolfe's products, while still showing what its own uniqueness.
I'm looking forward to seeing what's in store for Chicago PD Season 3. Are you?
[Photo via NBC]