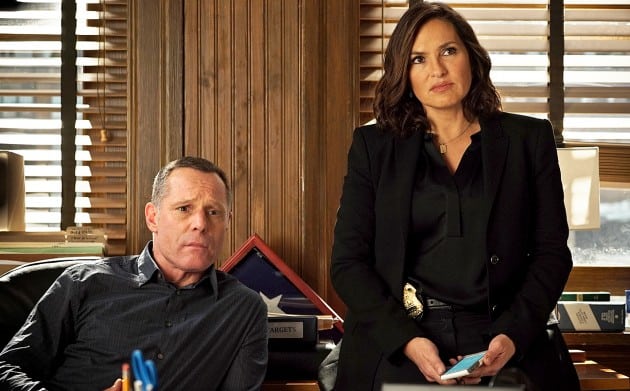 "In the criminal justice system, some killers are so depraved that it takes multiple police agencies to bring them to justice. This is one of those investigations." So begins the impressive intro signaling the combination of two teams apart of the three-show crossover that began with Chicago Fire, and continues with Chicago PD, before heading straight into Law & Order: Special Victims Unit in the next hour.
SVU's Benson and Voight talk to the sexual assault victim from the fire on Chicago Fire at the hospital, a nurse named Victoria who worked at Chicago Med. Before she dies, she isn't able to give them much to go on, so Benson asks Amaro and Fin to join her in Chicago to help with the investigation. This is especially important since the whole city has gone on high alert with tip lines ringing off the hook, leaving Nadia extremely busy while she's trying to plan Lindsay's birthday party. A thorough sweep of the crime scene turns up a bottle of green nail polish that this criminal uses on his victims. There is no longer any doubt that the New York and Chicago cases are connected.
The case seems overwhelming, but Benson gets a call from back home that produces a new lead. Unfortunately, that new lead turns out to be Halstead's brother Will, as he was interviewed for one of the previous cases in New York. Benson realizes the sensitivity of the matter, so she asks Voight for his blessing before she brings Will in for questioning. When Benson subtly asks Jay to bring in his brother, he isn't immediately suspicious until he hears the questions that Benson is asking. Will is willing to be an open book and cooperate with the investigation, but Jay is the one who is having none of it and pulls his brother out of the interrogation. Benson leaves this part of the case in Voight's hands so she can run part of the investigation from New York, but not before asking him to go by the book so that Yates can't get away with anything if this case eventually goes to trial.
Meanwhile, a reliable witness comes forward saying that she may have had contact with the man the police are looking for, and Mouse is able to confirm that the car this man was using was also seen near the victim's apartment. Burgess and Roman find the man they have been looking for, Dr. Greg Yates, and decide to bring him in no matter what. Yates is nothing but cooperative and creepy from the moment he steps into the interrogation room. The department has no cause to hold him. Will, now officially cleared of all suspicion, is actually able to provide insight into Yates, who was one of his professors in New York. Will is even able to place Yates with one of the victims before she disappeared. Before the team can process this revelation, Yates calls in to talk to Lindsay asking for a private meeting.
Yates isn't stupid, and he subtly changes the plan so that Lindsay can be out of sight away from her team during the meet. He spouts on about "the law of unintended consequences," after which CFD's Chief Boden calls to say they found another body; Lindsay was just Yates' alibi. The team misses Yates, not yet knowing that he has just made this case very personal by kidnapping Nadia.
Continue to the Law & Order: Special Victims Unit review to see how the case concludes.
[Photo via NBC]