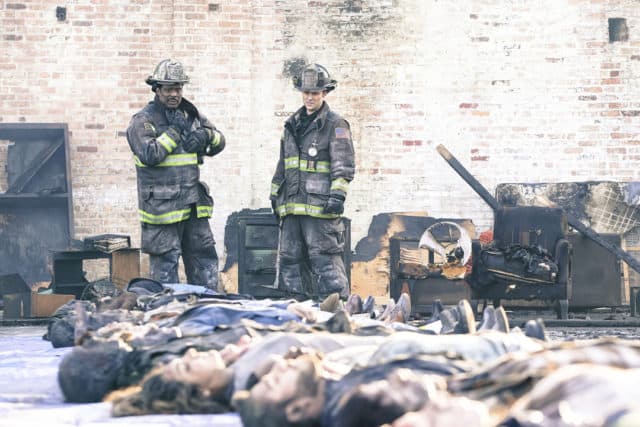 You had to figure that the first 'One Chicago' crossover which introduced the fourth show of the franchise, Chicago Justice, would start out with a bang. Consider Lieutenant Casey's words in the first two minutes: "We have to expect the worst." The worst is what they got. Beginning with Chicago Fire at a special time, the three hour crossover kicked off with Firehouse 51 responding to a mass commercial structure fire with too many victims inside to hope to save. There was one victim in particular which set the night in motion, making this mission extremely personal for every member of the Chicago family.
It's bad enough that the hour starts off with Mouch pinned and injured by fallen debris. The fire becomes too much for different battalions to handle. The only reason Boden will allow anyone to go back in is because Chicago PD's Olinsky tells them his daughter is in the building. It's a miracle Boden and Severide are able to get to Lexi so she can get to the hospital, but their work for the rest of the night shows dismal results. It's hard to take stock of the people saved when dozens of bodies line the pavement the next morning.
The owner of the building denies knowing why that many people were in his building, insisting he was just trying to give kids down on their luck a place to live. That idea might have been nicer had he brought the building up to code with any kind of sprinkler system, clearly marked exits, or even just one decent fire extinguisher. First instinct says that the fire has to be accidental, and at the very least not the owner's fault if he had enough overwhelming guilt to kill himself in the firehouse bathroom (one cleanup we hope they're not doing themselves). Yet there is incontrovertible proof the fire was purposely set. Someone had no qualms about loss of life.
You have to hope that something good does happen in the midst of all this death. Two fire victims feeling the first sparks of young love, that counts. Connie's temp Marci rising up to take care of the firehouse, that counts. Ana making the decision to move to Chicago to be with Severide definitely counts. Considering there are so few moments of hope to be found in the wreckage, you have to take what you can get. We should also give credit to the entire Chicago Fire cast and crew for their tremendous work in what was no doubt a physically and emotionally grueling episode.
Crossover to our Chicago P.D. Review for the continuation of the first four-way #OneChicago crossover.
Chicago Fire Season 5 Episode 15 Review: "Deathtrap"
Summary
Chicago Fire kicked off the first four-way #OneChicago crossover with a gut punch.