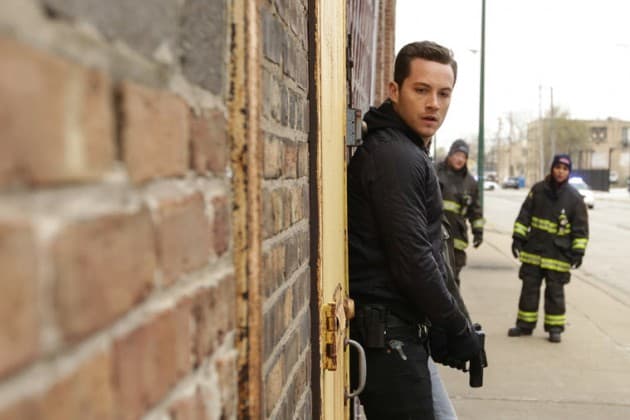 In the winter premiere of Chicago Fire, the team and the audience learn the details of what followed Mills and Brett's disappearance, baby Boden fights for his life, and two relationships progress (though not in the same direction). Let's dive in.
The hour picks up where we left off, with members of the house scrambling to figure out why two of their own have disappeared without a trace. Halstead from Chicago P.D. is called in to head up the investigation, and everyone is on edge, doubly so when the whole team is informed that Boden's newborn son is fighting for his life. Cut to Mills and Brett themselves, the audience discovers that due to some rather impressive improvisation from Mills, the car they were kidnapped in crashes and the paramedics are forced to save one of their kidnappers at gunpoint. And here is where the title of this episode should have been a clue, but I'll get to that in a minute.
While the investigation into the disappearance continues, the team agrees that Boden should not be distracted from worrying for his son with even more bad news, since there's nothing he could do. But Boden is having none of that, since the situation he's in now doesn't change the fact that his team is also his family, and he believes he has the right to know if something is wrong, which is how he gets Hermann to tell him the truth. You can really feel the stress coming off of the Chief the entire episode as he worries for his work family and his own, and it nearly broke my heart when he told Hermann he didn't tell his father about the newborn's condition.
Cut back to the investigation, and we get glimpses of Cruz trying to keep it together as he searches for his girlfriend and her partner. Ultimately, it is Dawson who finds the clue to where her former partner is, and not soon enough as I don't think a blunt object would be very effective in warding off flying bullets in this case. But before that scene, Brett and Mills are still trying to save their would-be kidnapper, trying to bargain for their lives, when Brett makes a move that, like I said, I should have seen coming given the episode title. That's right, Brett wanted to let the man on the table die, though luckily Mills flat out refused and not only potentially saved their lives in the process, but saved Brett from the guilt that comes with knowingly killing someone.
I'll admit I gave the biggest "Awwww" when Cruz reunited with Brett, and I'm looking forward to seeing where this relationship goes. So far it seems that these two are headed in the right direction, as he stands by her when she goes PTSD shady, tracking down the other dangerous man she saved with a gun to her head a few weeks back, who for those who don't remember, said he owed her one and to call when she needed to. Brett uses this to get Mills in to see their jailed kidnapper, who at first refuses to admit that mob boss Lullo was responsible for the kidnapping as revenge for his son's death, but later changes his mind due to what we assume is a debt owed to Mills for saving his life.
Throughout the episode, we also see the strain in Dawson and Casey's relationship, which they are able to not work through once Mills and Brett have been found safe. I say "not", not because Dawson ends up moving out effectively ending the relationship, but because it seems like she is trying to convince herself that this is the right call (something Hermann is quick to point out to her when they talk later at Molly's), while Casey doesn't put up a fight at all. Here we have a classic case of non-communication, where both parties are stubborn and think that if the relationship is meant to survive, then the other person will take action. Let's see how well this course of action works. P.S. The tone in which Dawson addresses Casey later as Lieutenant, just feels overly awkward and wrong.
By the end of the episode there are two pieces of news, one good, one potentially very, very bad. Good news is Baby Boden will be fine, and he even gets a timely visit from his new grandpa, and at this point both the Chief and I am trying not to choke up. But later when the team is called to a fire in a storage unit, they find ingredients that an arsonist would use, and if that wasn't troubling enough, a newspaper clipping about the fire that lead to Shay's death. We'll see how this troubling news plays out. All in all, a great start to the second half of the season.
[Photo via NBC]