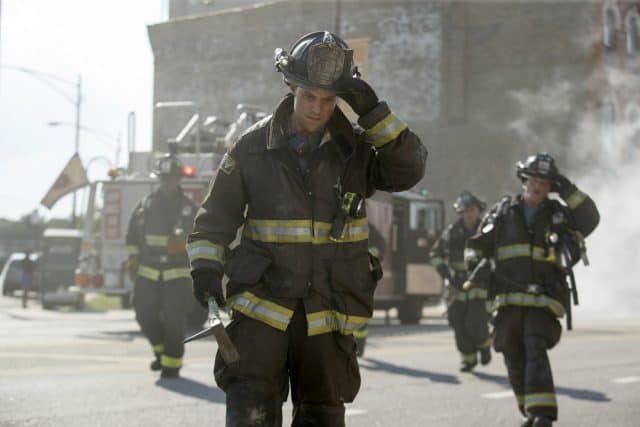 Last week Chicago Fire bid heartbreaking adieu to a main character. The good news is that Jimmy Borretti survived and is holding his own. The bad news is that his career is over, and he has a long recovery ahead of him. Both Boretti brothers were under Boden's watch, so he is taking this particularly hard. He was one of my favorite recruits, I was really hoping it would work out with him. Now Firehouse 51 has to move forward after tragedy, as they unfortunately have had to do so many times in the past.
Severide tends to fall into black holes when he can't make sense of things in his life. We won't soon forget the mountain man he became after Shay died. Severide already couldn't make sense of what happened with Stella and her ex, then Jimmy nearly died. Going into the whole is his pattern in times like this. Lately he's taken to late night parties with Travis Brenner. He's so content there that he takes Travis up on an offer to fly around the world partying for a full month. The good times stop rolling when Severide has to treat a girl who overdoses at one of Travis's parties. Severide was already upset about the drugs. He is even more upset when he finds out Travis dropped the girl off on a bench outside Chicago Med. The only good thing to come out of this friendship is that it gave some much needed service to Molly's.
So things didn't work out between Stella and Severide. Stella's life is moving full-steam ahead regardless. She makes it her mission this week to track down a homeless kid she saved from from an underground fire when he leaves without taking his Hepatitis C medication. Not only does she have to find him so he can take his medicine, she has to find him before the police do because there is a warrant out for his arrest for stealing said medication. Stella asks Boden for help once she finds him, so he calls in a favor from Ms. Goodwin and State's Attorney Mark Jefferies. Chris turns himself in for the crime, which will be pleaded down to a misdemeanor with probation if he enrolls in the hospital's needs-based program for people who don't have insurance for proper medicine. Sometimes all anyone needs is someone to reach out a helping hand, especially when they don't think they need help.
Sparks flew a few weeks back between Brett and Antonio. Brett's been so stuck on the moment that it starts to bleed into her fiction work with Mouch. For the record, I haven't read any romance novels with shapeshifting, which I say with pride. Antonio's been thinking about Brett too. The problem is that he's the one putting walls up. Knowing how stubborn her brother is when it comes to a good thing, Dawson gives her partner a little push to fight for Antonio. Brett's never been one to be shy about what she wants, which works to her advantage getting Antonio's barriers down. Say hello to the new crossover couple.
The consequences come fast when Casey refused to play the blackmail game with another alderman. DCFS informs Dawson that they are vetting another foster family to take care of Louie while speculation dies down on how she was able to be a foster parent so quickly. Casey calls in Susan Weller to diffuse the situation, which she does. Dawson gets to keep Louie, the other alderman backs off, as do any reporters and DCFS. It's miraculous, a little too miraculous for Casey's comfort. After talking to the reporter who was sniffing around and doing some research, he figures it out. The other alderman is also Susan's client, which means she had the whole situation at hand because she created it. She threatened Louie's custody just to get back into Casey's life, figuring she'd win politically or personally in the end. I thought I'd seen Casey fierce before, but the look he gave Susan when he threatened her for going after Louie could have frozen all of Lake Michigan. The look he gives his little family when he comes home at the end of the day is much warmer.
Has fatherhood brought out a new side of Casey? Will Severide ever pull himself out of these patterns?
Chicago Fire Season 5 Episode 3 Review: "Scorched Earth"
Summary
Some members of Chicago Fire just want to help, while others painfully realize they are being taken advantage of.