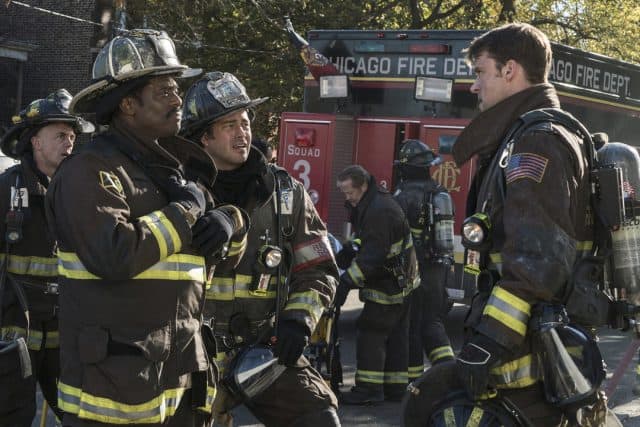 I'd like to tell you that all the heartache felt in last week's Chicago Fire wouldn't be as pronounced with the passing of a few days, but unfortunately pain has a way of lingering. It's been nearly a week since Severide painfully donated bone marrow to save Anna's life, and since Dawson and Casey said goodbye to their son Louie. All in all there is a lot of heartbreak to be had on this week's Chicago Fire, leading up to a strong catalyst which will threaten Firehouse 51 for some time to come.
Though Dawson was the one who was seen breaking down at the end of last week's tearful goodbye to Louie, this week Casey is the one to avoid. He had to be strong for both he and Dawson as they said goodbye to Louie. Now he's decided to cope with his grief through anger. As a result Casey slave drives the entire truck into cleaning the firehouse from top to bottom when they suspect a rat is in their midst. I wish I was speaking metaphorically. No such luck, as Casey choose to bark at everyone to be on their hands and knees cleaning in deep corners. Everyone understands where all of this anger is coming from, so no one is going to say anything. Casey's week only gets worse when he has to choose between two victims in a building fire. To be fair, pointing a gun at Casey probably wasn't the best motivation for Casey to choose the man over a mother and child. The strange thing is that there is no body in the wreckage of the fire.
Casey figures out that the man with the gun must've not only escaped the fire through a hatch in the basement, but was staying there illegally. He doesn't find him, which can only signal bad times ahead. The good news is that once Herrmann has reached the breaking point, he forces Dawson and Casey to confront their feelings over losing Louie.
Elsewhere Dawson copes with losing Louie by participating in an episode of "I Didn't Know I was Pregnant". She and Brett respond to a call of a 15-year old girl named Darla giving birth, who didn't know she was pregnant. When Darla's father is less than accepting of the situation, Dawson lays into him hours after bringing Darla in. Also, since she and Casey aren't communicating well at this point, Dawson checks in on Darla and gets an earful from the aunt about what a responsible parent Darla's father has been up until this point. Dawson does apologize to Darla's father and is able to get him to reunite with his daughter. As a thank you for everything, Darla names her daughter Gabby, and gratefully accepts a gift of children's books from Dawson and Casey.
For once the only happy person is Severide. You want to soak it in because it doesn't happen that often! It's clear that Severide is completely infatuated with Anna, even though Stella was frequently dropping in to check on Severide while he was in the hospital. Stella makes it clear to Anna she and Severide are just friends as Anna thanks her for helping Severide heal up. Then again Severide did use a technique recommended by Stella on a call. Even after a beautiful kiss, Anna decides to leave without telling Severide. The only clue she leaves as to their potential relationship is her picture with a note that says "Someday…".
Are you disappointed Severide has lost yet another love?
Tell us what's wrong with this post? How could we improve it? :)
Let us improve this post!