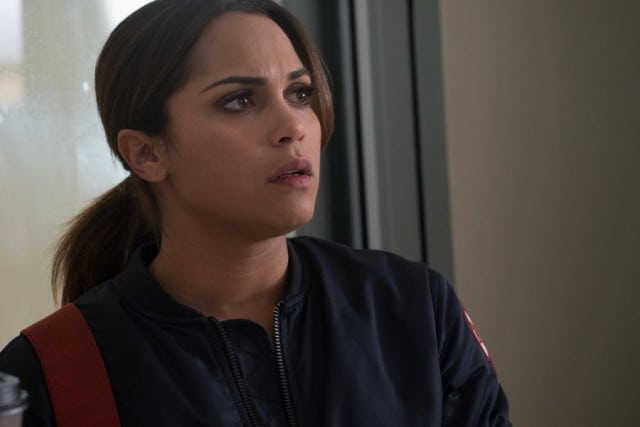 It's a Happy New Year, but not for Firehouse 51. Order seemed restored to Chicago Fire after the chaos of the fall was resolved. It all came undone in the shocking final minute of the midseason finale when Herrmann was brutally stabbed.
We pick up right where we left off, with Herrmann bleeding on the floor at Molly's. The whole house rushes to Chicago Med to stand by Herrmann, none more devoted than Dawson. Herrmann's surrogate daughter stays close to his wife Cindy while they wait for his internal bleeding to get under control. Unfortunately, Herrmann faces one complication after another, and Rhodes has to take him into emergency surgery.
Cruz is drowning in guilt for having put Herrmann in this situation, though I think we can all agree Freddie is responsible for his own choices. Cruz does all he can to help Intelligence, but that doesn't keep Severide from coming down hard on him. It's harsh, unnecessary, but a testament to how much Herrmann is loved. Cruz is so guilt-ridden he goes over the top on a call and lands himself in the ER for smoke inhalation. He doesn't even give himself time to recover before going after Freddie himself. The only answer Cruz gets from Freddie's crew is a gun in his face. Luckily, Severide goes after him and saves him before 51 has another firefighter bleeding on the floor. When Freddie finally is found he has trapped himself on the edge of a rundown fire escape about to give way. Cruz asks to be the one to get Freddie down. As angry as he is, he doesn't want Freddie to die. Cruz saves Freddie, but Freddie will have to look to God for absolution. As for Cruz, Herrmann tells him that what happened wasn't his fault since he was just trying to do something good.
One person who isn't feeling, well, much of anything, is Chili. The attitude problem we first saw in the beginning of the season has only gotten worse. In addition to her unprofessional and downright rude demeanor, she doesn't even bother checking in on Herrmann. Considering Herrmann was one of the first people Chili really connected with at the house, something is very wrong. Fast-forward to the end of the hour, and we see Chili completely breaking down in the hospital. This is an appropriate response, but taking into account all of her recent behavior, it's safe to say Chili is in desperate need of help.
There are a few bright spots in the episode. Things are finally the way they should be in terms of management with Boden back at the helm and Severide back as Squad leader. A momentous event occurs when Mouch proposes to Platt, or at least when he tries. Mouch mucks up his proposal so badly I felt embarrassed witnessing it. Luckily, Platt is a "take charge" woman who knows her man, for better or for worse, so she eventually takes the anxiety away and proposes herself. Congratulations to the newly engaged couple!
The case which kicks off the "One Chicago" crossover starts with what appears to be a suicide attempt by a woman who nearly blew up her apartment building by tampering with the gas line. Further inspection by the Chicago Med doctors shows that the woman had an overload of chemotherapy in her system, and something sinister is definitely afoot.
Continue on to my Chicago Med review to see the continuation of the #OneChicago Crossover and an update on Herrmann's condition.
[Photo credit: Elizabeth Morris/NBC]
Chicago Fire Season 4 Episode 10 Review: "The Beating Heart"
Summary
The "One Chicago" crossover began with Firehouse 51 rallying around Herrmann in his time of need.