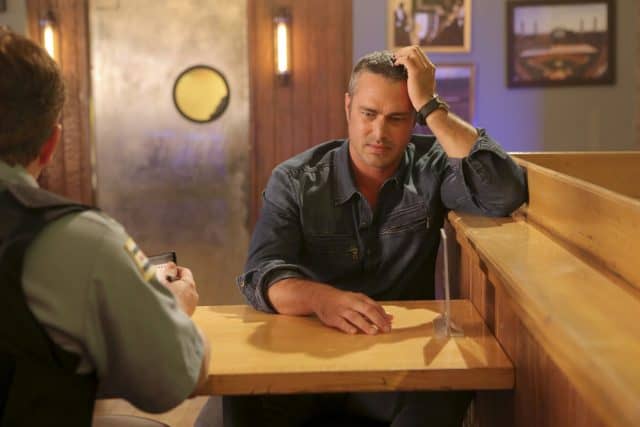 Going into this week's episode of Chicago Fire, it seemed like Casey and Severide would be the ones dealing with dangerous consequences in their personal lives. Ironically we worry more about the personal lives of everyone in Firehouse 51 because they're good at their jobs. Being able to handle life-or-death situations in the workplace is part and parcel for these people, but only so long as they work together as a team. The minute that stops people get hurt, which is the exact disaster the firehouse couldn't contain. By the end of the episode, one member of Firehouse 51 said goodbye.
Severide's made mistakes in his personal life before, but never to such extreme, violent consequence. He had no choice but to protect Stella since she was in the middle of being attacked by her ex. There's a question as to whether it was necessary for Severide to take an ax to Grant's neck. Grant makes it, and he'll be charged with attempted murder. At least he would be if Stella were pressing charges. Stella refuses to cut Grant off completely, which Severide calls out as being the crux of the problem. Everyone's begging Stella to give up on Grant, but what they don't know is that initially Stella was the screwed up one in the relationship. Grant was the one who saved her life, so she feels she owes him that much. She can't be the one to walk with him on this next part of the healing process, but she give him that last push to get help.
To top off Severide's terrible 24 hours, Cruz nearly takes out his hand on a call. Its all too much. Severide needs to just forget for awhile. Travis, the 'king-maker' of parties Squad helped out last week, comes by the house to thank them with cases of expensive liquor. After a painful few days, Severide takes Travis up on his offer to forget his troubles at a party. It seems like there's a dangerous habit beginning to develop.
Brett and Mouch get off to a rough start in their writing partnership. Initially Mouch has some reservations about the technicalities in Brett's writing, but he comes around. After seeing the kind of money a published author can make, Brett vows to double down on their work.
It seemed like after months of turmoil Casey and Dawson were finally getting a break. It wasn't too much to hope for. You'd think that work conflict within the house would interfere with their relationship, but they got through that long ago. It's actually Casey's other job which is the threat this time. Another alderman intent on getting Casey's support for a city beautification project will do so any way he can. If he has to resort to blackmail, he'll do it. He knows that Casey used his position as alderman to help Dawson become Louie's foster mother. Just like that, the peace is gone. The alderman plans on blackmailing Casey well beyond this one proposal, even if Casey were to resign as Alderman. Gabby begs Casey to do whatever it takes for them to keep Louie, with the unspoken request
Jimmy may be back on truck, but he has no friends. Not that he wants any. This also means that no one trusts him, which is dangerous in life or death work. He shows no respect for Boden, which is a big problem for everyone. Boden is a good man. As angry as he is, all of this started because Jimmy lost his brother. The intense anger Jimmy feels stems from intense grief. Jimmy can feel all the anger he wants, but the minute he starts trash talking Boden at Molly's, he's crossed the line. It's so contentious that all of Truck refuses to work with him. Before that order can go through, the entire company is called to the scene of a car accident. Jimmy disagrees with Boden on how to extricate a woman from a car, going so far as to defy his chief's orders. Jimmy pays the price when a separate vehicle ignites and explodes in his face. Jimmy will make a full recovery, but he burned half his face and lost his left eye. His career as a fireman is over. In spite of the tragedy, Boden is the first to see Jimmy in the aftermath, and the first that Jimmy reaches out to.
Will you miss seeing Jimmy on truck, or was this the only way for him to finally stop spiraling?
Chicago Fire Season 5 Episode 2 Review: "A Real Wake-Up Call"
Summary
In a devastating callback to last season's tragedy, Chicago Fire said goodbye to one of its own.